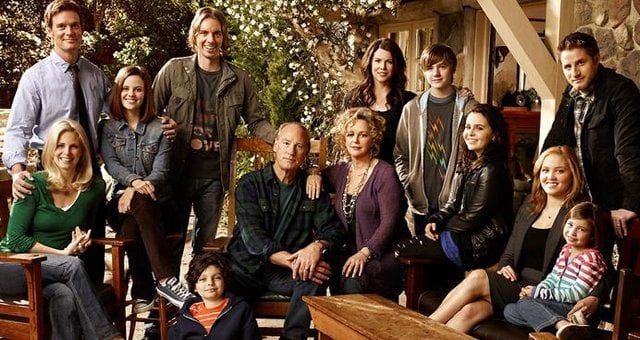 Wieder eine tolle Serie. Wieder ist sie in Amerika viel bekannter als hier. Und wieder will ich genau deswegen darüber schreiben. Denn ich kannte die Serie auch überhaupt nicht, als meine Freundin sie mir vor mehr als zwei Jahren in die Hand drückte. Als DVD. Und ich habe sie nur geschaut, weil ich – wie Kira – großer Gilmore Girls-Fan bin und Lauren Graham mitspielte… Und dann konnte ich nicht mehr aufhören.
Seriensteckbrief
Name: Parenthood
Genre: Familien-Dramedy
Laufzeit: 43 Minuten
Staffeln: 6
Folgen pro Staffel: 13 – 22
Ausstrahlung: März 2010 – Januar 2015
Verfügbar auf (nur zum Kauf): DVD, Amazon, iTunes, Google Play, Microsoft Videoload, Sony
Handlung und Ursprung
Alles begann mit dem Film "Parenthood" bzw. "Die Wahnsinnsfamilie" mit Steve Martin im Jahre 1989. Daraus entstand die Idee, das Leben der Großfamilie Bravermann zu zeigen. Im Mittelpunkt stehen dabei die vier bereits erwachsenen Geschwister Adam, Sarah, Crosby und Julia und ihre eigenen Familien und Beziehungen. Die Eltern der vier Geschwister, Zeek und Camille Bravermann, spielen aber natürlich auch eine wichtige Rolle im Zusammenspiel.
Aber die Inhaltsangabe lest Ihr Euch am besten direkt auf Wikipedia durch. Das spar ich mir hier einfach mal…
Worum geht es wirklich? Was macht die Serie so besonders?
Es geht um das Eltern-Sein. Und das Eltern-von-Eltern-sein. Und um das Großeltern-Sein. Und dabei wird das Ganze so liebevoll und realistisch dargestellt. Denn auch hier ist es wieder – wie ich es eben mag – authentisch. Die Streits zwischen den Ehepaaren, zwischen den Geschwistern, zwischen den Menschen sind real und wirken nur selten geskriptet. Es ist keine Familien-Comedy, die einfach durch Humor unterhalten will, sondern es geht hier um wirkliche Menschen. Wirkliche Probleme und wie sie die Lösungen dafür finden.
Und wieder schafft es eine Serie, ihre Charaktere als Menschen zu zeigen. Mit allen Seiten. Ich habe diese Serie angefangen, weil eben Lorelai (Lauren Graham) mitspielt und ich eben die Gilmore Girls liebe. Aber tatsächlich ist sie, meiner Meinung nach, nicht der stärkste Charakter der Serie. Sie spielt als Sarah Braverman eine Frau, die viele Parallelen zu Lorelai Gilmore zeigt. Alleinerziehend. Manchmal überfordert. Nur dieses Mal mit einer realistisch-rebellischen Tochter. Und einem harmoniebedürftigen Sohn. Und einem Ex-Mann und anderen Liebeleien. Und in all dem wirkt sie einfach meist überfordert. Denn im Gegensatz zu Lorelais Tochter Rory ist Sarahs Amber eine typische Jugendliche in ihren Rebell-Jahren mit den klassischen Pubertäts-Problemen. Inklusive Abgrenzung von der Mum.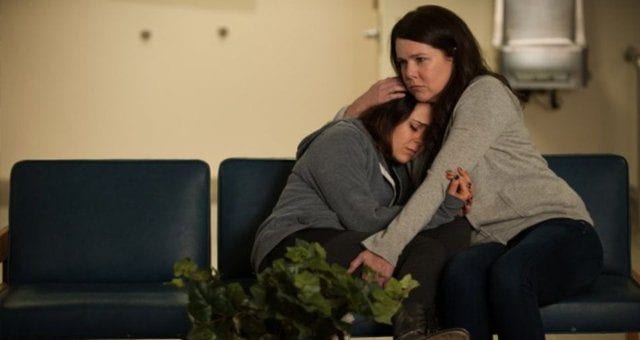 Und das macht diese Serie für mich aus. Sie ist nicht nur eine Aneinanderreihung von Folgen oder Staffeln. Sie hat Liebe. Sie hat Herz. Und alle Charaktere sind wichtig, stark und auch mal schwach. Denn egal wie viele Streitigkeiten oder Probleme es gibt, die Bravermans finden immer wieder zusammen. Und besinnen sich auf ihre Familie.
Nun ist das natürlich genau das kitschig-kuschelige Bild einer Familie, wie man es gerade aus Hollywood gewohnt ist. Das stimmt. Aber wenn man eine Serie sucht, die einen abholt und ein wenig mitnimmt und Teil dieser Familie werden lässt, dann sollte man Parenthood eine Chance geben. Denn im Gegensatz zu Full House hat sie auch Tiefe in den Folgen und erzählt Geschichten, die das Leben zu schreiben scheint. Sie hinterlässt – wie auch damals schon Gilmore Girls – ein wohliges Gefühl im Bauch. Egal, was passiert, wir bekommen das hin.
Und auch wenn die Serie das Konzept der Familie sehr zelebriert (und wieder keiner wirklich Freunde zu haben scheint), geht es mir doch eher um das Zwischenmenschliche. Die Konflikte und ihr Umgang damit. Die Herausforderungen für die einzelnen Figuren. Denn es gibt natürlich nicht nur Lachen, Freude und Tanz. Nein, ganz im Gegenteil.
In der letzten Staffel habe ich bei fast jeder Folge mindestens eine Träne im Auge zerdrückt. Und die letzte Folge habe ich mir sehr lange aufgespart. Weil ich einfach nicht wollte, dass die Serie endet…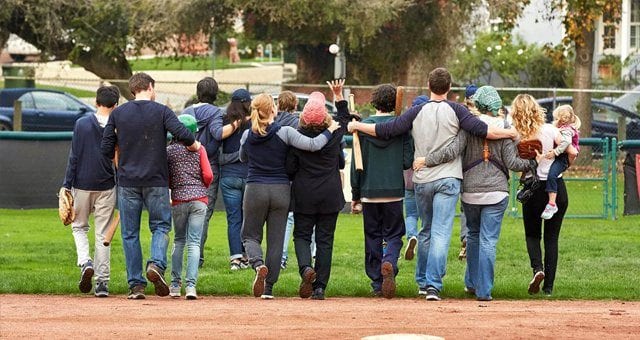 Nochmal 'ein erstes Mal sehen'
Ich wünschte, ich könnte die Serie noch einmal 'ein erstes Mal' sehen. Denn sie hat mich wirklich bewegt und berührt. Oder um es mit den Worten von CamD aus seinem Kommentar unter dem Trailer der ersten Staffel zusammenzufassen:
"JUST WATCHED THE WHOLE SERIES ON NETFLIX…OMG!!!! UNREAL…GREAT…WISH THEY COULD MAKE MORE!!!!
IT IS A REAL FAMILY WITH REAL PROBLEMS…ACTORS ARE UNREAL OMG!!!!!"
Und anders als in Amerika (wo es laut Kommentar die gesamte Serie auf Netflix gibt) finde ich es schade, dass es sie nicht in irgendeiner deutschen Streaming-Flatrate gibt, sondern dass man sie immer kaufen muss. Ich habe mit den DVDs angefangen (vielen Dank, liebe Steffi) und bin dann umgestiegen auf gekaufte Folgen bei diversen Online-Streaming-Diensten. Weil es bis dato die DVDs ab der Staffel 4 in Deutschland nicht gab. Das hat sich inzwischen geändert.
Aber falls Ihr die Chance habt, die Serie in der Hand haltet und Euch auch die Gilmore Girls nicht kalt gelassen haben, dann macht Euch einen warmen Kakao, tunkt die Marshmallows rein und genießt eine Folge nach der anderen. Und singt lautstark den Intro-Song mit.
Am besten im Kreise Eurer Familie. Oder noch besser: im Kreise Eurer Liebsten. Also auch Freunden.