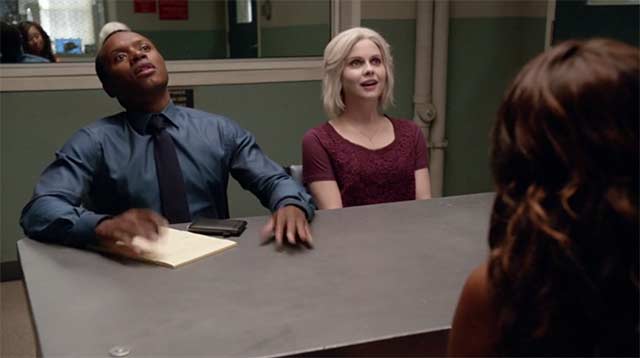 Habt ihr schon von Susanne und Jörg gehört? Wisst ihr schon das Neueste von Jenna? Und ich glaube, dass Thomas tatsächlich… JA! In der neuen Folge "iZombie" geht es gehörig geschwätzig zu. Zumindest, bis die Wochenleiche auf dem Tafelsilber landet. Also, ihr Gehirn. Bis auf – ihr kennt das – dieses letzte Stück Gehirn, das nicht aus der Schüssel will… Jedenfalls geht es um eine Büroschwätzerin und Joghurt-Esserin und einen durchaus interessant konstruierten Fall. Und ja, damit meine ich Pornos. Ach, und der "Aaaah!"-Moment bei Offenlegung des "Gossip Girls" war nice!
"Don't panic, people! Come with me if you wanna live!" (Büro-Angestellter)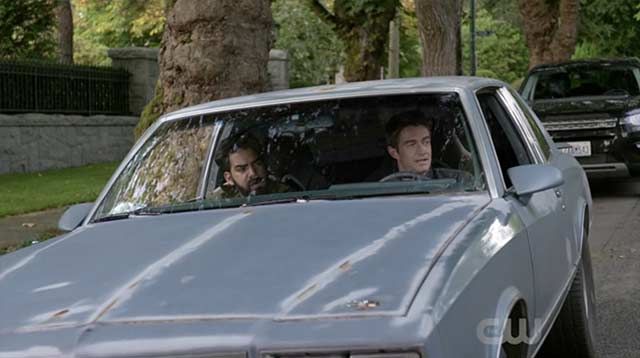 Aber zunächst zum total Wichtigen: Das Erinner-Dich-Serum scheint nicht zu wirken. Blaine kann sich weiterhin an nichts Früheres erinnern – und das bleibt auch so (außer er spielt es erfolgreich vor und sich in Peytons Schlafzimmer).
"I was wondering: what are you doing between now and saturday morning?" (Blaine)
Bei Major wird es ernst und er denkt darüber nach, die Heilung zu nehmen. Bin nur ich das, oder ist das Husten Majors ungemein schlecht geschauspielert?! Bei der plumpen Tracker-Versteck-Nummer fiel mir auf: Lang mehr keine Zombie-Action gesehen…
"Hack, slash, hack, slash… I mean, really – what's the point?!" (Ravi)
Der brainy Sidekick Ravi ist Liebes-deprimiert und hat eh "nichts Besseres" zu tun, als die komplette Filmografie einer Hauptverdächtigen Ex-Porno-Darstellerin durchzuschauen – der Arme. Aber 80 Pornos in fünf Monaten?! Vorhersehbarer Pun, der erschreckend nah an der Wahrheit sein dürfte.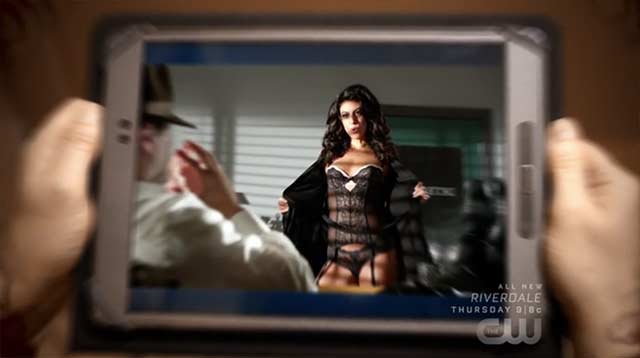 Jedenfalls findet Major noch seine ehemalige Zombie-Bekanntschaft, schafft es nicht nur utopisch einfach IN das Hotel, sondern auch heraus, nur um dann plötzlich abwurfbereit in einem Flugzeug zu hocken. Habe ich was verpasst?! Woher der plötzliche Ernstfall?
"Just wait until I tell Felicia from HR…" (Liv)
Dafür haben mir wieder etliche Details sehr gefallen: Peyton wartet am Bett, dass der Wecker klingelt und Blaine aufwacht, die zu laute Musik an der Shooting Range und die "very large d…esk"-Anspielung im High Class-Porno. Nett!
Insgesamt bewegt sich das weiterhin auf solidem Niveau ohne große Ausschläge. Der Fall hat mir durch seine Systematik (yep, Porn) besser gefallen, als zuletzt (auch wenn natürlich Holterdiepolter aufgelöst…), dafür war in der Hauptstory (oder Nebenstory?!) etwas viel Leerlauf zwischendrin. Alles in allem aber wieder erfreulich kurzweilig und dazu mit einigen signifikanten Entwicklungen. Wird Major sich spritzen? Wird Blaine sich doch noch erinnern? Oder tut er es bereits? Und was läuft da mit der Polizeichefin und dem Detective? Einige Dinge davon dürften wir bald erfahren…

Bilder: The CW

-->