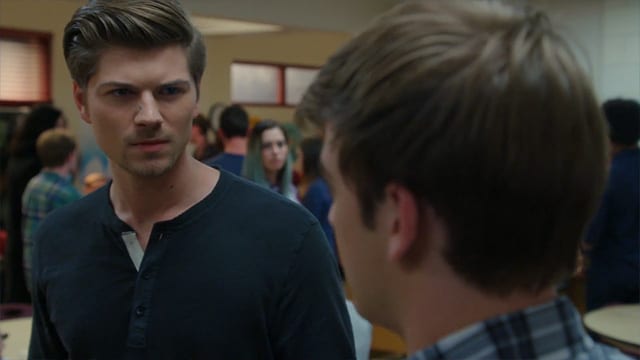 Mit der Abriegelung der Schule hat sich der aktuelle Schauplatz auf das Minimalste reduziert. Resultierend daraus ergeben sich hierbei qualitativ hochwertige Dialoge und Interaktionen, die weniger vom Inhalt her glänzen sondern viel mehr durch das Harmonieren der an den Szenen beteiligten Personen.
"I, uh … couldn't help but overhear." – "And by 'overhear', you mean creep?" – "One man's creep, is another man's …" – "Creep." – "Okay, I was going to say 'stalker'". (Eli & Emma)
Von Emmas Standpunkt aus hat sich der Kreis des internen Verrats nun mittlerweile bis auf Kieran eingeengt, was der Spannung selbstredend gut tut und durch die Präsenz von Eli konstant aufrechterhalten wird.
"Don't worry about it. I'll be right back." – "Oh, I can't believe he just said that." (Kieran & Noah)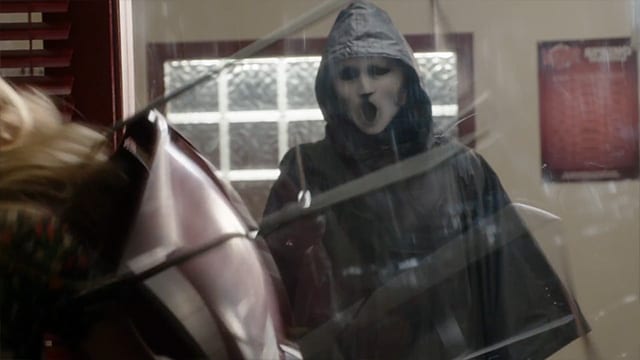 Die Panikattacke und der anschließende Kampf kann wohl als Fortsetzung des Halluzinationstrips aus der vorherigen Folge behandelt werden. Just in diesem Moment kommt mir der Gedanke, wie geil es doch wäre, wenn sich die Final-/Aufklärungsepisode das Ganze mal aus der Sicht des Killers zeigt …
"Not this time!" (Emma)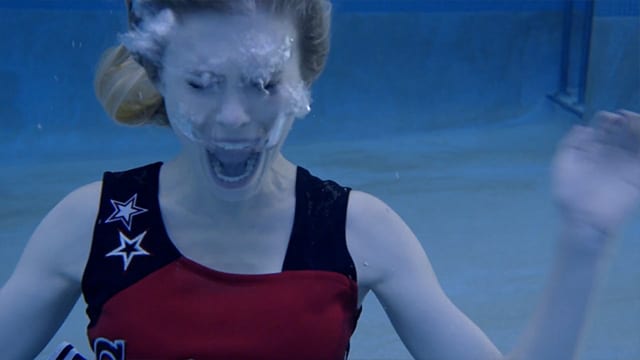 Mit ihrer Leistung hat Carlson Young wohl endgültig unter Beweis gestellt, dass sie den Charakter der Brooke Maddox mehr Facetten verleihen kann, als nur die des nymphomanischen Blondchens. Die Aufnahme im großen Pool: stark. Eine weitere Feststellung fürs Protokol: Der kurze Wortwechsel zwischen Emma und Haley "Please Look At My Boobs" Meyers war um Längen interessanter als der darauf folgende Catfight.
"Everyone who comes around you dies." (Haley)
Ich hoffe, dass noch ein wenig Licht in das dunkle, mysteriöse Wesen des Gustavo gebracht wird – wie die Frage zu beantworten, warum er so ist, wie er ist. Sonderbar und beeindruckend ist jedenfalls, dass ich bei der Szene mit dem wütenden Mob sowohl Genugtuung als auch Mitleid verspürt habe. Ein kleiner innerer Twist. Klein, aber fein. Mein Fan-Herz freut's.

Bilder: MTV

-->