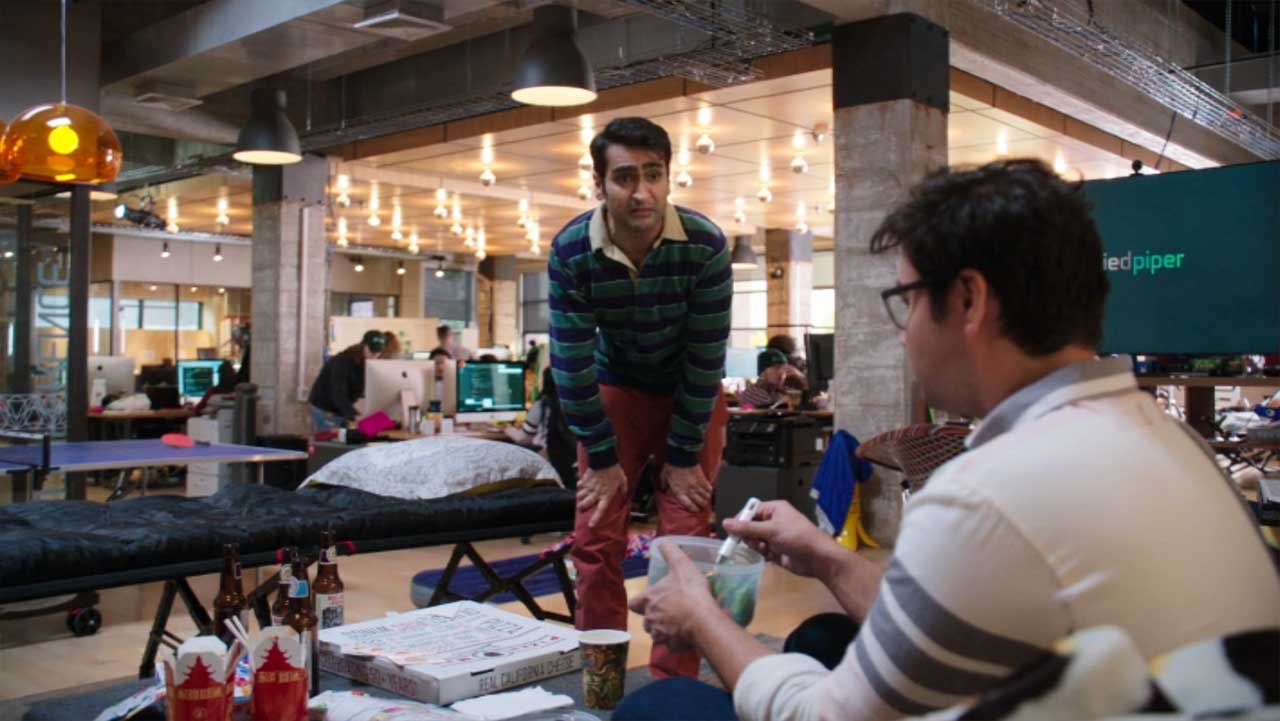 Diese Woche zeigt "Silicon Valley" mal wieder eindrucksvoll, welchen Stellenwert Emotionalität in der harten Business-Welt besitzt. Wenig bis gar keinen. Egal, ob man da in die CEO-Etagen des Westens oder die Plantagen des fernen Ostens blickt. Wobei, dort wird ja gerade alles neu und besser und mit mehr wichtigen Vitaminen und weniger Selbstmorden. Gut so!
Gut war auch das kleine aber feine Gastspiel von Laurie als als Interims-CEO – und Roboterersatz – bei Eklow. Eine knallharte Rationalistin auf die "menschliche Welt" prallen zu lassen, funktioniert halt immer irgendwie.
"Puking? That's my move." (Richard)
Der durch Eklow verursachte Schaden wurde bei "Pied Piper" mit einer Programmier-Sonderschicht behoben. Dinesh brauchte etwas länger für seinen Part als alle anderen, was zu den gewohnten Sticheleien zwischen ihm und Gilfoyle führt.
"How is the code sprint going?" – "T-minus Dinesh." (Richard & Gilfoyle)
"Silicon Valley" wäre aber nicht "Silicon Valley" (und die Inszenierung derart einseitig), wenn nicht ein Dreh erfolgt. Lachen zunächst noch "alle" (also Dinesh) über Gilfoyle, der vermeintlich mehr Fehler in seinem Code hatte, haut Dinesh eine Menge Kalauer raus. Um genau zu sein 200 in unter 24 Stunden. Schön finde ich aber, dass dieser ach so tolle Dreh nochmals mit einem Mini-Twist versehen wird, so dass selbst Gilfoyle vom hohen Ross gestoßen wird. Nett!
"They are all going to see the only thing that matters: who made less errors." – "You mean who made 'fewer' errors?" (Dinesh & Gilfoyle)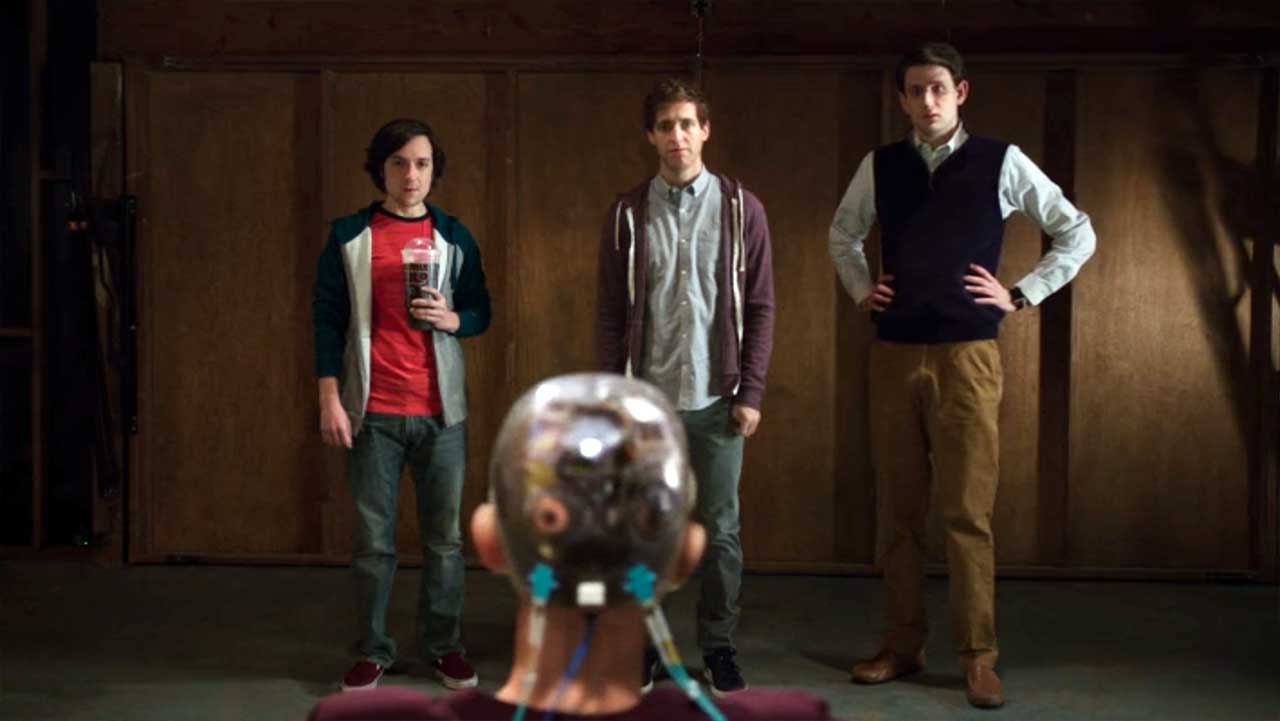 Ansonsten demonstriert Sophia noch eindrucksvoll ihre Uber- sowie Kopfrechen-Fähigkeiten und erweist sich als tolle Gesprächspartner für Leute, die sich emotional abschotten. Dass Laurie etwas weniger Liebe für die Roboterdame hegt, dürfte klar sein. Rest in Pieces, Fiona.
""What do you say if we go to the office and you can make me some tea? That might make you feel better?" (Richard)"
Etwas sehr zufällig war mir Gavins Besuch in China. Gerade noch auf sein neues Überkapitalisierungs-Ziel mit der Box 3 eingeschworen, wollte er doch eigentlich nur ein bisschen Kinderarbeit Produktionsrate sichern, da erfährt er nicht nur durch Richards PM von der fernöstlichen Copy-Cat, sondern fährt auch einen Mitarbeiter davon an.
"Follow that chinese man!" (Gavin)
Dass Jian-Yang dazu noch (entgegen des hart arbeitenden US-Teams) einen kuriosen Weg um das Patent gefunden hat, aber in Sachen Webdesign noch in den 90ern hängen geblieben ist, passt ins Zufall-Schema. Wenigstens dringt durch, dass eine angepasst Darstellung des chinesischen Marktes notwendig ist. Es gibt strikte Vorgaben vom Staat und die Produktionsumstände sollen sich verbessern. Keine unrelevanten Themen für den globalen Tech-Markt.
"There's no 'New Bangladesh', there's just Bangladesh." (Gavin)
Die Krone dieser etwas unrealistischen Darstellung setzt sich Noob Gavin selbst auf, der sich aber mal allerfeinstens von seinem Zulieferanten vorführen lässt. Den Untertitel-Gag hätte ich mir übrigens bei den singenden Kindern gewünscht…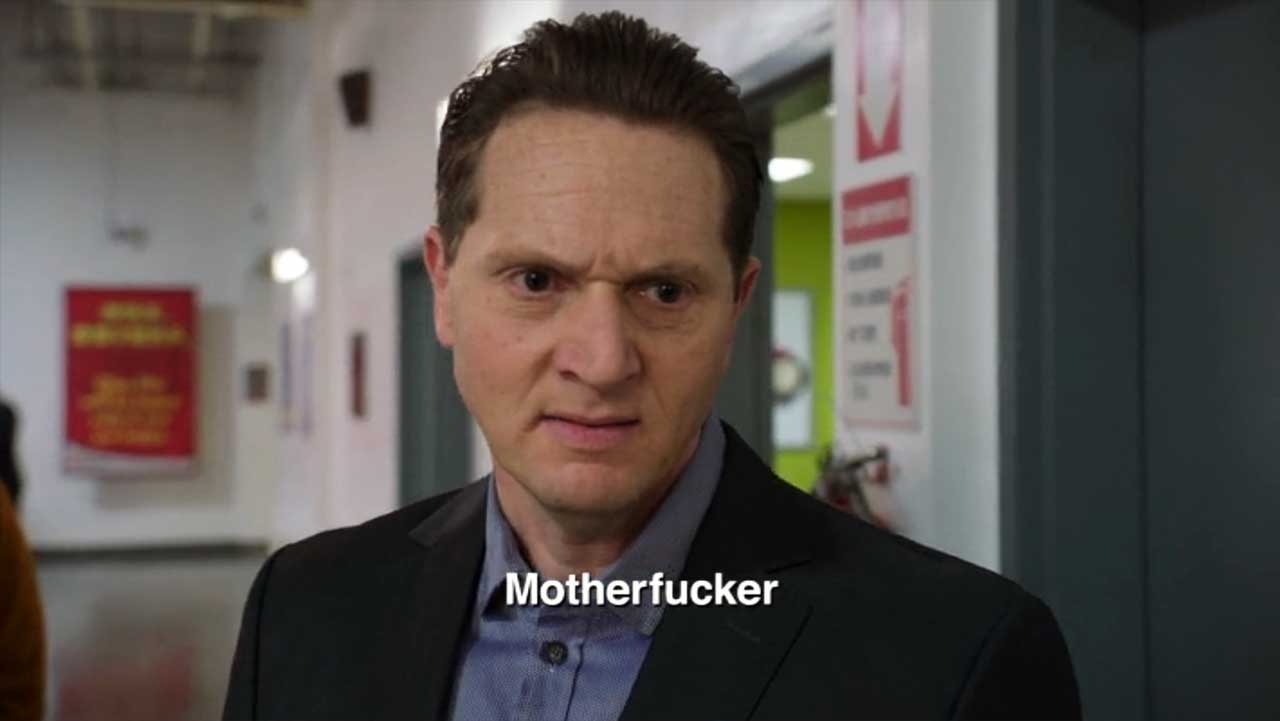 Eigentlich war ich kurz davor, 4,5 Kronen zu geben, weil die Folge doch sehr unterhaltsam und gut geschrieben war. Die Dramaturgie hat gepasst, die Dialoge waren mal wieder sehr auf den Punkt und für die Gesamtstory wurde auch ordentlich was getan. Aber beim Schreiben viel mir dann doch auf, wie viel Gevatter Zufall da mal wieder zu tun hatte und so die ein oder andere Entwicklung ad absurdum führt. Aber insgesamt war das dennoch eine sehr gefällige Episode – mit wenig Fehlern.

Bilder: HBO

-->