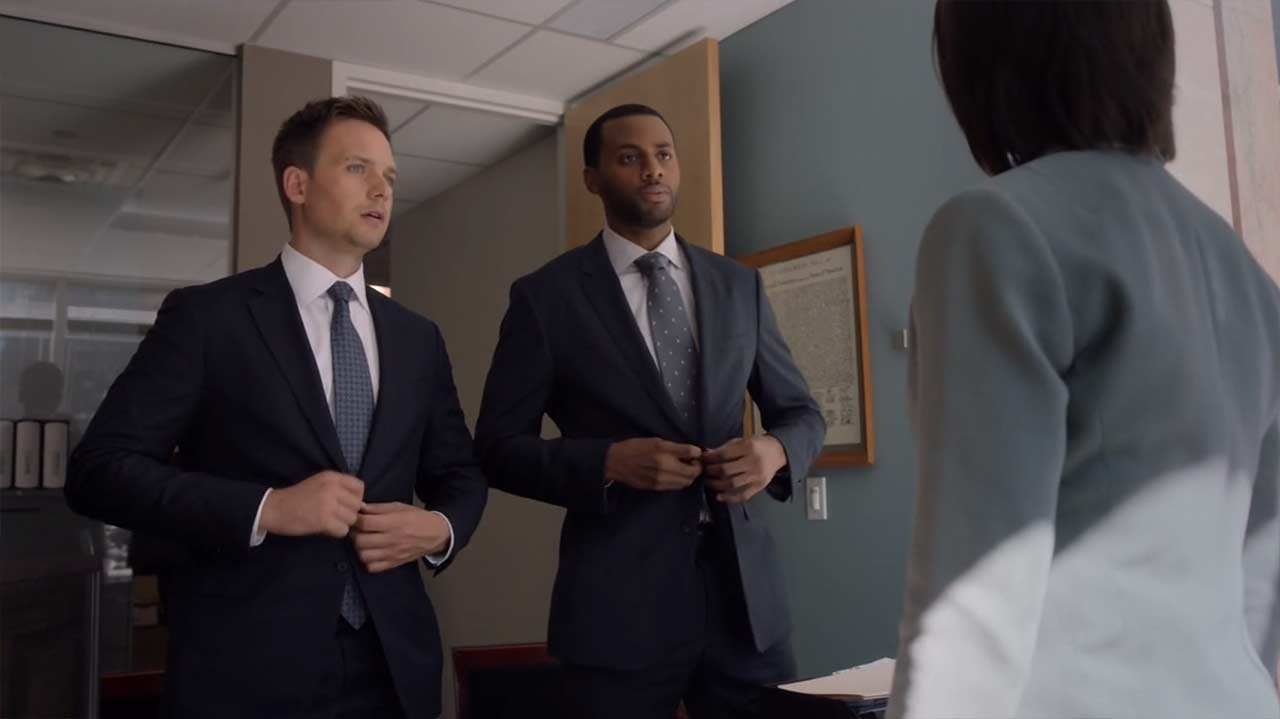 Wie wäre es mit einem Protein-Smoothie? Die sind leider aus. Dafür gab es diese Woche aber tatsächlich mal ernstzunehmendes Drama bei "Suits" zu sehen. Das ist doch auch mal was! Okay, zunächst beginnt mit einem zu viele Versprechen abgebenden Mike, der zwar angibt, "wie ein Baby" zu schlafen, aber mitten in der Nacht gedankengeplagt aufsteht. Selbst als der Nicht-Anwalt, der ich bin, kann ich das vor Gericht ganz leicht aushebeln…
"Looks like you wrote it down today…" – "What makes you say that?!" – "It has today's date on the top." (Brian & Louis)
Oliver lernt mittlerweile richtig dazu – zum Beispiel Sakkosynchronzuknöpfen. Und vielleicht auch endlich mal, dass man in dieser Serie zu nichts sicher sein darf – auch (oder gerade) wenn Mike einem zu- und ab- und zu- und wieder absagt. Ansonsten bleibt der Gefängnisfall recht farblos, bis Alex sich am Ende öffentlichkeitswirksam Freunde macht. Hier dürfte spannend sein, was die letzten Sekunden der Episode und Harveys Verdacht auf sich haben.
Harvey erzählt Donna von seiner neuen Beziehung, die gekonnt ihre Donna-Superkräfte vorspielt und einen astreinen Irrsinnsblick-Moment abliefert. Ansonsten ein bisschen "Girl Talk" und Gefühlsduselei und lange Blicke durch Bürowände – das Übliche. Ach ja – und Donna gibt die Anwaltsgehilfen an Louis zurück, weil sie ihr zu viel Arbeit machen.
"Donna, are you okay? You look like you just saw a ghost…" (Rachel)
Aber kommen wir zum Wichtigsten der Folge: Was hat Kathrina denn bitte für Flügelärmel?!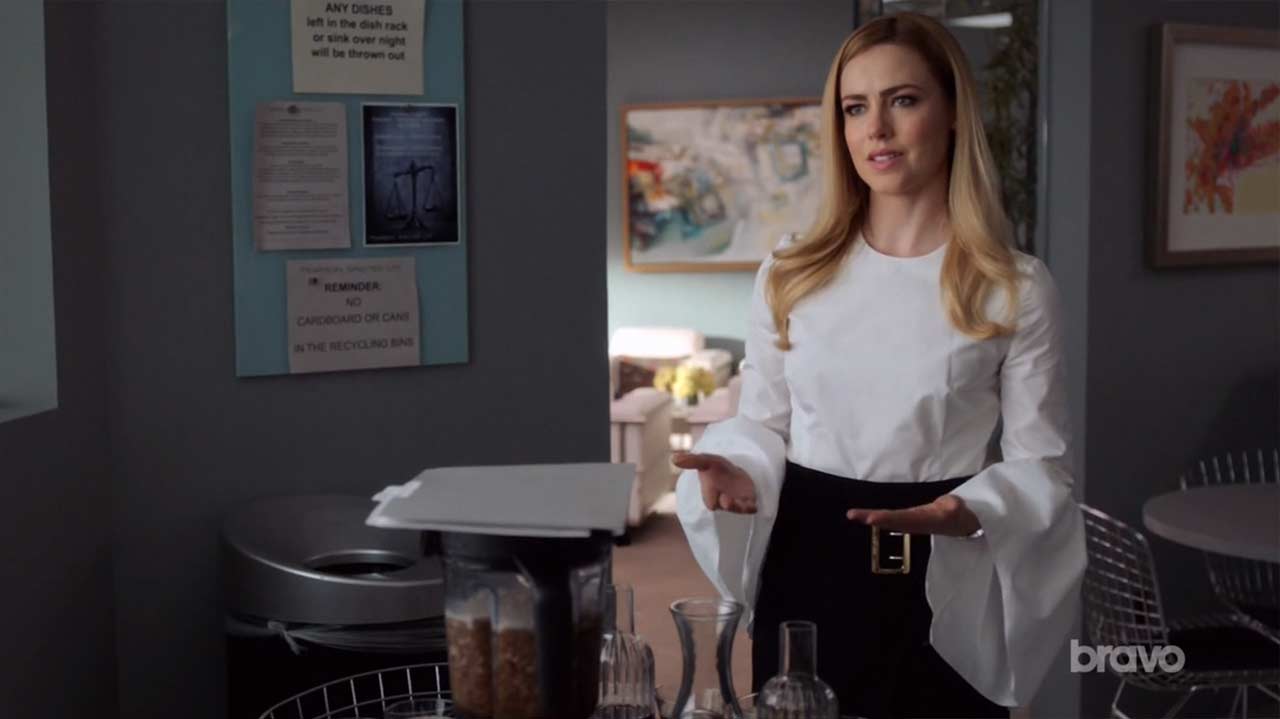 Okay, wirklich wichtig ist dieses mal wirklich, was mit Louis passiert. Der hat nicht nur ein erfrischend kurzweiliges und nicht gaaaanz so bloßstellendes Gespräch mit Brian und hat dann ein paar serielle Rückbezüge für uns parat. Es wird nämlich auf die Monica Eton-Historie zu Hardman-Zeiten zurückgegriffen, weshalb Louis keine zweite Anzeige wegen sexueller Belästigung gebrauchen kann (eine ist scheinbar okay…). Nach ein bisschen emotionalem Rüstungskrieg obsiegt dann aber doch (endlich!) der gesunde Menschenverstand. Manchmal ist eine ehrliche Entschuldigung halt das einzig Richtige.
"I feel like I wanna come over to you and give you a hug, but… It's probably inappropriate because you're suing me for sexual herassment." (Louis)
Louis hat also seinen Frieden gefunden. Hoffentlich. Und einen Laden, wo man binnen weniger Minuten Baby-Overalls bedrucken lassen kann. Dennoch eine schöne Erinnerung an bessere Werbegeschenk-Zeiten.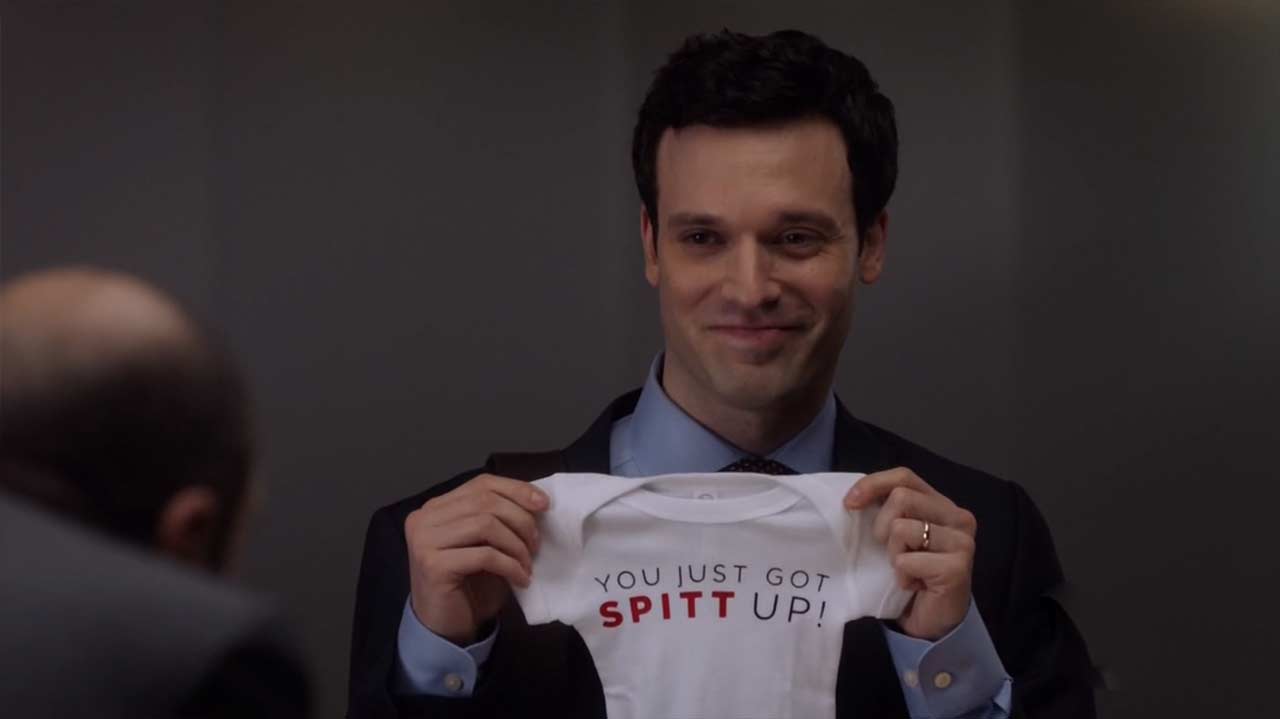 Das war zumindest mal besser. Es gab ordentlich Zug in der Story, das Zwischenmenschliche kam seit langer Zeit mal wieder authentisch und nicht aufgedunsen daher und alle haben ausnahmsweise mal (größtenteils) sinnvoll agiert. Ich nehme das einfach mal in aller Unausdrücklichkeit als persönliche Entschludigung mir gegenüber für die vergangenen Folgen und Staffeln an. Das war sicherlich noch kein wirklich großes Fernsehen, aber doch deutlich unterhaltsamer und griffiger als vieles zuletzt bei "Suits".

Und so langsam dürfte auch klar sein, wo es im Serienfinale hinführt: Harvey und Donna küssen sich. Oder geben sich das Ja-Wort. Oder hängen ihr neues "Spector Ross Paulsen"-Schild in der Lobby auf. Oder alles zusammen. Yay.

Bilder: bravo

-->