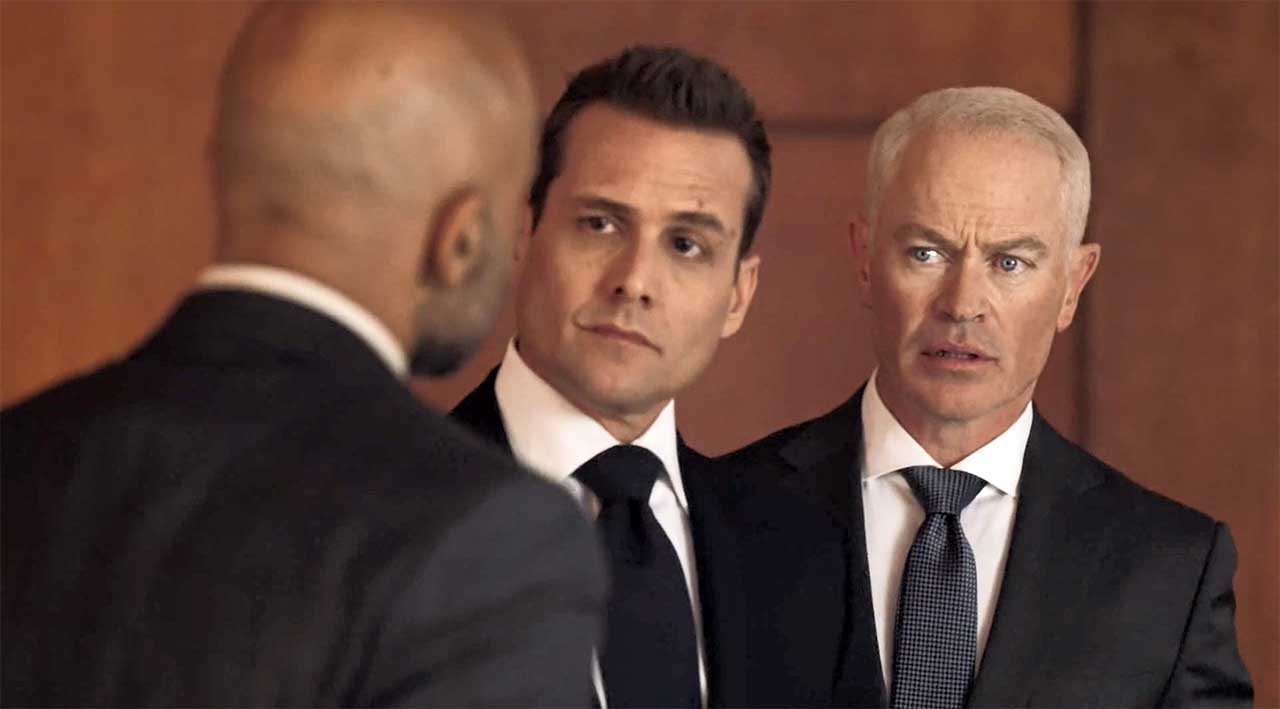 Bereits beim der Folge herangestellten Rückblick war klar, dass diese Woche bei "Suits" weit ausgeholt werden würde. Erneut haben einige Figuren vergangener Staffel kurz vor Serienende noch ihre Ehrenrunde drehen dürfen. Dabei wurde natürlich mal wieder das alte Mike-Thema aufgewirbelt – dieses Mal das Gefängnis-Kapitel. Yay. Mal ganz davon abgesehen, dass ich das mittlerweile als enorm fantasielos und unnötig betrachte, hat leider auch die Umsetzung nicht vollends überzeugen können. Denn großes Drama kam kaum auf.
Sean Cahill darf sein Silberhaar nochmal präsentieren, nimmt Harvey als Anwalt, dann nicht, gibt eine Zusammenarbeit zu, dann unterschreibt er doch nicht – das übliche Hin und Her, das halt in so eine Dreiviertelstunde "Suits" passt.
"I'll have two eggs, a coffee, and a side of kiss-my-ass!" (Harvey)
Im viel zu schnell und nie wirklich griffig wirkenden Ablauf gibt es einen Tod (Sutter), mehrere mehr oder weniger überraschende Festnahmen sowie ein Verhör, aber nie hat man wirklich Angst um die Charaktere, weil die brenzlichen Situationen bereits aufgelöst werden, bevor sie sich komplett entfaltet hätten können.
Aber eine Erkenntnis gibt es: Fay ist noch da, schau an! Und mit ihrem "Krebs"-Kommentar hat sie meiner Meinung nach erstmals wirklich falsch agiert und sich Unmut ihr gegenüber verdient.
Kommen wir zu den familiären Geschehnissen. Louis hat nach einer für ihn etwas unpassenden "Star Trek"-Referenz und einer irgendwie ironischen Abneigung gegen Alliterations-Kindernamen (oder L.L. musste selbst darunter leiden?) Besuch von Schwester Esther. Die bringt ein vor allem für die heutige Zeit enorm wichtiges und schwerwiegendes Thema mit sich, nämlich den versuchten Missbrauch durch ihren Chef. Vor 15 Jahren. Doch leider wird auch dieses Thema zu schnell bearbeitet. Gerne hätte ich das auf eine komplette Folge oder gar mehrere aufgezogen gesehen. So wirkt es, als hätte man ein gesellschaftlich relevantes Thema, sowie die Figur der Schwester noch mal schnell einbinden wollen.
Wie überraschend häufig ähneln sich die beiden Wochenfälle auch im Aufbau, mal sehr konkret in Details, vor allem aber auch im allgemeinen Ablauf. Auch Samantha und Katrina befragen zwei Personen, um sie gegeneinander aufzuspielen. Hier funktioniert der Wechselschnitt in der Erzählung aufgrund der Gleichzeitigkeit der Ereignisse nochmal besser, finde ich. Ansonsten bleibt es die alte Formel: Problem – Aussichtslosigkeit – rettende Idee – doch keine Chance mehr – ach hier, Schachmatt!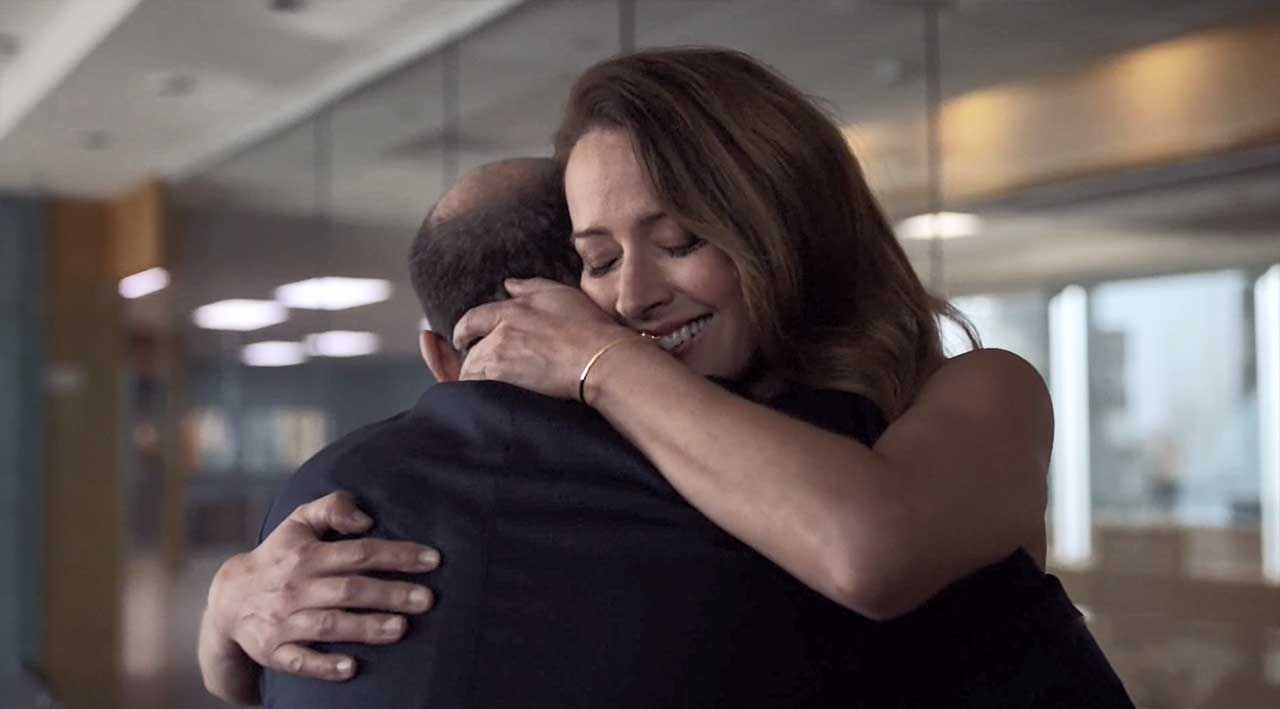 Ganz am Ende kommt es dann noch zu einem Moment, den ich noch nicht recht einstufen kann. Harvey erhält die Information, dass seine Mutter gestorben ist. Ob das nur billig eingestreutes persönliches Drama oder wirklich elementares Mittel zur weiteren Dramaturgie ist, wird sich erst kommende Woche zeigen. Auf mich wirkt es eher wie der recht plumpe Versuch, einen Schockmoment zu generieren. Aber wer weiß, vielleicht wird Harvey ja so aus der Bahn geworfen und man plant Größeres. Aber "Größeres" erscheint mir diese Staffel allgemein eher auszubleiben…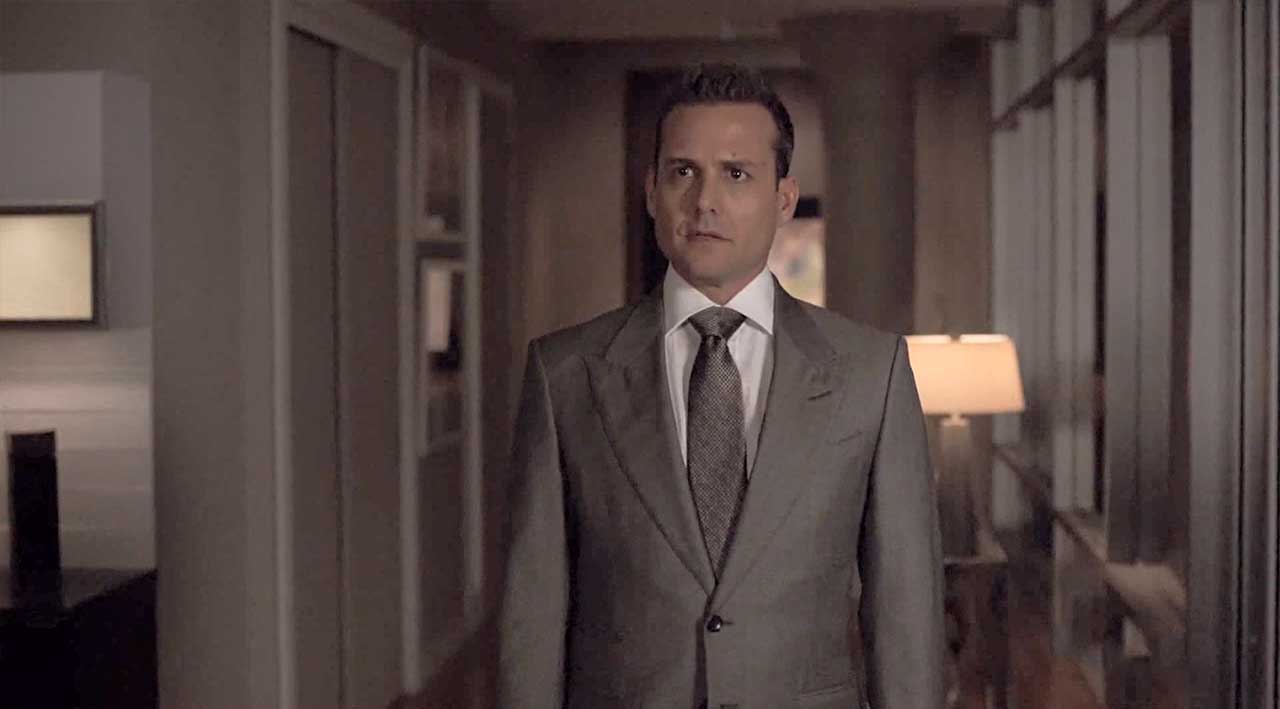 Wie so oft kommt recht plötzlich ein ultra-bedrohlicher Fall daher, für den alles Platz macht, und binnen weniger Minuten und Wendungen ist das Thema auch bereits wieder endgültig (also, vorerst…) vom Tisch. Das ist nicht nur schade, weil die einzelnen Geschichten deutlich mehr Potenzial gehabt hätten, vor allem aber, weil mit der schwindenden Anzahl an bleibenden Episoden meine Hoffnung Woche für Woche dahin schwindet, dass da noch ein wirklich großer Dramatik-Bogen gespannt wird. Ich fürchte, das läuft jetzt halt noch mit vielen Wiedersehen und letztlich einem recht versöhnlichen "Alles ist gut"-Moment am Ende ab.

Bilder: bravo

-->