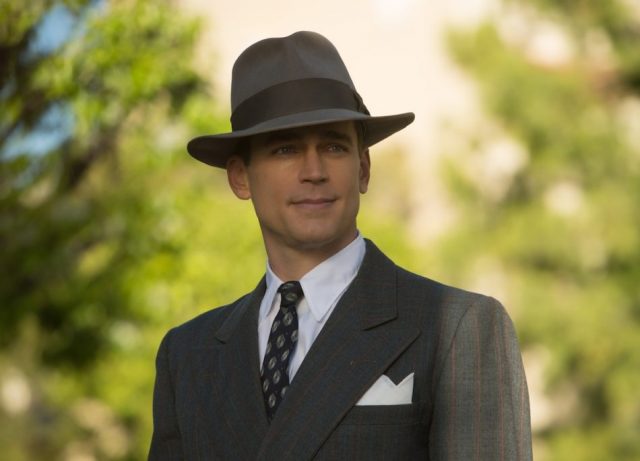 Lights. Camera. Action. Wer wie ich Gefallen an der Historie der Traumfabrik Hollywoods findet, der sollte einen Blick auf die höchst aufwändige Serienadaption von F. Scott Fitzgeralds unvollendetem, letzten Roman The Last Tycoon werfen.
Die elegante Drama-Serie erzählt in 9 Episoden die Geschichte des charismatischen Filmproduzenten Monroe Stahr, der in den 1930ern verzweifelt versucht, ein Biopic über seine verstorbene Ehefrau zu drehen, während er mit seinem skrupellosen Boss zu kämpfen hat. Gegenwind für sein Filmprojekt über Einwanderer, bekommt er auch vom Nazi-Regime, das versucht Hollywood zu unterwandern und zu zensieren. In der Nachwuchsschauspielerin Kathleen, glaubt er die Ideale Besetzung für die Hauptrolle gefunden zu haben. Vor dem Hintergrund der herrschenden Wirtschaftskrise kommen sich die beiden näher und schon bald vertieft sich ihre Beziehung.
Hollywoods Glanz und Glamour haben auf mich schon immer eine Faszination ausgeübt. Hinter den Kulissen der Traumfabrik steckt wie in jeder Branche eine Maschinerie aus Wirtschaft und Handwerk und ebendies macht The Last Tycoon deutlich. Die Serie bietet eine ansprechenden Oberfläche, die Serien wie Mad Men nacheifert, aber einen fesselnden Plot vermissen lässt.
"Sie führen hier eine Machine. Wir sind Rädchen im Getriebe."
Während in der Buchvorlage die Annäherung und die sich daraus entwickelnde Liebe zwischen Monroe und Kathleen im Vordergrund steht, versucht die Serie kein Thema mit dramatischem Potenzial auszusparen. Von der großen Depression, der Einwanderungswelle, Rassentrennungen, den Nazis und dem aufkommenden zweiten Weltkrieg bis hin zum Thema Feminismus wird alles abgedeckt. Sie konzentriert sich zu sehr auf Machtspiele, Geschäfte und weniger auf die Romantik. Darunter haben meines Erachtens die Entwicklungen der Figuren zu leiden.
Die nahende Weltkriegsstimmung mag sich noch in die Szenerie einfügen. Anders aber zum Beispiel jene Barszene, in der Monroe am Weihnachtsabend alleine in der Kneipe sitzt und den afroamerikanischen Barista fragt, ob er gerne ins Kino geht und dieser antwortet, dass es nichts im Lichtspielhaus für ihn gibt. Traurigerweise trifft dies zu, wirkt aber in dem Moment irgendwie beliebig.
Der Roman wurde nach Fitzgeralds Tod im Jahr 1941 veröffentlicht und erschien hierzulande unter dem treffenden Titel Die Liebe des letzten Tycoon.
Die Verfilmung von Elia Kazan (Die Faust im Nacken, Jenseits von Eden) aus dem Jahre 1976 mit Robert De Niro in der Hauptrolle hielt sich strenger an die Vorlage.
Auch in der Serienadaption wurde mit Matt Bomer ein passender Monroe Stahr gecastet. Er spielt sowohl den visionären Produzenten, als auch den gefühlsbetonten Liebhaber treffsicher.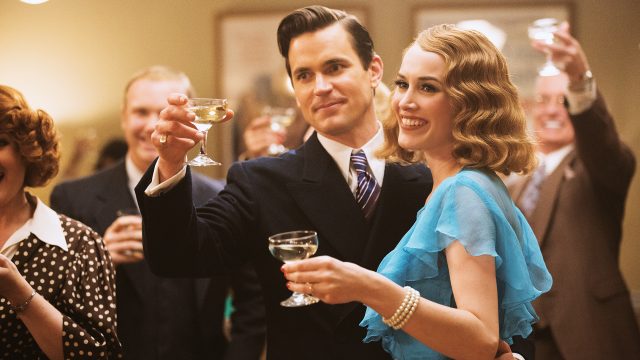 Weniger gut, hat mir die Wahl der Kathleen gefallen. Die von Dominique McElligott (House of Cards) gespielte Figur ist zu unauffällig und profillos . Dabei kann Monroe nicht aufhören von ihr zu schwärmen.
"Du hast dieses Licht in dir, irgendwo verborgen, aber ich kann es sehen. Ich schon. Dafür hab ich Talent – vielleicht ist das mein Einziges."
Ich hab nicht viel in ihr gesehen. Obwohl Kathleen die angebetete Monroes ist, verliert sie an Glanz gegenüber der jungen Celia, die clever von Lilly Collins interpretiert wird. Die junge Nachwuchsproduzentin entwickelt sich im Laufe der Staffel von der naiven Tochter des Filmmoguls Pat Brady zur eigenständigen Produzentin, die sich in einer Männerdomäne durchsetzt.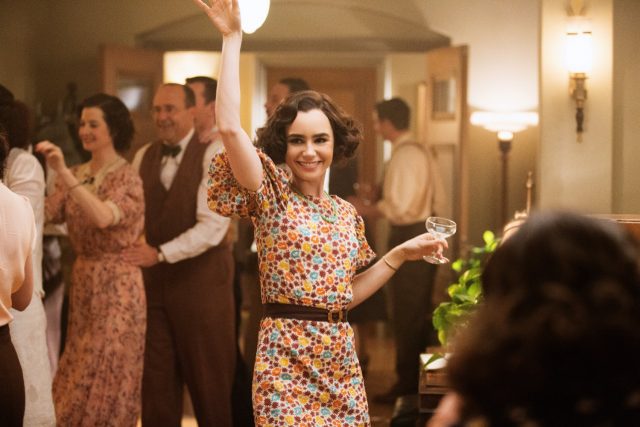 Im Grunde hat mir die Serie gut gefallen – spätestens wenn die Jazz Klänge angestimmt wurden, war ich voll drin. Als Leser des Buchs bin ich aber ständig am Vergleichen und muss eingestehen, dass ich die Abweichungen von der Vorlage meist als überflüssig empfinde. Eine nette Bereicherung ist jedoch der Mix aus realen und fiktiven Personen, so heuert Monroe beispielsweise den deutschen Ausnahmeregisseur Fritz Lang an und auch Marlene Dietrich taucht auf. Dies schafft zusätzlich einen realen Bezug.
Da die Romanvorlage unvollendet war, hielt sie ein offenes Ende bereit. Die Serie weicht auch hier ab und bietet ein überraschendes, wenn auch abruptes Ende.
Leider wurde die Serie bereits nach der ersten Staffel abgesetzt. Damit wurde ihr das gleiche Schicksal zuteil, wie Fitzgeralds Roman.
Fazit
Imposant und üppig ausgestattete Serie, die viele Themenfelder anpeilt, aber nie ganz in die Tiefe geht.
The Last Tycoon ist auf Amazon Prime im Stream verfügbar
Bilder: Amazon