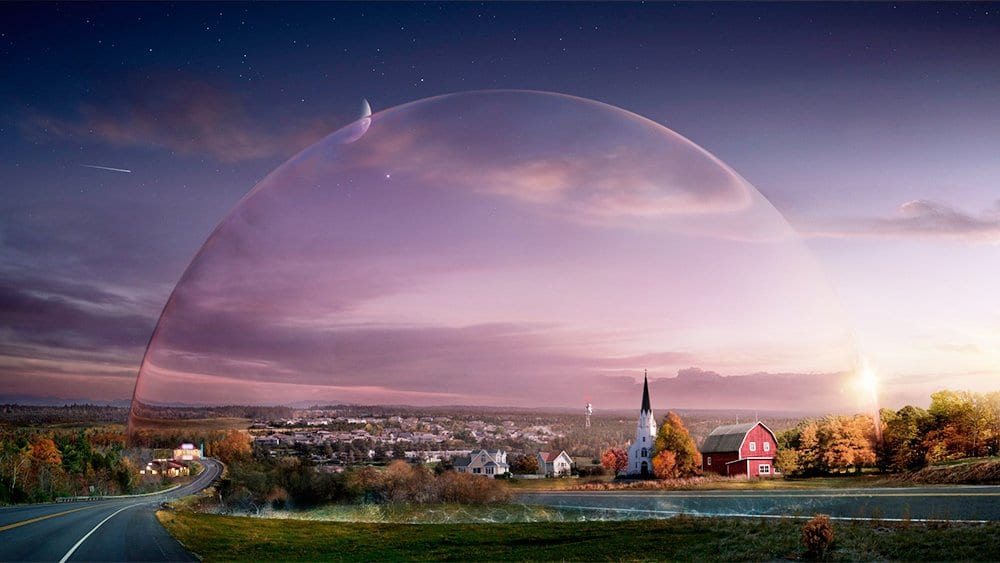 "I can't believe it, The Dome is still here."
Nicht nur die Serienfiguren wundern sich, auch der geneigte Zuschauer und Kritiker blickt mit Verwunderung auf den Bildschirm: Überraschenderweise erfreut sich The Dome in den USA großer Beliebtheit und Einschaltquoten, weshalb der Sender CBS jetzt bereits eine zweite Staffel mit 13 Episoden angekündigt hat. Damit wird nichts aus der ursprünglich geplanten Umsetzung als Mini-Serie und der Atlantik-Artikel, der uns die Rückkehr der Mini-Serie versprach, wird ad absurdum geführt. Ganz ähnlich wie im Film wird jeder Erfolg automatisch versucht zu verlängern und ausgequetscht. CBS-Chef Les Moonvey sagte bereits: "Why can't they be under the dome for a long period of time? This is television." Das erklärt das Geschäft, in dem der Mann sich befindet – und die Qualität von CBS-Serien. "This is television." Das muss man sich mal auf der Zunge zergehen lassen. Milk, baby, milk!
Das Problem, das sich hier ergibt, ist, dass die Serie ein natürliches Limit hat. Man schaut den Cosbys nicht beim Aufwachsen und Älterwerden zu, sondern hat ein Szenario, das eine gewisse Direktheit diktiert, mit der Plot Points angesprochen werden müssen. Fünf Episoden, gut eine Woche im Serienuniversum und eine M.O.A.B. brauchte es, bis die Menschen in Chester's Mill begriffen haben, dass ihre Situation unter der Glasglocke vielleicht doch ein wenig länger andauern könnte. Erst der Anblick des zerstörten Umlandes agierte als visueller Auslöser fürs Chaos. Wobei, nicht ganz.
Zunächst muss noch künstlich das Szenario von Seiten der Autoren verstärkt werden. So lassen sie einfach mal einen Nebencharakter, der bisher 5 Minuten in der Serie zu sehen war, auf die Straße laufen, weil der Figur zu heiß ist und sie delirisch wird. Nach einer Woche fahren anscheinend noch Lieferwagen herum, denn einer muss der Frau ausweichen und – tada! – fährt gegen den einzigen Wasserturm von Chester's Mill. Daraufhin läuft das Wasser aus und alle drehen durch. Das geht dann so weit, dass zwei junge Männer in einen Laden gehen und diesen ausrauben wollen. Dort treffen sie auf Rose (Kennen wir die? Sollen wir etwas für sie fühlen? Oh, sie ist alt. Oh. Okay.) und Angie, die Junior zuvor überrumpelte und fliehen konnte. Ihr Stockholmsyndrom war also nur gespielt oder eine nette Geste im Augenblick des zu erwartenden Todes. Die Typen töten die Frau und wollen Angie vergewaltigen. Ein tolles Menschenbild.
Gibt es eine Möglichkeit, dass Angie mal nicht in die Opferrolle ist? In Anbetracht, dass sie am Ende der Folge ERNEUT bei Big Jim und Junior landet – egal, wie die Konstellationen jetzt sind – zeigt, wie unglaublich ärgerlich dieser gesamte Subplot ist. Aber Frauenbilder sind generell problematisch. Einmal haben wir Angie, die stets nur in der Opferrolle gefangen bleibt. Dann haben wir die inkompetente und überforderte Polizistin, die links und rechts Hilfssheriffs einstellt und den Überblick komplett verloren hat. Zwischenzeitlich wirft sie Tränengas auf die Plünderer ("Welp, that doesn't work.") und in der letzten Episode küsste sie ihren Verlobten "durch" den Dome, obwohl sie 5 Sekunden zuvor allen verboten hat, sich dem Ding auch nur zu nähern! Dann ist da noch Norrie – je weniger wir darüber sagen, desto besser – und Julia, die als Journalistin keine Ahnung hat, was vor sich geht, und sich von Barbie komplett einlullen lässt. Dann wäre da noch Radiofrau Deedee, die, als es zu regnen beginnt, sagt, dass es ein Mikrowetter oder sowas im Dome geben muss. No shit, sherlock!
Eigentlich ist diese Folge sehr nahe dran an dem, was ich mir von der Serie versprach, und auch, wenn man so im Netz ein bisschen was nachliest, rechte nahe an Stephen Kings Vorlage. An und für sich geht das sogar für CBS-Formate klar, aber die vorherigen Folgen, die Dummheit der Charaktere und die Deus Ex Machine Auflösung am Ende jeder Folge – denn: Gott bewahre ein Konflikt geht über eine Episode hinaus! – versauen einem die Unterhaltung auf Durchschnittsniveau.
Meine Meinung:
-->