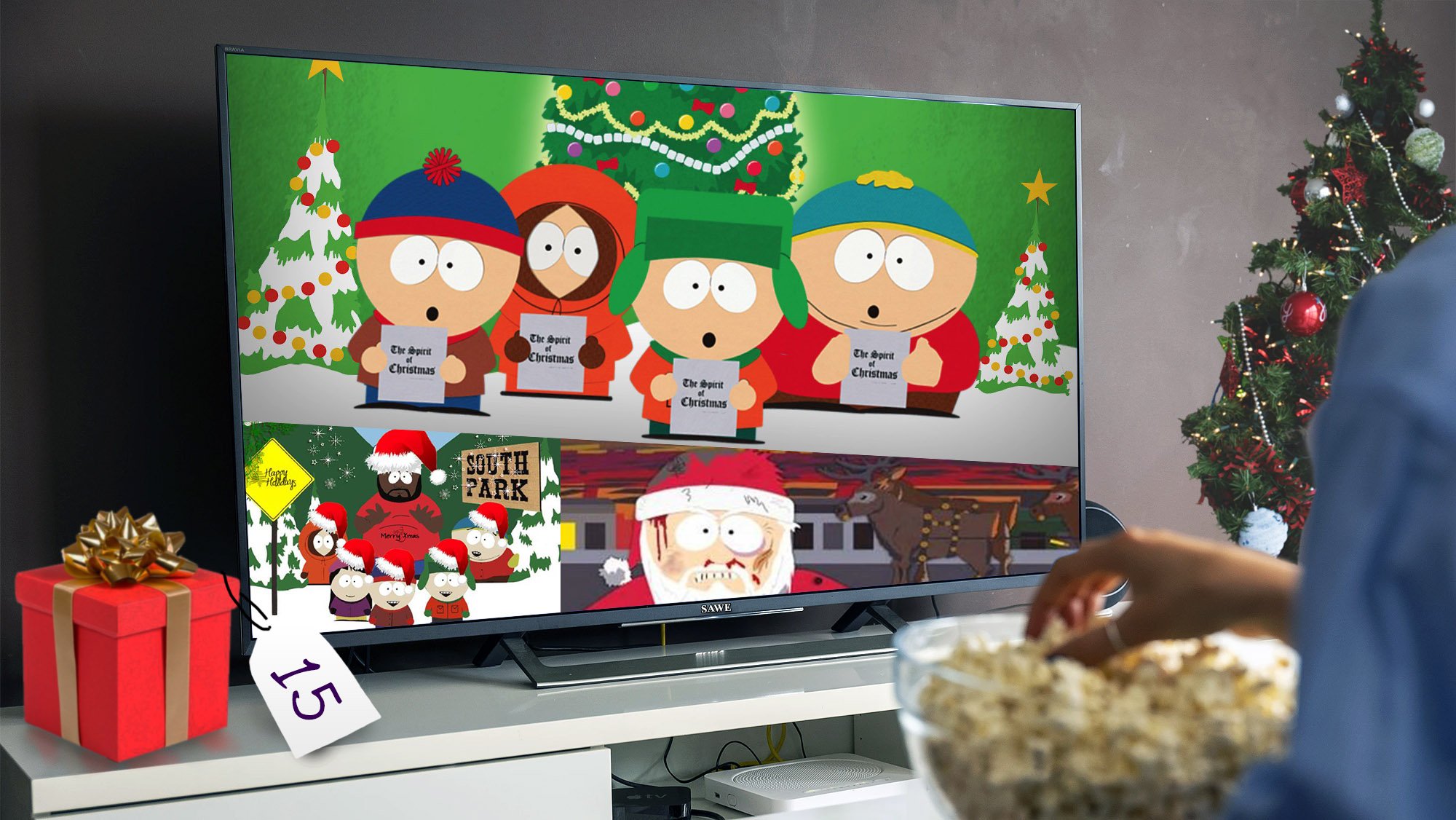 Als Fan von animierten Comicgestalten, nicht nur Superhelden auch Superchaoten oder Super-Kids oder einfach nur von rotzfrechen Kids wie eben in "South Park" begleiten mich diese durchs Leben. Im Fall von "South Park" schon über 20 Jahre. Seit 1999 können die deutschen Fans die Abenteuer von Stan, Kyle, Eric und Kenny auch deutschsprachig miterleben. Ein Ende ist noch nicht wirklich in Sicht: bis mindestens 2022 ist die Unterhaltung mit "gesellschaftskritischem, humoristischem Inhalt" noch garantiert.
INFO:
Unser "
sAWEntskalender
" hält jeden Tag ein Türchen zu Weihnachtsfolgen von Serien bereit – und
tolle Preise für euch
! In jedem Türchen ist ein Buchstabe versteckt, den es zu finden und mit allen weiteren zu einem Lösungs-Zitat zusammenzusetzen gilt. Viel Spaß beim Lesen und Buchstabensuchen!
Wer sind die Hauptdarsteller?
Hier sind das vier acht- bis zehnjährige Jungs: Stan Marsh, Kyle Broflovski, Eric Cartman und Kenny McCormick. Alle besuchen die lokale Grundschule im fiktiven amerikanischen, namensgebenden Städtchen South Park. Humor ist garantiert, allerdings, anders als das Alter der Protagonisten vermuten lassen würde, eben gerade garantiert nicht auf Grundschulniveau. Aufgrund des sehr aggressiven Humors, der ohne Rücksicht auf Verluste allerhand aktuelle und auch sehr kontroverse Themen anpackt und kritisiert, kam es schon zum Ausstrahlungs-Verbot der einen oder anderen Folge. Doch dazu später mehr. Wir sind ja mittendrin in der besinnlichen, ruhigen Weihnachtszeit, auch in "South Park".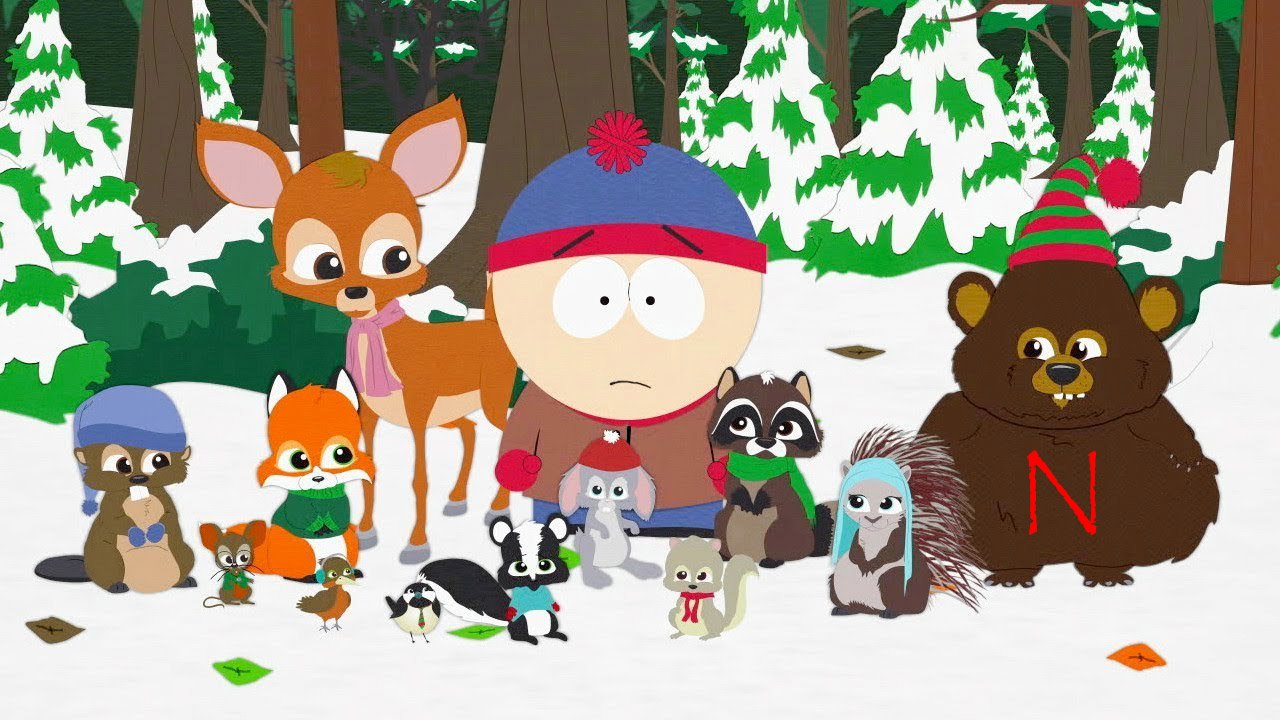 Weihnachten in South Park
Hier seht ihr eine Übersicht aus acht zufällig ausgewählten Weihnachtsfolgen von "South Park":
"Mr. Hankey, der Weihnachtskot" (Staffel 1, Episode 9)
"Merry Christmas Charlie Manson" (Staffel 2, Episode 16)
"Mr. Hankey's Christmas Classics" (Staffel 3, Episode 15)
"Und keiner lacht zur Weihnachtsnacht" (Staffel 4, Episode 17)
"Weihnachten im Irak: Blut & Wunder" (Staffel 6, Episode 17)
"Es ist Weihnachten in Kanada" (Staffel 7, Episode 15)
"Weihnacht im Walde" (Staffel 8, Episode 14)
"Fantasieland" (Staffel 11, Episode 10)
Jede dieser Folgen "verarbeitet" Weihnachten auf die ganz eigene "South Park"-Weise, durchaus unterhaltsam, wie ich finde.
Meine eigene Lieblings-Weihnachtsfolge
"Mr. Hankey's Christmas Classics"
Hier handelt es sich nicht um eine typische Folge, sondern um eine Zusammenstellung von zumindest in Amerika bekannten Weihnachtsliedern. Natürlich werden diese großartig und unnachahmlich performt von unseren liebsten "South Park"-Charakteren. Moderator in dieser "Show" ist: Mr. Hankey der Weihnachtskot höchstpersönlich!
Die Songs, die hier performt werden:
"Mr. Hankey The Christmas Poo" (Cowboy Timmy und Kinder)
"Dreidel, Dreidel, Dreidel" (die Broflovskis, Stan und Cartman)
"O Tannenbaum" (Adolf Hitler)
"Christmas Time in Hell" (Satan)
"Carol of the Balls" (Mr. Mackey)
"O Holy Night" (Cartman)
"Merry Fucking Christmas" (Mr. Garrison)
"I Saw Three Ships" (Shelley)
"Christmas-Medley" (Jesus und Santa)
"Have Yourself a Merry Little Christmas" (Mr. Hankey und andere)
Ihr seht schon, alles andere als 08/15-Weihnachtsstimmung und langweiliges Gedudel, sondern … ja. schaut euch die Folge selbst an!
Weihnachtsfaktor
Wer "South Park" kennt, der weiß: Ruhe und Besinnlichkeit sind für die vier Jungs und ihre Kumpels Fremdworte. Man darf also nicht mit dem typischen bekannten Weihnachtsklischees rechnen. Weihnachten ist schon auch einmal Thema, aber, es wird eben anders umgesetzt, "South Park"-typisch. Da ich den dort gezeigten Humor mag, vergebe ich 7 Mützen!

Buchstaben gefunden?
Wie im Gewinnspiel-Beitrag zum "sAWEntskalender" erläutert, ist an jedem Tag ein gesuchter Buchstabe im Türchen-Beitrag versteckt. Hast du ihn gefunden? Dann schreib uns die Tages-Lösung über das Kontaktformular hier und sichere dir bei richtiger Einsendung ein Gewinn-Los:
Wie ist welcher Buchstabe versteckt?
Solltest du mithilfe der bisher entdeckten Buchstaben das gesuchte Serienzitat erraten haben, schick deinen Lösungsversuch über das Formular im großen Gewinnspiel-Beitrag (ganz unten). Dich erwarten dort auch alle Infos zu den Preisen und dem Ablauf des Gewinnspieles.

Bilder: Amazon, YouTube

-->