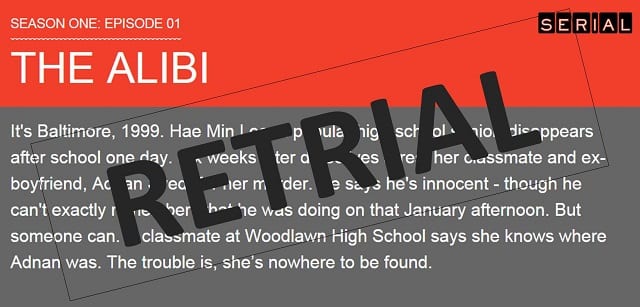 Das Wunder von Baltimore? Ich hatte euch Ende letzten Jahres auf die zweite Staffel des Serial Podcasts hingewiesen. Einem seriellen Podcastprojekt über interessante Fälle der US-amerikanischen Justiz. In der zweiten Staffel ging es um den US Soldaten Bowe Bergdahl und seinem Fall der Fahnenflucht bzw. Gefangennahme in Afghanistan durch die Taliban.
Die erste Staffel aus dem Jahre 2014 handelte von dem Mord an der 17 jährigen Hae Min Lee und die Schuldfrage des verurteilten Mörders, ihres Ex-Freundes Adnan Syed. Diesen Fall hattte Sarah Koenig in ihrem Podcast neu aufgerollt, stellte kritische Fragen, interviewte Freunde wie Sachverständige und ließ ein Millionen Podcast Publikum daran teilhaben.
Dies führte sogar zu einer Neuprüfung durch die Justiz, mit dem Ergebnis, dass der Fall wieder aufgenommen wird. Wow! Damit hatte ich wirklich nicht gerechnet auch wenn ich mehrmals während der Folgen mit mindestens einem Kopfschütteln die Ausgabe begleitet habe.
In der Wiederaufnahme geht es nun darum, ob Adnan Syed, der von Anfang an seine Unschuld beschwor, innerhalb des Gerichtsverfahrens fair verteidigt wurde und ob die zu seiner Belastung angeführten Beweismittel tatsächlich stichhaltig waren. Der Verteidiger von Syed twitterte gestern seine Freude über die Wiederaufnahme in alle Welt und bekräftigte noch einmal, dass nur durch den Podcast eine Prüfung des gesamten Verfahrens angestoßen werden konnte.
"I'm feeling pretty confident right now. This was the biggest hurdle. It's really hard to get a new trial." (C. Justin Brown; Adnan Syeds Verteidiger)
Damit dürfte dann auch die Wiederaufnahme Teil des Serial Podcastes werden, die Anhörung aus dem Frühjahr 2016 ist dies bereits. Ich bin gespannt, ob Adnan Syed nach 16 Jahren im Gefängnis eine realistische Chance auf "Wiedergutmachung" erhalten wird. Das nicht alle das als positives Zeichen sehen, ist der Natur der Sache geschuldet.
Wer jetzt denkt, dass könnte wirklich interessant sein, dem sei gesagt, die Folgen sind immer noch auf der Webseite zum Podcast abrufbar. Werde einer von über 100 Millionen Downloadern und Followern des Serial Podcasts.
via: nytimes