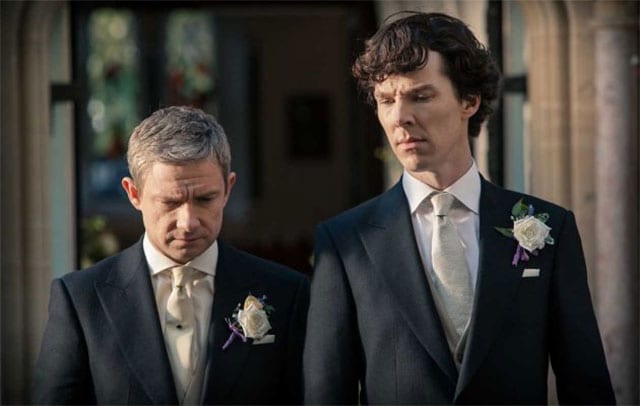 Nach Betrachten der aktuellen Sherlock-Folge waren wir etwas konstaniert. Wir waren verwundert, haben diskutiert – nicht jedoch aufgrund eines kongenialen Falls oder einer schrecklichen Begebenheit. Die Episode war auf eine ganze andere Art und Weise… nunja… anders.
Wer dachte, die erste Episode der laufenden Staffel sei sehr fragmentiert und komödiantisch gewesen, sollte hier noch einmal einen ordentlichen Nachschlag serviert bekommen. The Sign Of Three ist voll mit Situationskomik, Fremdschämen und Selbstironie. Das ist zwar absolut unterhaltsam, lässt einen aber irgendwie ratlos zurück, wo das Spannende, das Finstere, das Puzzelnde ist.
Klar, es waren großartige Momente dabei, bspw., wenn Sherlock betrunken versucht, einen Raum zu analyisieren und statt schlauer Erkenntnisse nur Fragezeichen und Wörter wie "Sitty Thing?" bei einem Sessel sieht. Ebenso ist seine Rede als Best Man als Mischung einer soziopathischen Offenbarung und Comedy gemischt mit Rückblicken unterhaltsam und gut inszeniert (auch wenn mir persönlich etwas arg viele und schnelle Überblendungen). Und auch die Rückbezüge bis in Staffel 1 (seine Lady im Mind Palace) sind schön anzusehen. Dennoch fehlt der Case. Bislang war zwar in den beiden ersten Staffeln die zweite Folge stets die "okaye" (in Relation zu den epischen ersten und dritten), was hier nicht der Fall zu sein scheint, aber es wurden Klassiker, wie die Hounds of the Baskervilles neu interpretiert.
Und auch wenn am Ende der Folge wieder etwas sherlocksche Kombinationsgabe (mit Hilfe eines Neunjährigen) aufkommt – es bleibt zu hoffen, dass das Staffelfinale uns wieder überrascht. In spannender Form. Vielleicht war das ja wirklich nur viel Glückseligkeit, damit uns ein Schock umso härter trifft. Dennoch war die Folge unterhaltsam und auf seine Weise clever gemacht.
Meine Meinung: