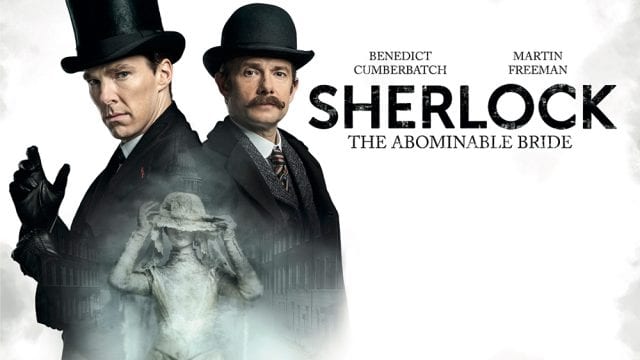 An Ostermontag, 28. März, ist es endlich soweit: Die Sherlock Special Episode "Die Braut des Grauens" feiert ihre Deutschlandpremiere im Ersten. Um 21:45 Uhr geht's los. Damit Ihr bestens vorbereitet seid, haben wir Euch hier die wichtigsten Infos zusammengestellt.
Die Special-Episode – Worum geht's? (spoilerfrei)
Eigentlich wird Sherlock mit Benedict Cumberbatch und Martin Freeman ja immer in Ministaffeln mit drei 90-Minuten-Folgen ausgestrahlt. Aufgrund der vielen anderen Verpflichtungen der Schauspieler – Martin Freeman war ja zum Beispiel bei den Hobbit-Filmen und in der Serie Fargo zu sehen, Benedict Cumberbatch ebenfalls bei Hobbit und bei Star Trek – ist die reguläre 4. Staffel auf 2017 verschoben worden. Um die Wartezeit zu verkürzen, schob die BBC eine Special Episode ein – die unsere Hauptfiguren ins Jahr 1895 versetzt, um dort in einem Fall zu ermitteln. Ist recht ungewohnt, Holmes und Watson im viktorianischen Setting zu sehen, man gewöhnt sich aber schnell daran.
Für einen ersten Eindruck haben wir Trailer und Teaser für Euch.
Special Effects – Sherlock Holmes im Jahr 1895
Wie gesagt, spielt die Special Episode im Jahr 1895. Und gerade die Inszenierung der Original-Sherlock-Epoche hat gefallen, aber eben auch der ein oder andere filmische Kniff. Für die Effekte war das Londoner Studio milk VFX zuständig, die in einem Video ein paar Vorher-Zwischendrin-Nachher-Vergleiche zu vereinzelten Szenen aufstellen. Maik stellt Euch die Special Effects in diesem Beitrag ausführlich vor.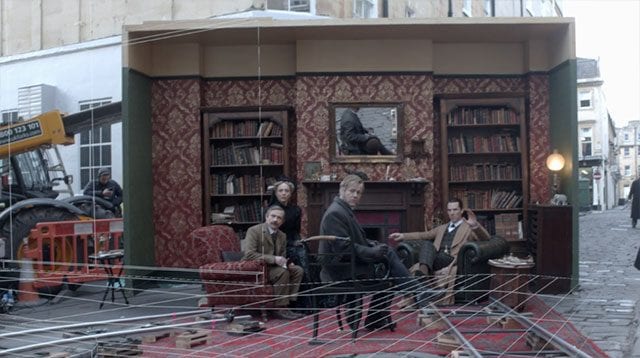 Die Musik von Sherlock
Auch der Score spielt eine wichtige Rolle bei Sherlock – hier hat man auf das erfahrene Duo David Arnold und Michael Price gesetzt – womit Showrunner Mark Gatiss offensichtlich sehr glücklich ist:
If Michael Price & David Arnold did not exist, it would be necessary for Man to invent them. Their contribution to 'Sherlock' is immeasurable. Thrilling, cheeky, sinister, playful and simply world-class…The music's not bad either.
Mark Gatiss und David Arnold sind alte Freunde – so kam die Verbindung zustande. Auch bei der Special Episode hatten die beiden Komponisten ihre Finger im Spiel. Im Rahmen unserer Soundtrack-Reihe stelle ich Euch die Arbeit der beiden zum Start von Sherlock vor.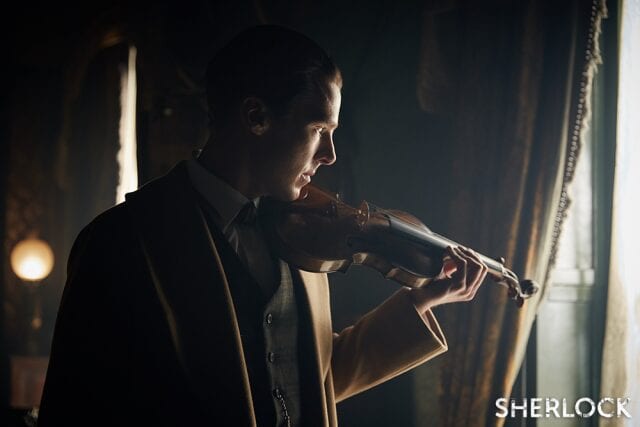 Pro und Contra Synchronisation
Immer wieder ein großes Thema: Soll ich die Serie im Original oder in der Synchro-Version schauen? Viele bevorzugen ja immer das Original – die Authentizität der Darsteller bzw. Figuren ist hier auch einfach am größten. Viele wirklich kluge Wortwitze können manchmal gar nicht in eine andere Sprache übersetzt werden. Die Synchro-Folgen von Sherlock sind immer sehr sorgfältig produziert und überzeugen definitiv mit der Umsetzung. Das beschränkt sich nicht nur auf das gesprochene Wort, sondern betrifft auch das On-Screen-Design, das bei Sherlock ja mitunter intensiv eingesetzt wird. Selbst wenn man also das BBC-Original schon gesehen hat, kann man sich Ostermontag durchaus nochmal eineinhalb Stunden Zeit nehmen. Kira stellt Euch in einem Beitrag vor, wie Sherlock in anderen Sprachen wirkt – mitunter wirklich strange.
Review zur Folge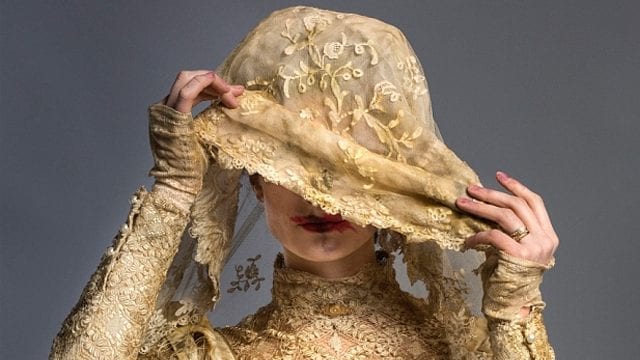 Tobias hatte Euch bereits im Review zur BBC-Ausstrahlung zu der besonderen Folge eine unbedingte Seh-Empfehlung ausgesprochen. Nicht nur aufgrund des tollen Settings in der eigentlichen Zeit der Roman-Figur Sherlock Holmes, sondern auch aufgrund der gewohnt erstklassigen Unterhaltung. Also: Spätestens jetzt solltet Ihr Ostermontag ab 21:45 Uhr etwas vor haben.

-->