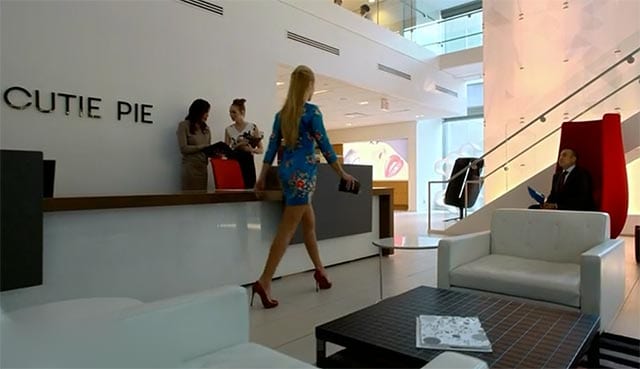 Nach dem Allround-Rant von Louis vergangene Woche beruhigt es sich etwas und geht beinahe in den guten alten Status von anno dazumal über. Direkt zu Beginn wurde ich aber irritiert: War die Dachszene vor einem Greenscreen gesteht?! Das sah verdammt komisch aus. Wie auch immer, jedenfalls fing es dort bereits an mit der rund 40-minütigen Sprüche-Show, die zu etlichen Zitaten hier führt.
"You know what? You can be a real son of a bitch." – "Yeah, but instead of being pisses at me, why don't you take a look in the mirror?" (Jessica & Harvey)
Es gibt sogar wieder ein bisschen Buddy-Talk zwischen Mike und Harvey über Kultfilme. Mike macht wieder Wunderdinge und es gibt Rückbezüge auf den Beginn der Serie – das gefällt. Ebenso wie das noch immer intakte Selbstbewusstsein Harveys.
"According to me is the only 'according to' that matters." (Harvey)
Ein Ethik-Professor, der illegal pokert – habe ich an der falschen Uni studiert? Okay, scheinbar nicht. Wir merken jedoch in diesem durchaus angenehmen Fall (da eher klein und in sich stimmig – eben für eine Folge auch mit den kleinen Wendungen und Variationen glaubhaft und erdig), dass Mike eben mittlerweile ein ganz anderes Standing bei Harvey genießt. Der nimmt sein Wort eben für voll, wenn es sein muss.
"I thought you came to me, because I'm the best. But you only did because you thought I'd be willing to do what it takes to win." – "Isn't that what makes you the best?!" (Harvey & Professor Etik)
Louis' neugewonnene Statusgier ist dagegen noch immer ausgeprägt, wenn auch etwas feinteiliger. Wenigstens bekommt er mit einer Hundenarrin, die lieber redet und trinkt denn über Arbeit redet, eine wunderbar nervige Abstrafung.
"Tell me, Mr. Litt – did you actually graduate from law school or did you just buy your way onto the letterhead?" (Hundenarrin)
Und am Ende zeigt sich doch, dass Louis noch ein bisschen Ehre in sich hat – indem auch er Jeff belügt. Hach, wo wären alle nur ohne ihre Lügen?
Tatsächlich eine gute Folge. Back to the Basics. Kein epochales Sich-selbst-Übertrumpfen, keine unglaubwürdigen Twists, einfach glaubhafte Charaktere, jede Menge Drama und eine Prise Humor. Das hat Suits stark gemacht, vielleicht besinnt man sich jetzt tatsächlich mal wieder auf das Wesentliche. Tut der Serie jedenfalls gut.