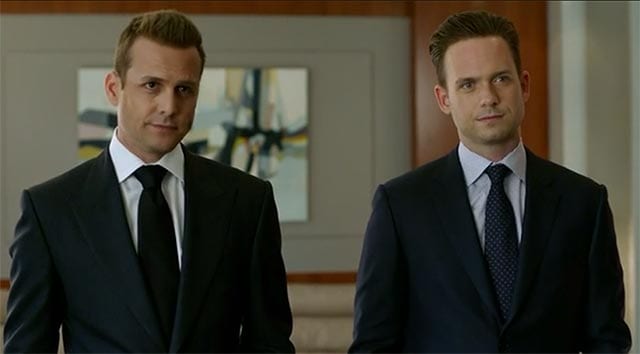 Da ist Suits auch schon wieder! Die Meister der Season-Zerstückelung haben mal wieder zugeschlagen und nur knapp drei Monate nach dem Finale von Staffel 4 direkt mal die nächste begonnen. Aber bevor wir überhaupt auf den Inhalt eingehen: What the fuck happened to Mikes hair?! Die drei Monate wachsen lassen um es dann wachsen zu lassen? Sehr strange.
Aber fernab unserer Styling-Analyse gibt es auch ein paar notwendige Änderungen und erfrischend andere Erzählweisen. Wir bekommen einen scheinbar doch härter mitgenommenen Harvey zu sehen, als er es sich selbst zuschreiben möchte. Über eine Rückblende wird erzählt, wie es dazu kam, dass er scheinbar einen Nervenzusammenbruch hatte und seitdem nicht mehr schlafen kann. Das ist erfrischend neu, wird aber meiner Meinung nach (noch) nicht konsequent genug durchgezogen. Wären mehrere Folgen die Aufarbeitung einer längeren Phase, wäre das klasse, so habe ich Angst, dass es bei einem einmaligen Stilmittel bleibt. Vielleicht besucht er wenigstens die Therapeutin mit tollem UK-Akzent weiterhin…
"As far as I concern, two adults that care about each other don't move on." (Harvey)
Das Problem ist klar: Donna. Eigentlich ist sie keines, eher Harveys Ego und Stolz, aber sie hat nun einmal den am einfachsten zu merkenden Namen.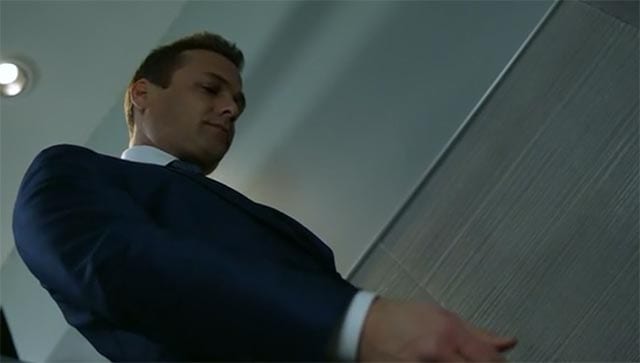 Louis möchte zwar nicht wieder umsonst einen Kuchen backen, lässt sich aber dann doch auf das Abenteuer Neu-Sekretärin und die damit einhergehende Verlust-Paranoia ein. Etwas viel Psycho-Psycho-Einspielungen für zwei derart toughe Anwälte, die vor Gericht aber auch alles an sich abperlen lassen. Ausflucht für die Writer: sind halt auch nur Menschen. Jaja… Wie du und ich. Nur besser gekleidet.
"We didn't come here for a quote-off." (Harvey)
Alles schaut jedenfalls nach Neustart aus. Die Wogen sind halbwegs geglättet, jeder hat sich mit dem Wechsel arrangiert und die Staffel kann dann nächste Woche endlich starten. Bitte! Am Ende muss ich dann zumindest gestehen, dass die Sache mit den Mets-Karten im Ärmel ungemein cool war. Das ist der alte Suits-Geist!
"Will Jay-Z be there?!?" (Mike)
Ich habe mich etwas schwer mit dem Auftakt getan. Hoch rechne ich der Serie den Versuch neuer Erzählweisen an. Genau das hatte zuletzt sehr gefehlt, alles wurde nach Schema F gemacht. Dazu wurde sich eigentlich ja auch mal Zeit für eine zwischenmenschliche Sache genommen. Es gibt weiterhin Luft nach Oben, aber scheinbar hat man zumindest eingesehen, dass sich Dinge ändern müssen. Hoffen wir mal, dass etwas mehr Drama als ein Kuchen und ein Korkenzieher kommen wird… Und eine neue Frisur für Mike.

Bilder: USA

-->