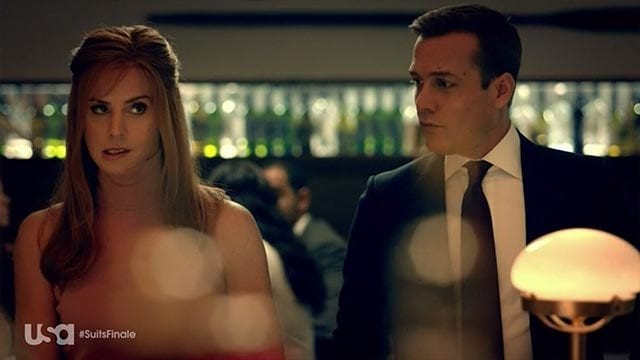 Finale – Oh-oh… Das zumindest möchte man bei Suits denken, wenn man das schwache Ende der dritten Season bedenkt. Zumal ja eh gefühlt alle drei Monate eine (vorerst) letzte Folge läuft. Und leider weiß auch die vierte Staffel nicht wirklich mit Bombast enden zu wollen.
"Today is your lucky day!" – "Why is that?" – "Because you get to meet Donna." (Donna & Harvey)
Das Finale ist vielmehr ein Stückwerk an aufgewühlten Nettigkeiten. Wir bekommen das tatsächlich erste Aufeinandertreffen von Donna und Harvey zu sehen. Nett. Dazu kommen mal wieder Altlasten aus dem Nicht hoch. Nett. Ebenso nett ist es, dass endlich mal wer einsieht, dass Rachel nur noch schmückendes Beiwerk denn ein ernst zu nehmender Charakter ist. "You want a chance to exist?" trifft es da eigentlich ganz gut. Auch die Wall Street-Anspielung – nett. Zugegeben, das mit der "Get out of jail"-Karte war etwas mehr als nett…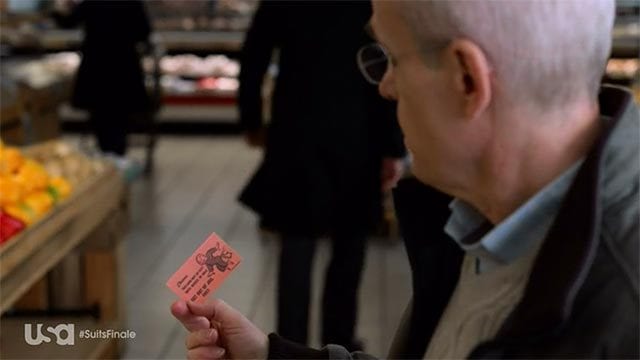 "I love you, Norma." (Louis)
Ansonsten fühlt man richtig, dass die Writer einige intensive Momente schaffen wollten und sie zwingend in die Folge gespresst haben. Aber ein Charakter, den man nie gesehen hat und über den fast ausschließlich negativ gesprochen hat – wieso sollte ich da jetzt mitfühlen? Dann schon eher mit Marcus, einem Gesicht, das wir auch sehen dürfen. Zumindest in der Vergangenheit, im Hier und Jetzt ist er nur noch einen Anruf wert.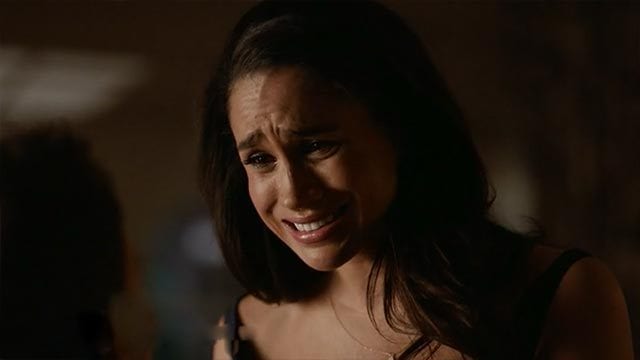 Und wenn man schon keine (wirklich tragischen) Schicksalsschläge zu verkünden hat, holt man einfach einen generischen Glücksfall aus der Hosentasche, während man auf einem Bein kniet. Die Frage aller Fragen, alles Friede Freude Eierkuchen. Okay, bis auf die vielleicht größte Niederlage für Harvey. Ein wirklicher Cliffhanger oder Schock ist das aber auch irgendwie nicht. Und wenn Suits sich treu bleibt, ist sie spätestens in S05E03 wider bei Harvey. Pfft!
Schade, schon wieder vermasselt. Wir alle wissen, wessen kleiner Bruder "nett" ist. Zu inszeniert, zu belanglos, und sogar in den Dialogen nicht ausgefeilt wie sonst. Das war bestenfalls mittelmaß. Schade, hatte die Staffel doch endlich mal wieder ein paar Highlights zu bieten. Bleiben die aber derart rar gesät, würde ich die bereits beschlossene fünfte Staffel durchaus als letzte ansehen. Denn im Grunde genommen tritt Suits weiterhin auf der Stelle. Anstatt neues Blut rein zu bringen, werden Charaktere wie Katrina und Jeff (okay, den mochte ich eh nicht) einfach raus geschrieben. Und sind da eigentlich gar keine Associates mehr? Stets laufen die abends an leeren Plätzen vorbei. Überstunden gegen Statisten-Kosten, möchte man meinen.
Blick auf die Gesamt-Staffel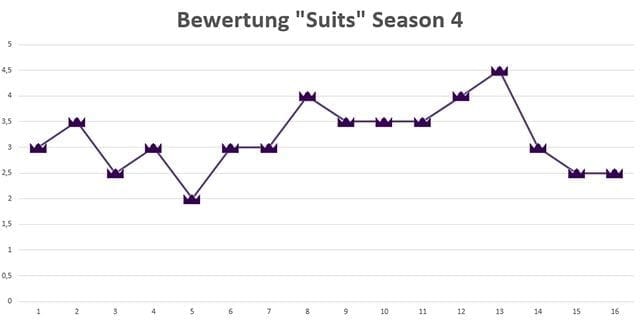 Da denkt man doch tatsächlich nach den ersten Folgen diesen Jahres, dass Suits zu alter Stärke zurückfindet, stattdessen findet man alte Fehler und Tugenden, die man einfach nicht lassen kann. Mit länger gespielten Storys, glaubhaften Wendungen und mehr Charakteren wäre das in Zukunft sicherlich leicht zu beheben, die Stärken sind gewiss noch immer vorhanden. Und bitte, bitte, bitte – lasst diese dämlich Midseason-Geschichte bleiben! 10+6 Folgen? Das ist halbgar, zerstört das letzte bisschen Story und sorgt für Füll-Folgen. Dann lieber 12 am Stück machen und fertig. Danke.