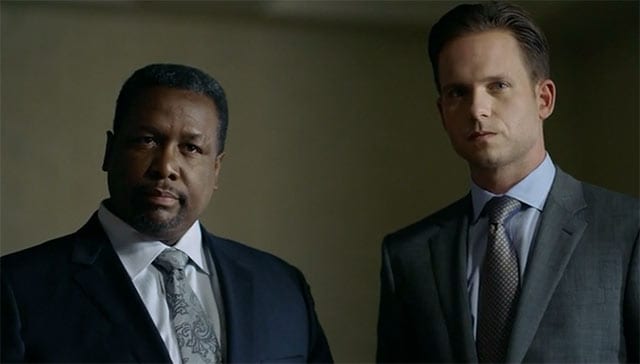 Weiter geht es im Grabenkampf in der Kanzlei. Sorry, aber dieser plötzliche interne "Machtkampf" interessiert mich null. Wirkt inszeniert, überzogen und aus dem Hut gezaubert. Dennoch ist er da und wird größer und größer aufgezogen. Als richtige "Gefahr" wird der "Neue" von Jessica tituliert, Harvey kratzt es aber vor allem am Ego.
"I only play jokes on people to express my affection for them and right now I got no affection for Louis Litt." (Harvey)
Die "Harvey braucht Hilfe"-Szene mit Mike war bescheuert. Zum einen kann das warten, besonders wenn Mike offensichtlich eine Termin hat, zum anderen kommt Robert viel zu früh und passend von der Lobby hoch. Wenigstens zeigt Gretchen mehr und mehr wie wertvoll sie werden kann.
"Well, maybe I am as good as Harvey." – "Sometimes that is not a good thing." (Mike und Jessica)
Das Panik-Attacken-Thema wird aber tatsächlich nochmal aufgegriffen. Finde ich gut, dass es keine Ein-Folgen-Story war, auch wenn die Situation für den Ausbruch eher nichtig erschien. Die Visualisierung der Attacke war dagegen absolut okay, das hat gesessen.
"You're alright?" – "No…" (Mike und Harvey)
Zweiter wichtiger Aspekt sind Allstar und Team. Mike hat noch immer die Haare schön und Robert ist eigentlich wie die Rückansicht seiner Tochter: ein ganz schöner Arsch. Das "I love you" von ihm gegenüber Jessica war bestimmt ernst gemeint. Ich glaube, da wird genauso noch irgendwann was laufen wie bei Harvey und seiner britischen Therapeutin. Da aber vermutlich deutlich früher… Die Szene mit dem Rollenspiel fand ich jedenfalls durchaus gelungen, auch wenn die "Ich finde diese Spielchen voll doof!"-Attitüde nicht wirklich zu Harvey als Charakter in der Situation gepasst hat.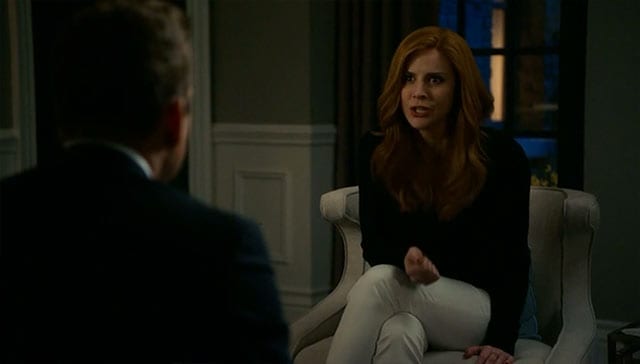 "When someone twists a knife in your gut, I feel like I wanna twist one right back." (Harvey)
Die Folge endet erneut mit einer Drohung Harveys, gekonnt gekontert von Louis mit einem dämlichen Gesichtsausdruck.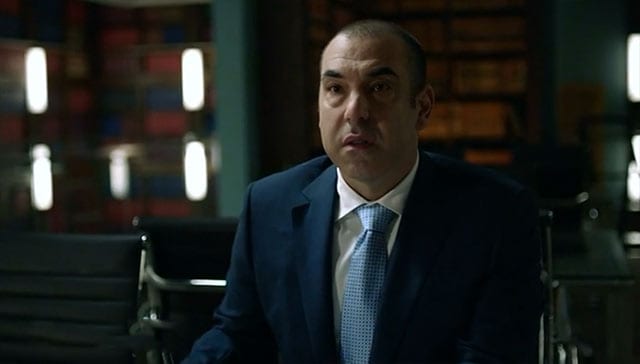 Und ha! Kaum meckert man, dass Mikes "Superkraft" des Elefantengedächtnisses nicht mehr aufkommt, darf er seinen Trick vor Gericht vorführen.
Ja, da war noch Krams mit Rachel und einer Rede und bla und blubb. Aber so recht signifikant wurde das insgesamt diese Woche nur wenig. Die Hahnenkämpfe in der Agentur sind Blödsinn (bei dem vor allem Jessica und Harvey positionsbedingt einen Riegel vorschieben können müssten), dafür ist Gretchen klasse! Dennoch darf es jetzt gerne wieder etwas größere Rahmen springen und zwei neue Charaktere diese Staffel sind mir ehrlich gesagt auch zu wenig. Unterhalten habe ich mich dennoch gefühlt, da waren einige sehr schön ausgefeilte Dialoge bei. Weiter machen!
Bilder: USA