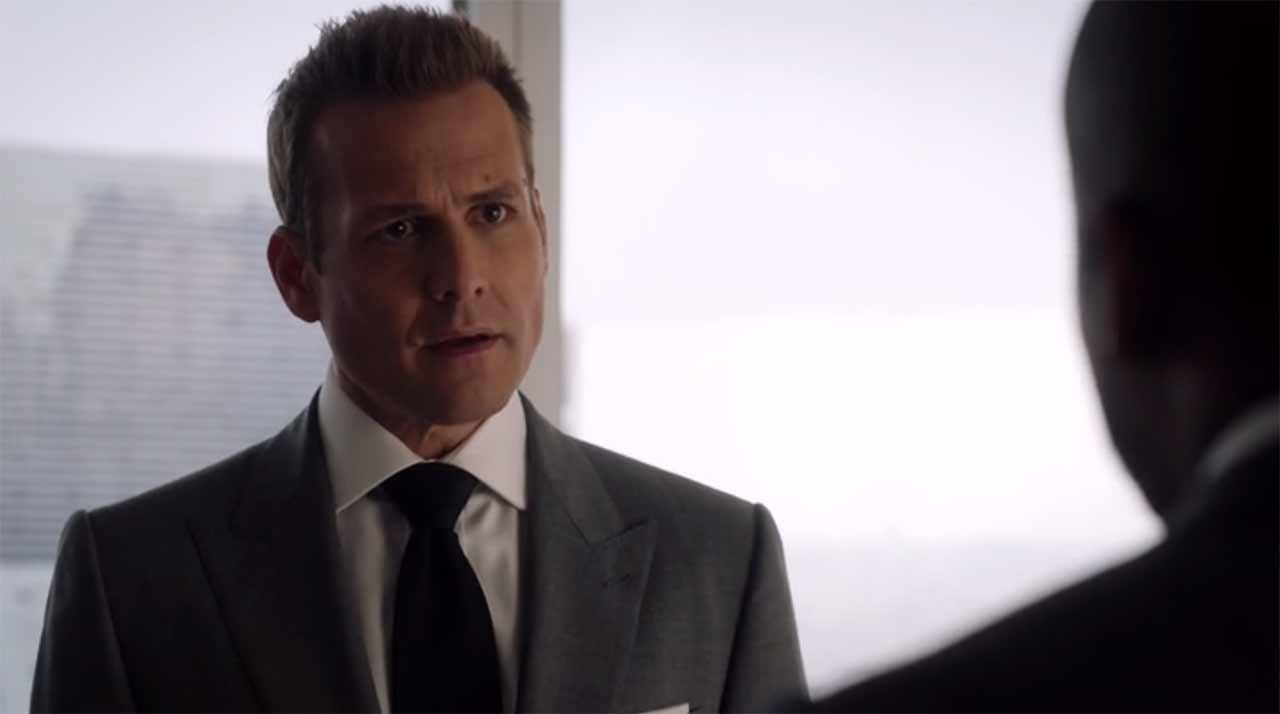 Diese Woche geht es um Väter, Hochzeiten – ach ja, und um die Existenz der Kanzlei. Also eigentlich alles wie immer.
"This is great! If you're a bachelor pushing 50 and you need to impress women…" (Zane)
Zunächst bewegen wir uns im "Keiner spricht mit niemandem"-Bereich. Louis hat plötzlich seinen Biss gefunden und ist genervt, dass jemand anderes in seinem abgegebenen Tätigkeitsbereich eine Entscheidung ohne ihn getroffen hat. Stephanie soll wieder eingestellt werden, weil sich anscheinend schlaue Leute alles erlauben dürfen und "Zeichen setzen" eh total überbewertet wird. Sorry, aber hätte die Kanzlei das wirklich gemacht, stände "Auf der Nase herumtanzen" Tür und Tor offen, da würden die angehenden Anwälte ja niemanden mehr ernst nehmen…
Harvey ist sauer, weil alle sauer auf ihn sind, und (be)sucht Jessica um Rat. Gibt es eigentlich keine Telefone, so dass man immer fliegen muss?
"Last time you visited Chicago this often, Michael did still play." (Jessica)
Es folgt der große Angriff auf Bestandskunden, die große Gefahr, die große finstere Sackgasse ohne Umkehrmöglichkeit, bla-blubb – you know it. Zum Beispiel ist ein Kunde so richtig dolle sauer, weil er Louis nicht erreichen kann – kein Wunder, bei dem ganzen Privatkram, den er die letzten Staffeln in der Arbeitszeit verarbeitet hat. Aber wie das bei so richtig großen Problemen in der Suits-Welt so ist, kommen rettende Ideen (in Person von Alex und Mike) und retten die Situation. Und binnen fünf Minuten ist alles wieder dufte – yay!
"Thanks, Robin." – "You're welcome, Batman." (Harvey & Mike)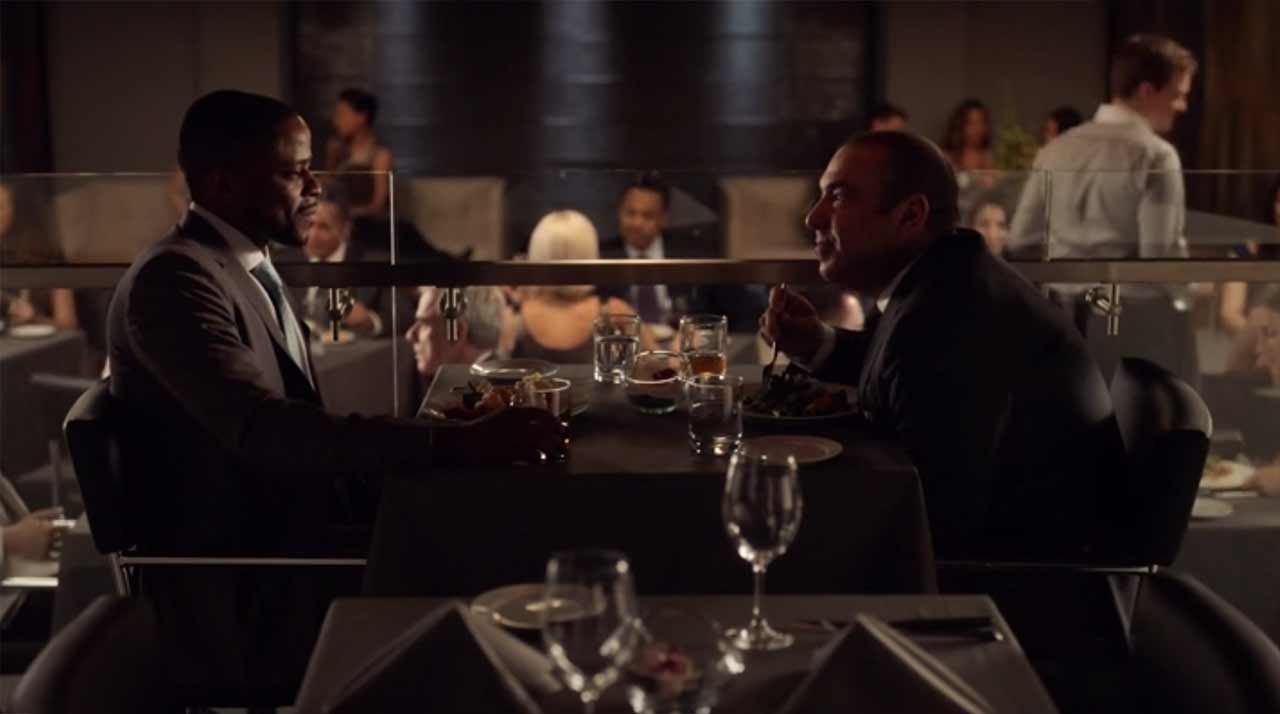 Oh, doch nicht, wer hätte es gedacht…? Weitere zig Kunden werden bedrängt – Schocker! Die Besuchs-Szene bei der Konkurrenz war lächerlich und allgemein ist dieses "Problem-Lösung-Größeres Problem"-Gehabe verbraucht und unglaubwürdig. Erst recht, wenn es sich dann innerhalb weniger Minuten erneut in Luft auflöst. Aus Pesudo-Merge-Bluff mit Zane und "Donna sucht den Super-Maulwurf" wird nichts, weil Alex etwas in der Hinterhand hat, das ihn in schätzungsweise 4-5 Folgen in den Arsch treten dürfte…
"Don't tell Louis, I said he was right." – "Don't worry about it. I only listen to every third thing you say anyway." (Harvey & Alex)
Und alles nur, weil Jessica keine Lust mehr auf Harvey-Besuche und ihn deshalb etwas beschäftigt hatte, um zu demonstrieren, dass ein Telefonat vollkommen ausreicht. Dass es die nämlich tatsächlich in der Serie zu geben scheint, zeigt das Ende der Episode recht eindrucksvoll (und nervend wie eine Telefonkette).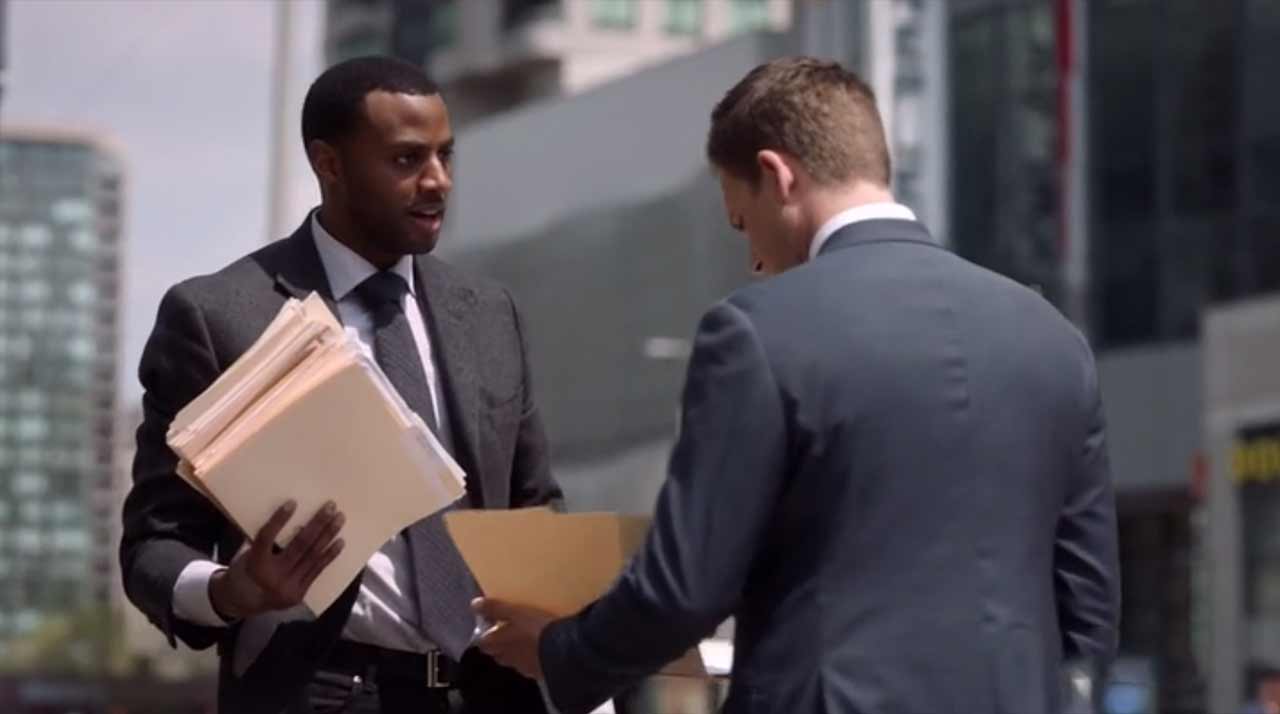 Und ich kann da zwar nichts drüber sagen, aber es gab da noch so eine Sache mit einem Anwalt, der nicht zu einem alten Pro Bono-Fall sagen wollte und vor allem durfte. Dass ihn das bestimmt nicht nicht einholen wird, war bereits ab den ersten Minuten ersichtlich, dass es jedoch derart schnell von indirekt zu direkt wandelt, war dann doch überraschend. Statt mit einem "Feierabendbierchen" angelt sich Oliver Mike mit dieser "Moral", von der alle immer reden, so dass er natürlich doch eingreift. Der "diese Akte, diese Akte – ach, und dieser Berg an Akten"-Gag war billig, aber okay, bei dem kindgebliebenen Charakter Oliver lasse ich das gerade noch durchgehen. Wie Mike am Ende unter Druck gesetzt wird auch. Also macht er es doch nicht nicht – welch Überraschung. Nicht.
"Sorry, Mike, I can't talk right now. I'm kinda buzy being overwhelmed by a case I can't handle." (Oliver)
Rein von der Handlung her zumindest etwas besser als zuvor, denn dass ein Konkurrent versucht, Klienten abzugreifen ist durchaus realistisch, erst recht, wenn gerade ein Anwalt erfolgreich abgeworben wurde. Allgemein finde ich es auch gut, dass Themen wie Personal und Leistungsfähigkeit mal wieder aufkommen (auch wenn der neue Job für Stephanie erstaunlich schnell erfolgte…). Was mich aber (mal wieder) nervt, ist dass alles (mal wieder) in eine Folge gestopft wurde. So kann sich die Dramaturgie nicht entfalten, vermeintlich letzt Wendungen werden als Nicht-letzte vom Zuschauer zu schnell entlarvt und nicht mehr ernst genommen. Dass es am Ende gar eine Art Spielchen für Jessica war, verharmlost alles noch einmal. Und jetzt Kuchen!
Bilder: bravo