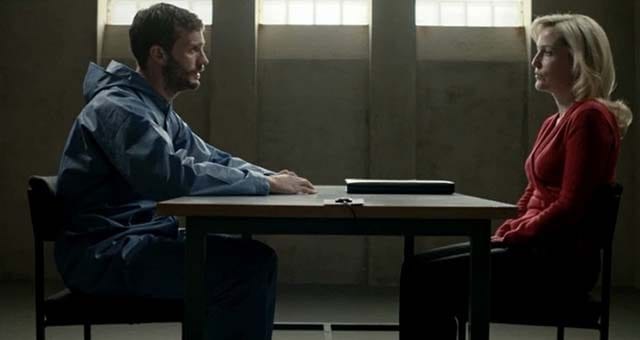 Es ist jetzt gar nicht so lange her, dass auch die deutschen Fernsehzuschauer in den Genuss der bisherigen zwei Staffeln von "The Fall" gekommen sind. Noch einmal nachträglich ein Hoch auf das ZDF. Es dürften nun auch in Deutschland diverse Serienfans auf diese außergewöhnlich gute Serie aufmerksam geworden sein. Gut so! Und demnach dürften sich auch diesseits des Ärmelkanals viele Serienfreunde die eine Frage stellen, endet die zweite Staffel echt mit dem Tod des Serienkillers Paul Spector? Und damit ja eigentlich auch die Serie?
Die Antwort lautet : nein! In 2016 wird es eine letzte Staffel geben, die aus fünf Teilen bestehen soll. Derzeit beginnen in Belfast die Dreharbeiten. Viel Arbeit also in letzter Zeit für Gillian Anderson. Und wer treibt sich da ebenfalls am Drehort herum: Jamie Dornan alias Spector.
Die dritte und letzte Staffel wird nämlich genau da ansetzen, wo wir die zweite Staffel verlassen haben, mit einem blutenden Spector und einer aufgelösten Stella Gibson: "We´re losing him". Zumindest schafft es Spector über die Staffelpause, das kann man schon jetzt sagen. Mehr wollen einem die Verantwortlichen verständlicherweise nicht mit auf dem langen Weg des Wartens mitgeben.
"I've been on a very exciting journey over the last five years with Stella Gibson and Paul Spector – the central characters of The Fall – and I'm thrilled to have recently started filming the third instalment of their macabre, obsessive dance of death. Gillian and Jamie have lived and breathed those characters during that time and I've been incredibly well-served as both writer and director by their stellar performances. Obviously I don't want to give anything away about how the third series will end but I can say that I am looking forward to working with both Gillian and Jamie again in the near future." Allan Cubitt (Autor der Serie)
Was man schon weiß, ist, dass der Cast der letzten Staffel auch neue Mitglieder mit an Bord haben wird. So werden wir u.a. Kommissar Kurt Wallander in Aktion sehen – also eigentlich auch nur seinen Schauspieler Krister Henriksson, Aidan McArdle (Mr Selfridge) und Richard Coyle (Coupling). Was man bisher noch nicht weiß, welche Rollen die neuen Figuren einnehmen werden. Sind es Polizisten oder nimmt unter Umständen einer diesen neuen Schauspieler die Rolle des neuen Serienkillers ein?
Wir werden es in 2016 erfahren. Auch hier bei sAWE.tv. Versprochen.
Foto: BBC