Ja, ich habe tatsächlich mal wieder so ein richtiges Buch in die Hand genommen – und darin gelesen. Eigentlich hatte ich das Buch "Leadership by Game of Thrones" (Partnerlink) nur zufällig in die Hand bekommen. 'Ah, noch ein Buch zu Game of Thrones', habe ich gedacht, 'mal wieder jemand, der das Thema nutzen möchte, um seine Inhalte zu transportieren und ein paar Exemplare mehr zu verkaufen.' Aber: Beim ersten Durchblättern bin ich dann schnell hängen geblieben, das Durchblättern wurde langsamer, und irgendwann ging's dann nur noch Seite für Seite weiter, nach intensivem Lesen und Betrachten der Illustrationen. Irgendwann habe ich das Buch zugeklappt – und bin von vorne angefangen.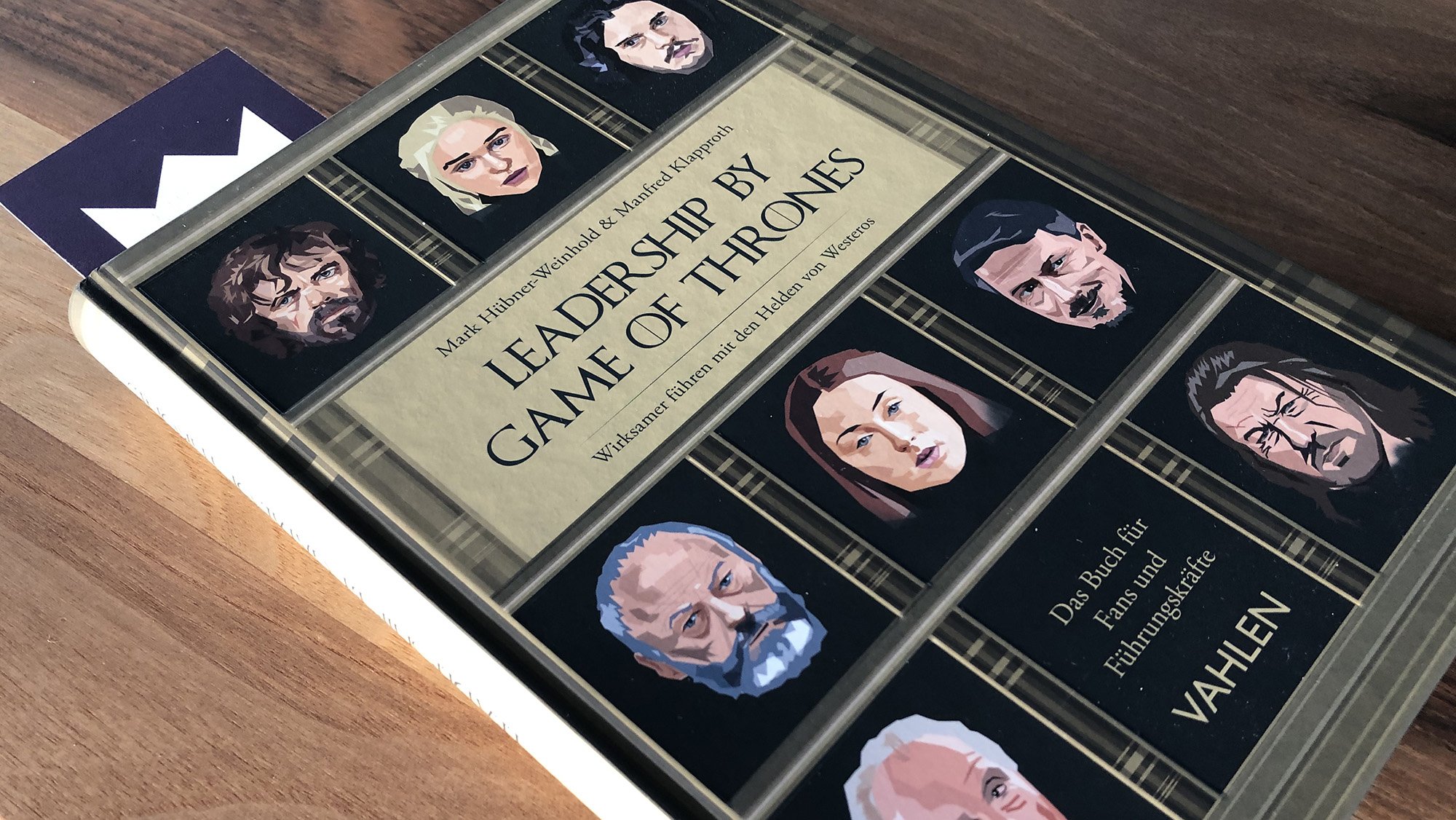 Für die Autoren von "Leadership by Game of Thrones", Mark Hübner-Weinhold und Manfred Klapproth, ist die Serie Game of Thrones "72 Stunden und 16 Minuten klug investierte Weiterbildung" für Manager. Mit ihrem liebevoll gestalteten Buch "Leadership by Game of Thrones" liefern sie die Anleitung dazu – und ebenfalls eine klug investierte Weiterbildung. Also rein ins Buch.
Klar – die Serienwelt von Westeros wurde wie gesagt schon von vielen Experten unter ihre fachliche Lupe genommen, mitunter eben auch als verkaufsförderndes Mittel: Literaten, Kulturwissenschaftler, Historiker, Philosophen, Psychologen sowie Verhaltens- und Hirnforscher haben entsprechende Bücher, Essays und Blogbeiträge geschrieben. Fans können mit Game of Thrones kochen und backen oder sich von Reiseführern an die Orte des Geschehens begleiten lassen. Hier ist es aber anders: Natürlich wird die Serie auch als Vehikel benutzt, aber: um Inhalte zu transportieren, Wissen zu veranschaulichen und verständlich zu machen. Das ist ok – mehr als das.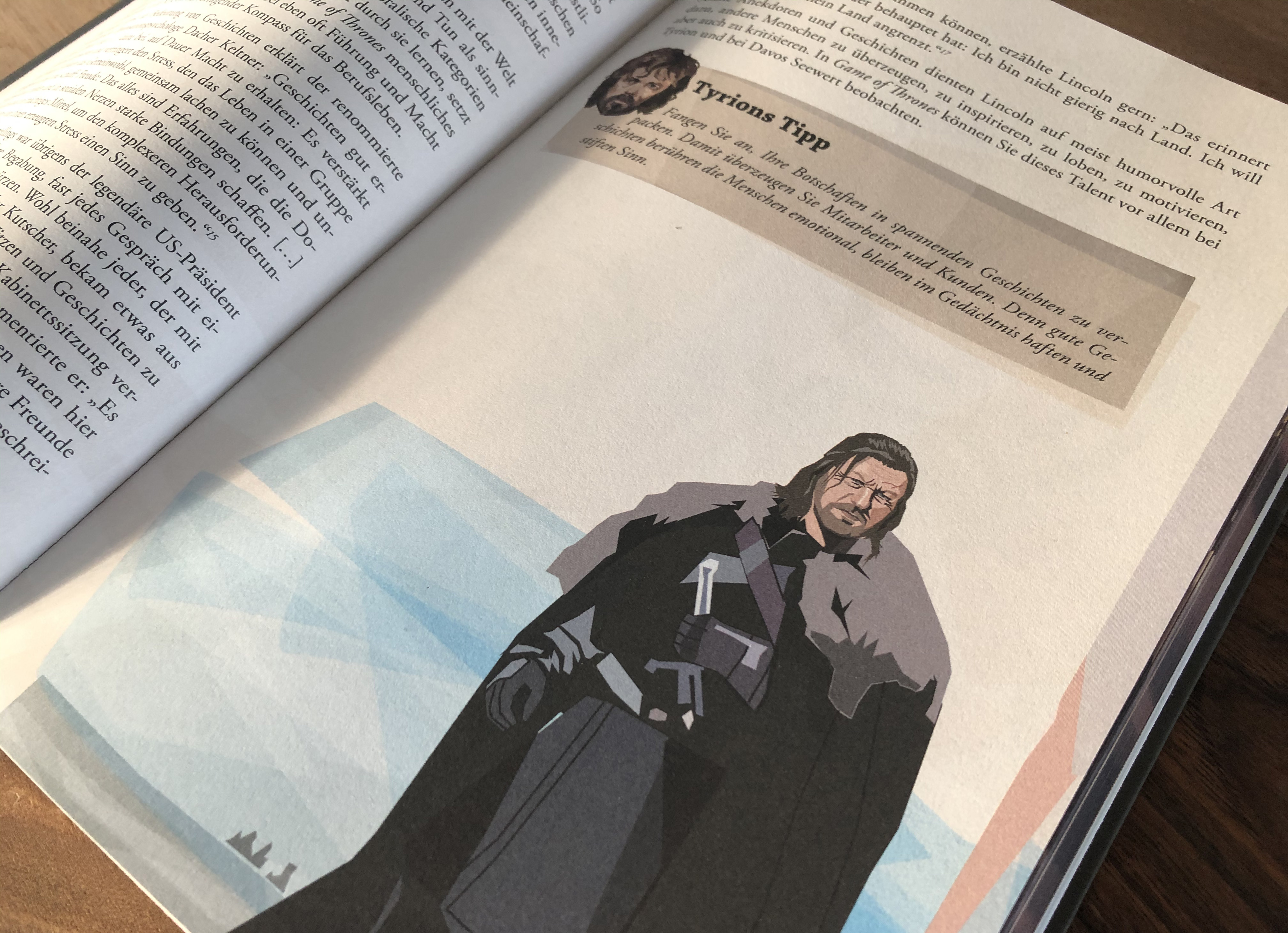 Bislang hatte wohl noch niemand so systematisch untersucht, wie Führung in Game of Thrones funktioniert. Diese Lücke füllen der Führungskräfte-Trainer Manfred Klapproth und der Journalist und Weiterbildungsexperte Mark Hübner-Weinhold mit ihrem Buch. Das Autorenduo analysiert die Strategien, die Erfolgsmuster und Fehlentscheidungen der wichtigsten Charaktere und vermittelt anhand zahlreicher Praxisbeispiele die grundlegenden Regeln von Führung, Strategie und Umsetzung.
Warum ist Game of Thrones so lehrreich für Führungskräfte? Die Autoren erklären das so: "Im Kern geht es in der Serie um Macht. Und damit auch um Führung. Für uns bilden diese beiden Begriffe eine Symbiose. Macht bedeutet, andere Menschen in ihrem Denken und Handeln beeinflussen zu können. Macht wird entweder ergriffen oder verliehen. Dauerhaft bestehen kann Macht nur, wenn sie qua Amt und/oder Kompetenz durch wirksame Führung ausgeübt wird. Dass diese nach moralischen Maßstäben gut oder schlecht sein kann, dafür liefert uns Game of Thrones vitale Beispiele – von Ned Stark bis Daenerys Targaryen. Diese prallen Figuren sind es, die uns alle in den Bann ziehen", erläutert Mark Hübner-Weinhold. Und Manfred Klapproth ergänzt: "Vor unseren Augen entfaltet sich ein lebendiges Drama – mit Menschen voller Ehrgeiz und Tapferkeit, mit List und Tücke, Täuschung und Verrat, Liebe und Hass, Triumph und Scheitern. Unterm Strich also genau das, was wir täglich am Arbeitsplatz erleben. Gut, vielleicht weniger blutig und endgültig, aber den Typen und ihren Motiven begegnen wir auch im Berufsleben. Deshalb ist Game of Thrones auch ein Lehrstück, wenn Sie wissen wollen, wie Führung wirklich funktioniert."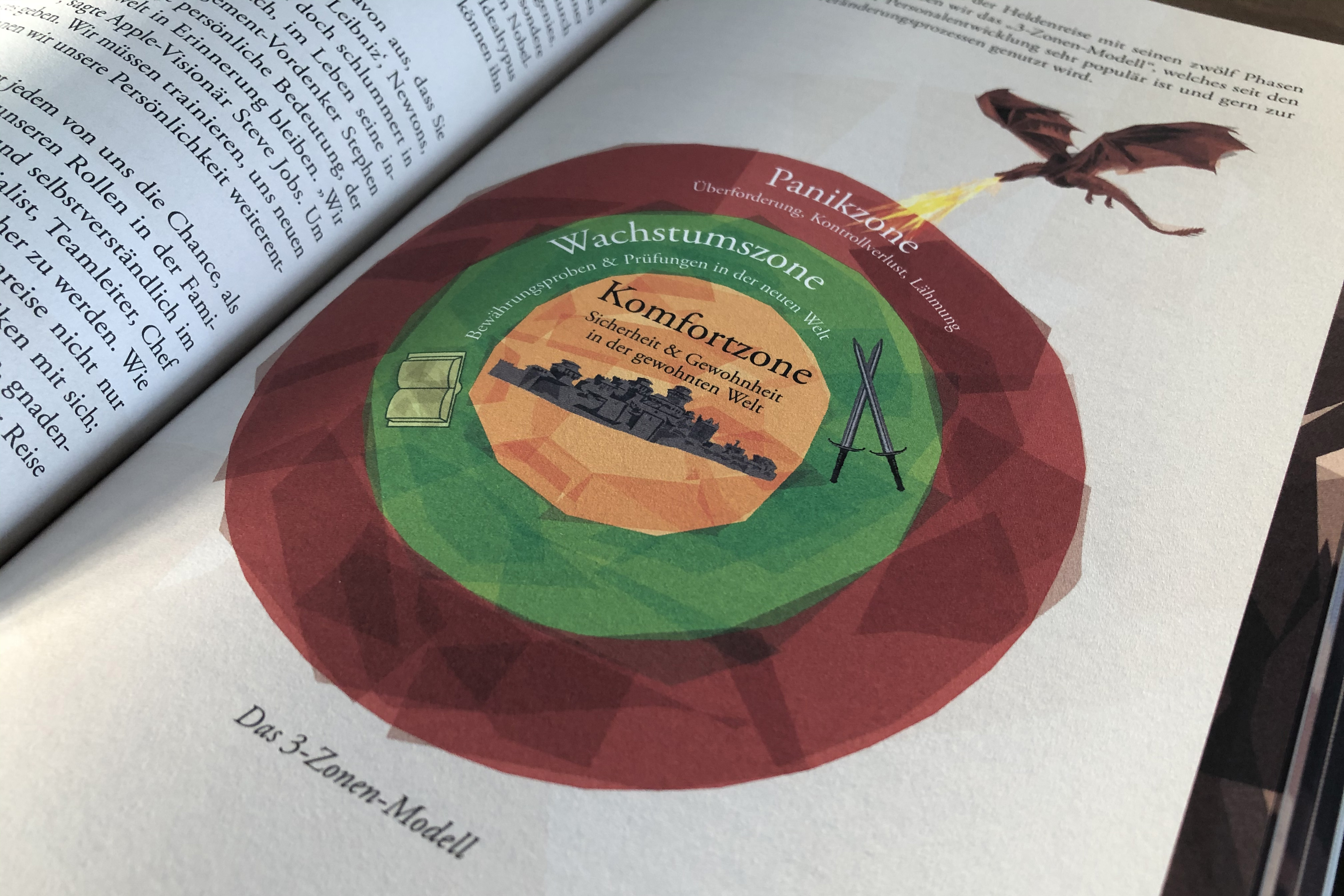 Auf knapp 350 Seiten entfalten Hübner-Weinhold und Klapproth 14 Kernelemente wirksamer Führung und belegen sie detailliert sowohl anhand der Szenen und Dialoge aus der TV-Serie als auch mit zahlreichen einprägsamen Beispielen aus Wirtschaft und Geschichte. Besonderes Augenmerk richten die beiden Autoren auf den praktischen Nutzen für den Leser: Dafür liefern sie nicht nur viele Beispiele aus dem Arbeitsalltag und aktuelle Forschungsergebnisse, sondern auch zu jedem Kapitel konkrete Praxisfragen für die Leser.

Was dieses Buch außerdem aus der Fülle von Führungsratgebern abhebt, ist seine wirklich besondere künstlerische Gestaltung. Nicht nur die wichtigsten Charaktere der Serie wurden vom Zeichner Jörg Dommel illustriert, sondern das gesamte Buch ist Seite für Seite von ihm gestaltet worden. Damit dürfte das durchgängig vierfarbige "Leadership by Game of Thrones" auch ein Sammlerstück für echte GoT-Fans werden. Gefällig sind vor allem die vielen Details auf praktisch jeder Seite. Man merkt, dass die beiden Autoren die Serie sehr gut kennen. Sie arbeiten die Charaktere exzellent heraus und übertragen viele Details, Eigenschaften, Verhalten und Entscheidungen aus der Fiktion in die reale Managerwelt. Auf vielen Seiten gibt es "Tyrions Tipp" – kurze Einschübe, die das vorher Gesagte schön zusammenfassen. Am Anfang des Buches geht es zunächst um die Serie selbst, dann wechseln die Autoren über die ersten Charaktere in des Leadership-Thema. Dann folgt der "Sach-Teil" mit den Kernelementen wirksamer Führung, ehe wir am Ende nochmal zu GoT zurückwechseln – mit einer Episoden-Übersicht, einer Auflistung der wichtigsten Charaktere und ihrer Darsteller. Das macht Spaß zu lesen, übrigens auch, wenn man sich nur sekundär für das Sachthema interessiert. Wer sich aber wirklich mit Führung beschäftigt, lernt hier wirklich viel, denn es bleibt natürlich mehr im Gedächtnis zurück, wenn die Inhalte so verpackt und verbildlicht werden – toll!

Buchtipp: Mark Hübner-Weinhold & Manfred Klapproth: Leadership by Game of Thrones – Wirksamer führen mit den Helden von Westeros, ISBN 978-3-8006-6061-2, 356 Seiten, 26,90 Euro

-->