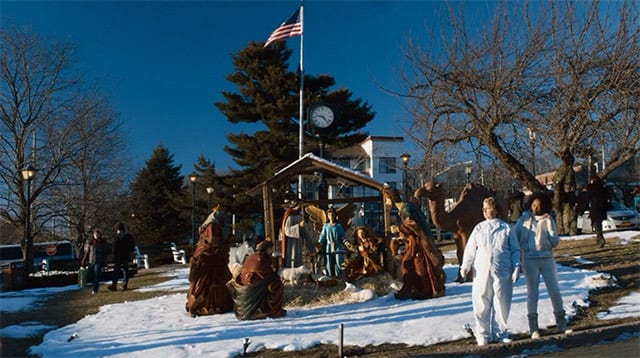 Herzlich willkommen zur dieswöchigen Kurzdoku, bei der wir der Frage nachgehen, wo eigentlich die Babys herkommen. Also die aus Plastik, die man als Puppen verkauft. Der Auftakt zur aktuellen Folge The Leftovers ist visuell sehr stark, bis hin zu einer sehr schönen kleinen Schnittfolge – tja, bis einer Jesus klaut. Dann geht leider auch der Charme der Folge dahin.
"Somebody stole the baby from the nativity. You know, Jesus…" – "Am I supposed to give a shit?" – "eh… No?" – "That's correct, Dennis." (Police Chief Kevin)
Diese Woche gibt es kein Einzelschicksal, sondern es geht zurück zum Geschichten-Mosaik. Allerdings bleiben wir bei den Mitgliedern der Familie Garvey. Dabei erfahren wir, dass Tom gar nicht der leibliche Sohn von Kevin ist und dass Laurie irgendwie noch an der Familie hängt, irgendwie aber auch nicht. Dazu wissen wir mit Sicherheit, wer die Reinkarnation von Laurel & Hardy ist und dass Christin Schwanger und immer noch von total großer Bedeutung ist. Ich meine, immerhin hat sie indirekt den Leichenstau vorausgeträumt. Doch noch immer wissen wir nicht so ganz, was die Ziele der Charaktere sind. Es gibt keinerlei Möglichkeiten, darüber zu diskutieren, was wer wohl machen könnte, wieso wer was gemacht hat, oder warum überhaupt wer etwas macht. Alles wirkt noch sehr wie Versatzstücke, die nicht miteinander harmonieren.
Meine Meinung:
Schade, dass The Leftovers den Höhenflug der letzten Folge nicht transportieren konnte. Erneut droht die Serie, sich im melancholisch-langweiligen Kreis zu drehen. Bleibt noch das leise Anfächern des ein oder anderen mysteriösen Handlungsstranges, was teils wie bei der Krankenhaussituation inkl. Bull's Eye sehr plump und aufgezwungen wirkt. Ebenso, wie die seltsamen "Ich überlege es mir anders"-Kurzsprunghandlungen einiger Charaktere. Ja, sie sind alle irgendwie verstört, aber jetzt hört doch mal auf mit dem Kleinkram und fangt mir einer Handlung an! Wenigstens war die hübsche Carrie Coon zu sehen, das gibt einen Pluspunkt…