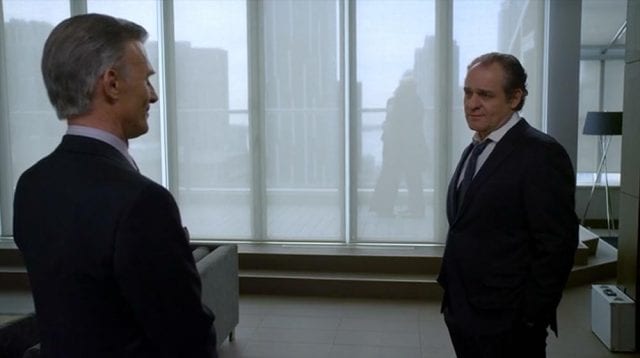 Und erneut das Finale einer neuen Staffel. Zum Abschluss schenkt uns The Strain noch einmal eine Mixtur seiner Elemente: lustige Sprüche, satte Action, aber eben auch die fehlende Durchschlagskraft um bei den ganz Großen mitspielen zu können.
Zunächst die gute Nachricht: Eldritch Palmer geht es blendend. Jedoch ist er vorerst "nur" gesund, für die Unsterblichkeit muss er wohl noch etwas arbeiten.
"He gave you the white, not the worm." (Eichhorst)
So kann er jedoch auch tagsüber von Nutzen sein. Allerdings ohne seinen persönlichen Bodyguard, der erneut moralische Bedenken hat. Leider erneut ebenso halbgar, sagt er doch selbst, dass er Palmer eigentlich umbringen müsste. Ja, man, genau das! Fast so unsinnig wie der herzliche Fahrrad-Dialog in der Rückblende.
"Thanks mom, I love my new bike!" – "I love you, too." (Zach und Kelly)
Ephs Ansage hat jedenfalls wohl tatsächlich etwas gebracht. Die Politik will die Stadt abriegeln, doch Palmer stimmt sie um. Dabei wird es leider so dargestellt, als habe eine Person die Durchsage gehört und nur diese kann etwas dagegen tun. Wirkt für mich leider etwas engstirnig gedacht.
Vasiliy erweist sich weiterhin als nürzlich mit seinem Stadtwissen und ist und bleibt der unterhaltsamste Charakter. Wie sie es jedoch schaffen, den Master so schnell zu finden, bleibt mir ein Rätsel.
"No Vampires. That's a good sign." (Vasiliy)
Und dann der vermeintlich große Endkampf! Eingestimmt von "Plants vs. Zombies" sehen wir Bürger vs. Vampire. Der sonst so geschwindte Master ist natürlich im obersten Stock, ganz nah der Sonne und plötzlich so unbeweglich wie ein Online-Spiele-Süchtiger. Dafür kann er natürlich plötzlich etwas Sonne ab und fliehen – wie soll man sonst auch eine zweite Staffel machen?!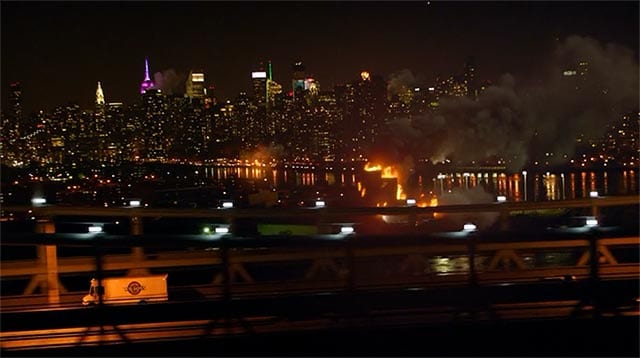 In der bekommen wir dann scheinbar auch einen Blade-Abklatsch in Form von Gus zu sehen. Der hat es leider nicht mehr rechtzeitig in die Haupthandlung geschafft, dürfte dafür aber kommendes Jahr den großen Auftritt für die Special Vampire Force feiern.
"Wanna eat mexican tonight?" (Gus)
Die "reinen" Vampire gegen die bösen "unreinen". Interessant, dass sich hier eine Gegenpartei aufstellt, jedoch wirkt das für das Wissen und die Macht der Beteiligten doch irgendwie laienhaft und letztlich vom Timing her komplett daneben (man bedenke, unsere Bürgerwehr wäre nicht erfolgreich gewesen).
Insgesamt ein durchschnittlicher bis guter Abschluss der Staffel. Gefallen hat mir die Off-Stimme am Folgenende als Rahmen zur Erzählerstimme zu Beginn des Piloten. Dagegen weniger, dass es eigentlich kein richtiges Final-Feeling gab. Kein wirklicher Cliffhanger, lediglich ein geflohener Oberbösewicht und eine neu mitspielende Partei. Das war mir ehrlich gesagt zu wenig, gerade weil in Episode 11 bereits mehr oder weniger das Gleiche passiert ist.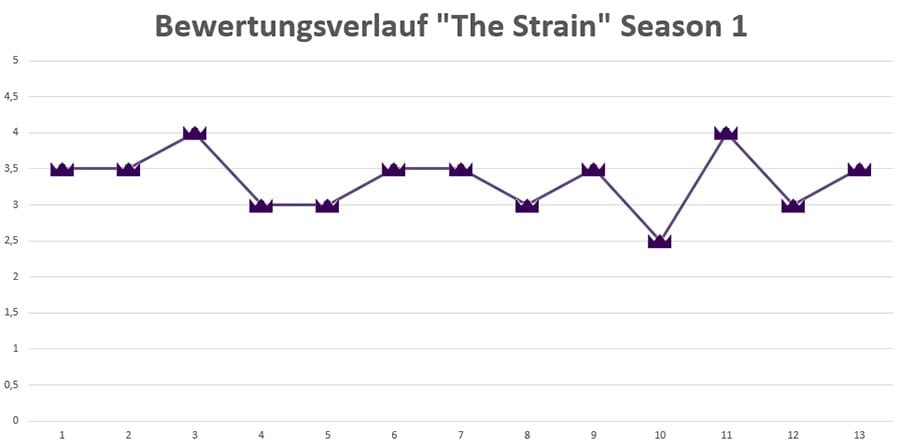 Die Staffel war gesamtheitlich definitiv unterhaltsam, konnte jedoch nur selten wirklich außerordentlich überzeugen. Das liegt vor allem an dem fehlenden Zug in der Geschichte, es wirkt teils etwas platt vorgetragen und nicht konsequent genug. Es war aber eine wunderbare Form der Off-Season-Überbrückung und ich freue mich auf eine zweite Staffel im Sommer 2015, schon alleine aufgrund der gut gezeichneten Charaktere.

-->