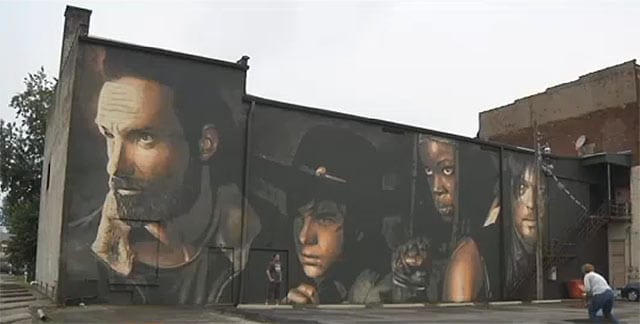 Cynthiana, Kentucky, ist der Ort, aus dem The Walking Dead-Schöpfer Robert Kirkman und Comiczeichner Tony Moore her stammen. Passend dazu hat Street Artist Sergio Odeith eben dort ein gigantisches Wandgemälde mit den vier Protagonisten der TV-Serie gezaubert. Zwar gibt es leider keine Verneigung vor der eigentlichen Comic-Vorlage, aber so bekommt man als Ergebnis von 6 Arbeitstagen und 70 Dosen Farbe immerhin im realistischen Look Rick, Carl, Michonne und Daryl zu sehen.
"I kind of used the color of the background for some of the details which helped a lot. Since the beginning that I started painting I took pictures with maybe 200 people."
Hier gibt es die Entstehung des schönen Stücks im Video zu sehen:
Mehr von Odeiths Arbeiten gibt es auf dessen Website zu sehen.
via: comicbook