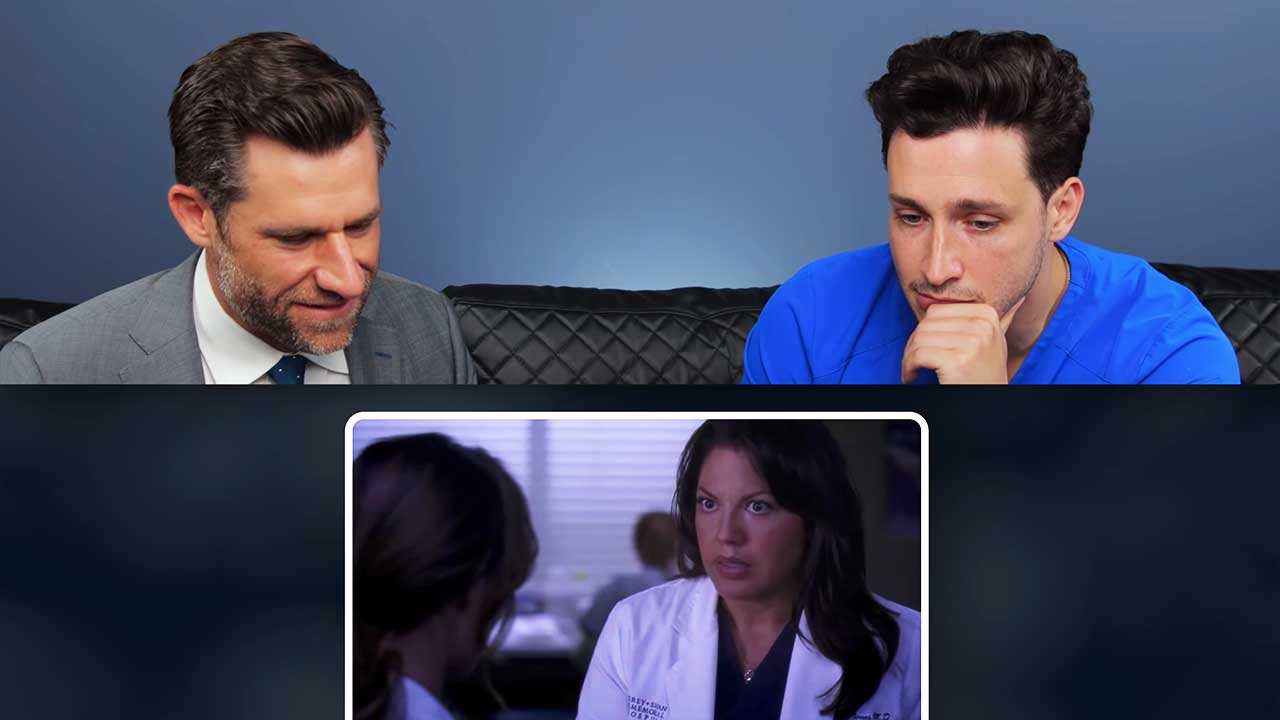 Doctor Mike und LegalEagle waren bereits einige Male zu Gast hier im Blog, haben sie uns doch unter anderem bereits über die rechtlichen Belange in "Better Call Saul" informiert oder Arztserien wie "Dr. House" seziert. Und ja, auch "Grey's Anatomy" (spricht man "Gräähsännädohmie" aus) war schon mal dran, bislang jedoch nur aus medizinischer Sicht.
Jetzt haben sich die beiden Reaktions- und Erklär-YouTuber zusammengeschlossen, um eine ganz besondere Folge gemeinsam zu schauen. Die neunte Folge der zehnten Staffel "Grey's Anatomy" trägt den Namen "Sorry Seems To Be The Hardest Word" und handelt von einem Verpfuschungs-Prozess. Mal schauen, wie viel die Serienschaffenden bei der Erstellung dieser Folge gepfuscht haben, oder wurde da etwa alles authentisch und realitätsgetreu erzählt?
"Legal Eagle and I went head to head last year to see which was harder, Med School or Law School. We decided to bury the hatchet this time and join our forces to react to the popular medical malpractice episode of Grey's Anatomy, Season 10 Episode 9 'Sorry Seems To Be The Hardest Word'. I brought my medical knowledge about a surgery gone wrong for a snowboarder who loses his legs above the knee. Devin Stone brought his legal expertise to break down what was accurate and what was fake during the trial of Dr. Callie Torres."
"Beeoowooop. Doctor Mike is back! And this time we're dissecting a (terrible) legal episode of Grey's Anatomy."
Arztserien sind ja immer mal wieder in der Diskussion, wie realistisch es da nun zugeht. Dabei gibt es natürlich eine gigantische Range – von komplett fantasierten Namen für Verletzungen oder Medikamenten bis hin zu lediglich kleinen Dramatisierungen. Denn letztlich handelt es sich bei allen Serien noch immer um fiktionale Unterhaltungsprodukte und keine Dokumentationen. Da sollte klar sein, dass hier und da ein bisschen Realismus im Detail auf der Strecke bleiben muss, die aber das Otto-Normal-Publikum ohne Hintergrund-Studium gar nicht groß bemerken dürfte.
"Grey's Anatomy" gibt's bei: