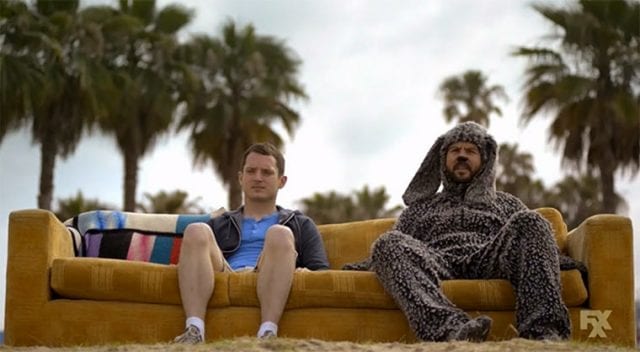 Erneut müssen wir Abschied nehmen. Abschied von einem langjährigen Begleiter, einem treuen Freund. Einem besonderen Freund. Wilfred war keine 08/15-Serie. Kein komischer Klamauk. Sie hat sich vom zunächst etwas pubertär möchtegern-Polarisationsformat zu einer emotionalen Achterbahnfahrt voller gesellschaftlicher Kritik, Katarsis-Elementen und letztlich viel Menschlichkeit entwickelt. Und eine gehörige Portion Mystery und Manipulation. Eine Mischung, die man jetzt vergeblich in der Serienwelt sucht.
Kommen wir aber zum Serienfinale. Eine bewegte Doppelfolge, die uns sogar eine endgültige Antwort schenkt. Ob diese nun allen gefällt, sei dahin gestellt. Allen gefallen dürfte der Einstieg in Episode Neun. Ein philosophischer Beginn und ein wahres Feuerwerk an Sprüchen, Gags und Streichen Wilfreds.
"It's not about parades or fireworks, it's about that pair of tits there, that's happiness!" (Wilfred)
In wenigen Minuten erhalten wir eine konzentrierte Variante dessen, was den Charakter und letztlich auch den Humor der Sendung ausgemacht hat. Ob unangebracht falsche Analogien (wie beim Rauchen-Aids-Vergleich) oder versaute ("the pink sea") und selbstironische ("dog-god-damn job") Elemente. Einfach herrlich!
"I eat a lot shit: cat shit, duck shit – but I draw the line at carrots." (Wilfred)
Doch dann wird die Story meines Erachtens nach unnötig gewunden. Drew ist wieder da, und das, wo Ryan nach Jahren endlich mit Nachbarin Jenna zusammen gekommen ist. Was zunächst noch als kleines Strohfeuer wirkt, entpuppt sich als total überflüssige Wendung. Dank eines Welpens kommen die beiden, die nicht zusammen passen, wieder zusammen. Dazu verliert Ryan auch Wilfred, der mit seinen letzten Worten ausnahmsweise wahre Emotionen zulässt.
"How can I be happy without my best friend?" (Ryan)
Und Tatsache, Wilfred erscheint als Hund. Zumindest uns, ob auch für Ryan zu diesem Zeitpunkt, bleibt unklar. Jedenfalls ist Ryan ganz allyan. Ein deprimierendes "Zwischenende" – gut, dass es direkt weiter geht!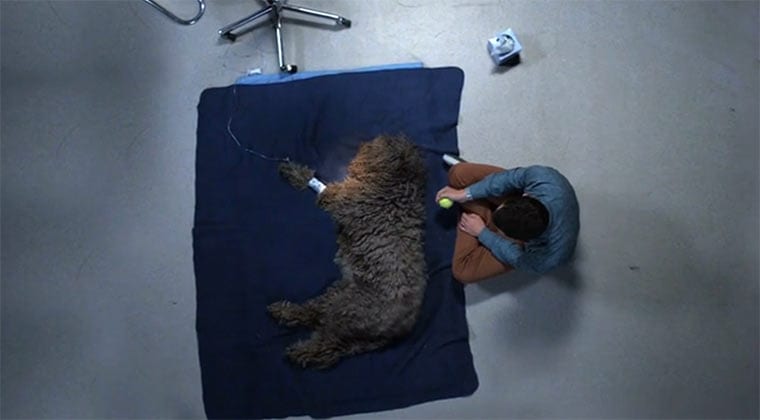 Die obligatorische Buddy-Montage wirkt erfrischend, Ryan scheint Wilfred noch immer als Menschen wahrzunehmen. Doch genau der fehlt ihm. Ryan ist wieder am Abgrund, Selbstmordgedanken bzw. sogar der aktive Versuch folgen, ein Rahmen zur Pilotfolge. Doch dieses Mal ist es seine Mutter, die ihn davon abhält, sich umzubringen.
"I'm crazy, we all know that." (Ryans Mutter)
Es beginnt eine Welle der Torschluss-Erklärungen. Ryan ist gar nicht der Sohn von Henry, sondern stammt aus der Affäre von Charles aus dem Grey Sheppard-Kult. Als der Auserwählte, der geschützt und zum Glück geführt werden muss. Deckt sich mit den Ermittlungen von Ryan und Wilfred. Der erscheint plötzlich wieder, jedoch nur als komplette Einbildung Ryans und führt ihn zur blauen Scheune – und zu seinem echten Vater, der nach eigenen Angaben her auch "crazy as nuts" ist. Also doch kein "Auserwählter" oder "Hundegott".
Ryan ist einfach verrückt. Wie seine beiden Eltern. Wir bekommen endlich Szenen zu sehen, in denen Ryan und der echte Hund zu sehen sind. Ist das die Wirklichkeit? Scheinbar, zumindest lebt Ryan nun mit dem Wissen, einen imaginären besten Freund zu haben. Abschließend noch der Blick in den Schrank – war dieser nun wirklich einer oder noch immer eine Kellertreppe?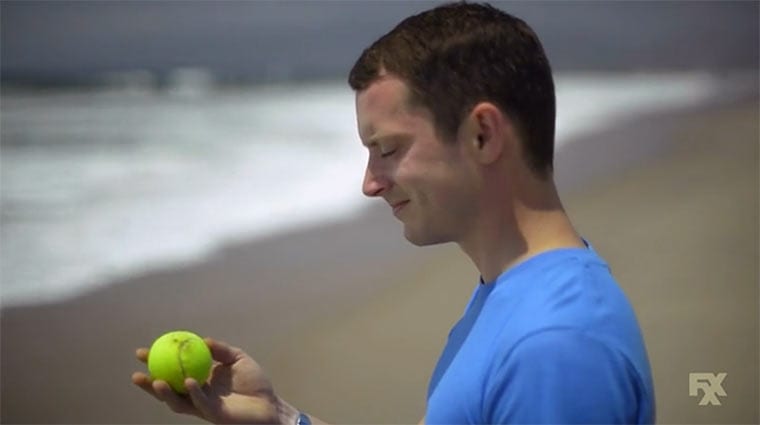 Situation am Ende: Ryan ist alleine. Physisch betrachtet. In seinem Kopf ist noch immer Wilfred. Der vom Meer apportierte Ball soll als Zeichen der Freude dienen. Für mich insgesamt zwar ein okayes Ende, aber der jetzige Status für Ryan ist eigentlich doch deutlich schlechter als zuvor, als Wilfred immerhin noch ein echter Hund war. Und wirklich beendet ist die Story eigentlich auch nicht, hätte mir das endgültiger gewünscht. Und natürlich gerne als Happy End – oder auch dem erfolgten Selbstmord.
Meine Meinung:
Dennoch war hier vieles zu sehen, was die Serie so einzigartig gemacht hat. Man hat leider gemerkt, dass am Ende etwas die Zeit ausgegangen ist. Eine weitere Folge oder Laufzeitverlängerung hätte sicherlich gut getan. Die Erklärungsversuche am Ende kamen etwas hereingedrückt und wirkten dadurch etwas unglaubwürdig. Dennoch wissen wir und Ryan nun Bescheid und können unser Leben leben – mit dem Wissen, eines guten Freundes an der Seite. Den hat Ryan nun aber für sich alleine, wir dürfen nicht mehr zuschauen. Es war schön, lustig, zum verzweifeln, albern und vor allem unterhaltsam mit dir, Wilfred. Danke!

-->