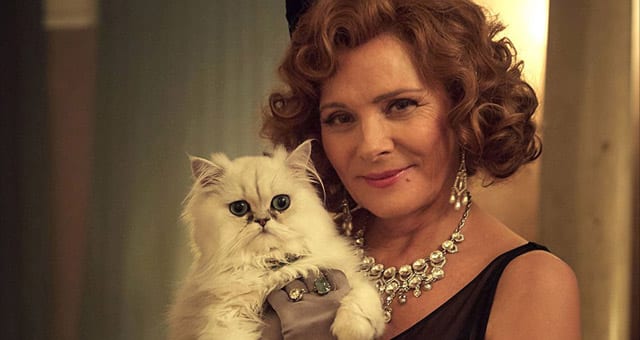 Hättet Ihr im ersten Promobild zur zweiteiligen Dramaserienadaption eines der bekanntesten Agatha Christie Romane durch die BBC, "Witness for the Prosecution" (zu deutsch: Zeugin der Anklage), die Hauptdarstellerin Kim Cattrall erkannt? Also ich musste schon näher hinschauen – früher hat man das bei ihr ja auch immer gerne gemacht.
Die Dreharbeiten haben bereits im August begonnen und neben Kim Cattrall wird noch Toby Jones sowie Andrea Riseborough (Bloodline) zu sehen sein. Für Toby Jones scheint sich 2016 zu einem echt arbeitsreichem Jahr zu entwickeln. Toll für ihn. Und uns, denn ich sehe Jones schon recht gerne.
Wer den Roman bzw. die bisherigen Filmversionen des Romanklassikers von Agatha Christie nicht 1=1 drauf hat, hier mal eine kurze Einführung.
Wir haben 1952 und in London muss sich ein junger und gutaussehender Handelsvertreter für den Mord an einer reichen älteren Witwe (Cattrall) verantworten, der ihm zugeteilte Anwalt sieht sich dabei einem scheinbar aussichtslosen Unterfangen gegenüber. Zudem wurde Sir Wilfrid Robarts gerade erst aus dem Krankenhaus entlassen, gesundheitlich könnte es ihn also besser gehen. Er stellt sich aber dieser Aufgabe, erarbeitet sich den Fall und den Hergang und versucht im Rahmen des nun folgenden Gerichtsverlaufs die Unschuld seines Mandanten durch eine intelligente Verhörführung zu erreichen.
A murder, brutal and bloodthirsty, has stained the plush carpets of a handsome London townhouse. The victim is the glamorous and rich Emily French.
Man darf in den zwei Folgen also jede Mengen Szenen im Gerichtssaal erwarten. Und natürlich einen schönen Twist am Ende der Serie. Denn man darf davon ausgehen, dass man sich sehr nah Originalstoff orientieren wird.
Oder?
Bilder: BBC