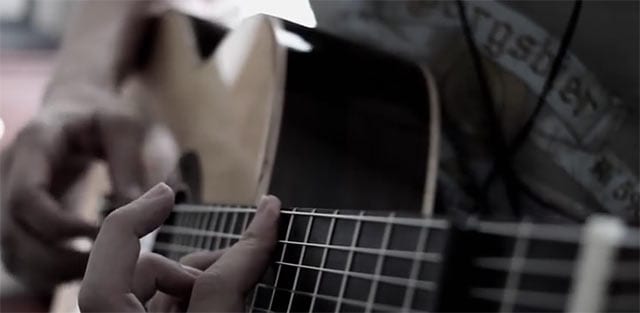 Greg Johnson gibt uns eine ungemein gute Interpretation des True Detective-Titelsongs auf der Akustikgitarre. Im Original heißt der sehr einnehmende Song übrigens "Far From Any Road" und stammt von The Handsome Family. Im Video gibt es eher weniger zu sehen, also scrollt ruhig runter zu den Lyrics, denn Johnson belässt es beim instrumentalen Spiel.
"I got totally hooked on this show last year, and the opening credits always set the mood with this haunting tune from the Handsome Family."
True Detective Theme - Far From Any Road - The Handsome Family - Alvarez Guitars
Hier noch einmal das Original des Songs in einer live-Version:
Und wer Schmacht auf den Vorspann zur Serie hat – hier entlang.
LYRICS:
From the dusty mesa
Her looming shadow grows
Hidden in the branches
Of the poison creosote
She twines her spines up slowly
Towards the boiling sun
And when I touched her skin
My fingers ran with blood
In the hushing dusk
Under a swollen silver moon
I came walking with the wind
To watch the cactus bloom
A strange hunger haunted me
The looming shadows danced
I fell down to the thorny brush
And felt a trembling hand
When the last light warms the rocks
And the rattlesnakes unfold
Mountain cats will come
To drag away your bones
Then rise with me forever
Across the silent sands
And the stars will be your eyes
And the wind will be my hands
via: theawesomer