Neue Folge unserer Serie "Soundtrack der Woche": Hier stellen wir Euch regelmäßig Scores, Tracks und Musik-Alben zu unseren Lieblingsserien vor. Dabei gehen wir einerseits auf die Akteure hinter dem Soundtrack ein, aber natürlich auch ausführlich auf die Musik selbst – und ihre Wirkung auf die Serie. Folge 2: Terminator – The Sarah Connor Chronicles.
Die Serie – darum geht's
"Terminator: The Sarah Connor Chronicles" stammt aus den Jahren 2007 bis 2009. Es gab 31 Folgen in 2 Staffeln. Die Serie basiert auf den beiden ersten Kinofilmen der Terminator-Serie: "Terminator" und "Terminator 2 – Tag der Abrechnung" und stammt von Executive Producer Josh Friedman ("War of the Worlds", "The Black Dahlia"). Sie führt die Geschichte von Sarah Connor und ihrem Sohn John, dem auserwählten Führer der Widerstandsbewegung, fort. Die Handlungen der weiteren Terminator-Filme spielen keine Rolle. Sarah (gespielt von Lena Headley – genau, die aus Game of Thrones) und John (Thomas Dekker) versuchen in der Serie im Jahr 1999 unter falschem Namen ein normales Leben zu führen, nachdem sie die Computerfirma Cyberdyne zerstört haben – man kennt das aus "Terminator 2". Allerdings kommt ihnen ein T-888-Terminator namens Cromartie auf die Spur. Er versucht John in der Schule zu töten, dieser erhält allerdings Hilfe von Mitschülerin Cameron (Der Name ist eine Referenz an James Cameron, von dem die ersten beiden Terminator-Filme stammen). Cameron ist ebenfalls ein Terminator-Modell, das den Auftrag hat, John zu beschützen. Es gelingt ihnen, dem T-888 zu entkommen. Sie schließen sich mit Sarah in den Tresorraum einer Bank ein, in dem eine Zeitmaschine steht. Angekommen im Jahr 2007, versuchen sie gemeinsam mit Johns Onkel Derek Reese, der aus der Zukunft zu ihnen gestoßen ist, die Machtergreifung durch das Computernetzwerk Skynet zu verhindern.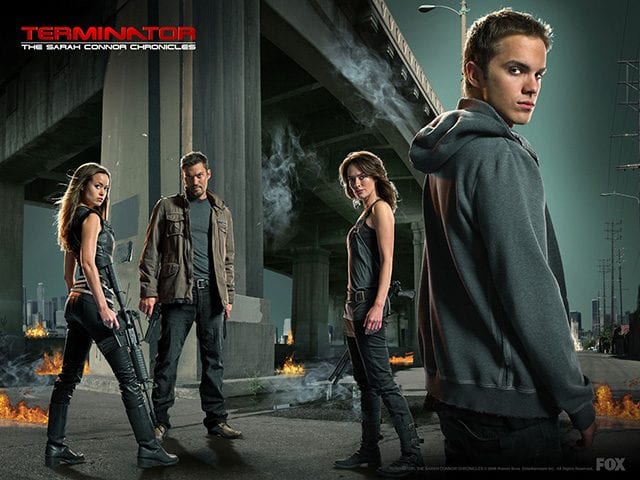 Mir hat die Serie seinerzeit sehr gut gefallen. Leider wurde sie am Ende der zweiten Staffel eingestellt, mit einem relativ offenen Ende. Wer die Serie noch nicht kennt, sollte sie sich ruhig einmal vornehmen.
Der Komponist
Komponist des Score ist Bear McCreary. Der Amerikaner ist Jahrgang 1979 und ist mit dem Battlestar Galactica-Soundtrack ab 2004 durchgestartet. Den Score zum damaligen 90-minütigen Pilotfilm schreib er noch gemeinsam mit Richard Gibbs, den Score zu den einzelnen Seasons schreib er dann alleine. Seine Musik begegnet zumindest mir immer wieder, da er immer zufällig jene Serien vertont, die mir auch gefallen: Caprica, The Walking Dead oder Marvel's Agents of S.H.I.E.L.D. zum Beispiel. Außerdem stammen von ihm die Soundtracks zu Black Sails und Outlander – mit beiden Serien kann ich allerdings nicht viel anfangen.
Zu Terminator hat Bear McCreary eine besondere Beziehung, wie er sagt: "Terminator 2 hat mein Leben verändert. James Camerons Film hat mir die Augen geöffnet, mich in einer komplexen Art und Weise auf Science Fiction einzulassen." Über Battlestar Galactica war Executive Producer Josh Friedman auf McCreary aufmerksam geworden. Bear McCreary findet Brad Fiedels Score zu den beiden ersten Terminator-Filmen sehr einprägsam und einzigartig, und etwas Derartiges wollte er auch für die Serie schaffen: "Ich wollte Fiedels Score ehren, ihm aber eine energiereichere Ausrichtung geben."
Für Josh Friedman war die Wahl des Komponisten für die Serie schnell klar: "Er war der einzige, den ich getroffen und gesprochen habe – und den ich haben wollte. Zu meinem Glück ist er bei echter Terminator-Fan, und unser Treffen war mehr eine Zusage als ein Abtasten", sagt der Executive Producer.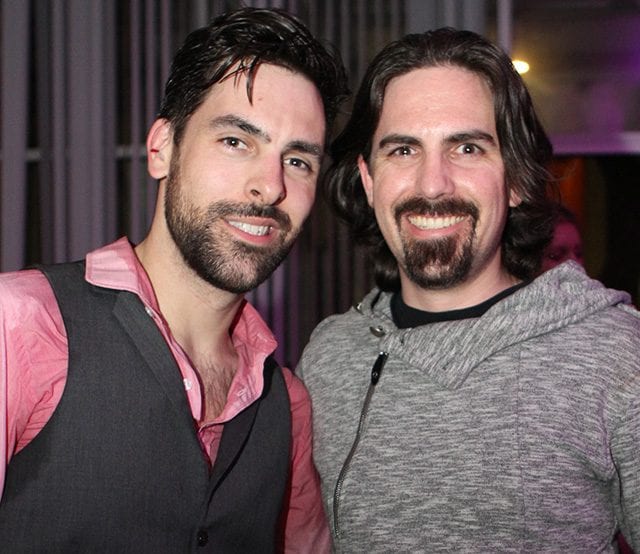 Bear McCreary mit seinem Bruder Brendan. (Foto: Bear McCreary)

Dieser Beitrag hat mehrere Seiten:

-->