Captain Jean-Luc Picard. Ein Serienname, der selbst bei Sci-Fi Verweigerern bekannt ist und diverse  Assoziationen hervorrufen sollte.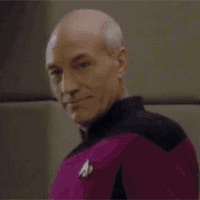 Kennen gelernt habe ich den guten alten Picard damals in den 80er Jahren, er flimmerte irgendwann beim kindlichen Zappen über den Bildschirm des Zweiten Deutschen Fernsehens. Von Anfang an hat mich Picard und natürlich Star Trek The Next Generation fasziniert. Im Unterschied zu den Trekkies der ersten Stunde kannte ich auch keinen anderen Captain. Kirk habe ich mich erst später gewidmet, weshalb ich mich auch über Picards autoritären und emotional gefassten Führungsstil nie gewundert habe, welcher eben im krassen Kontrast zum großen Altmeister Kirk  stand.
Und damit kommen wir auch zum wichtigsten Aspekt dieses Charakters. Picard ist einfach der geborene Anführer. Man könnte meinen, er hätte nie etwas anderes getan und doch lernt man als Zuschauer im Laufe der 7 Staffeln Star Trek TNG viele unterschiedliche Seiten des Captains kennen. Denn der in Frankreich geborene glatzköpfige Charakter zeigt auch viel Witz und Charme.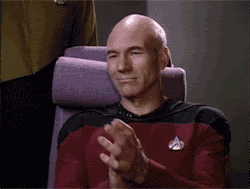 Seine wichtigste Eigenschaft ist aber die Diplomatie. In kaum einer anderen Serie wurden Konflikte häufiger friedlich gelöst, als in The Next Generation durch den guten Captain. Auch wenn man sich selbst bei dem Wunsch ertappt, dass Picard einmal (er hat es nie getan, siehe hier) auf seinen schusswütigen Klingonen hören würde, so trifft er doch immer die richtige und damit vielleicht auch etwas weniger actionreiche Entscheidung. Ein Beispiel für seine diplomatischen Künste seht ihr in diesem Video, für die ungeduldigen, ab Minute 1:15 wird es lustig.
War oder ist Picard der beste Captain innerhalb des Star Trek Universums? Diese Frage ist so schwer zu beantworten wie die Frage nach dem besten James B0nd Darsteller, da alle ihre Vorzüge hatten. In jedem Fall hat Patrick Stewart als Captain Picard eine absolute Meisterleistung hingelegt und damit dem Star Trek Franchise neues Leben eingehaucht.
Deswegen ist es auch kaum verwunderlich, dass Picard auch heute noch als  Charakter omnipräsent in unserer Popkultur ist. Man denke nur an die vielen Memes mit seinem Konterfei.
Also lasst uns an diesem 4. Dezember Monsineur Jean-Luc Picard feiern, als ob es der Captain Picard Tag wäre.