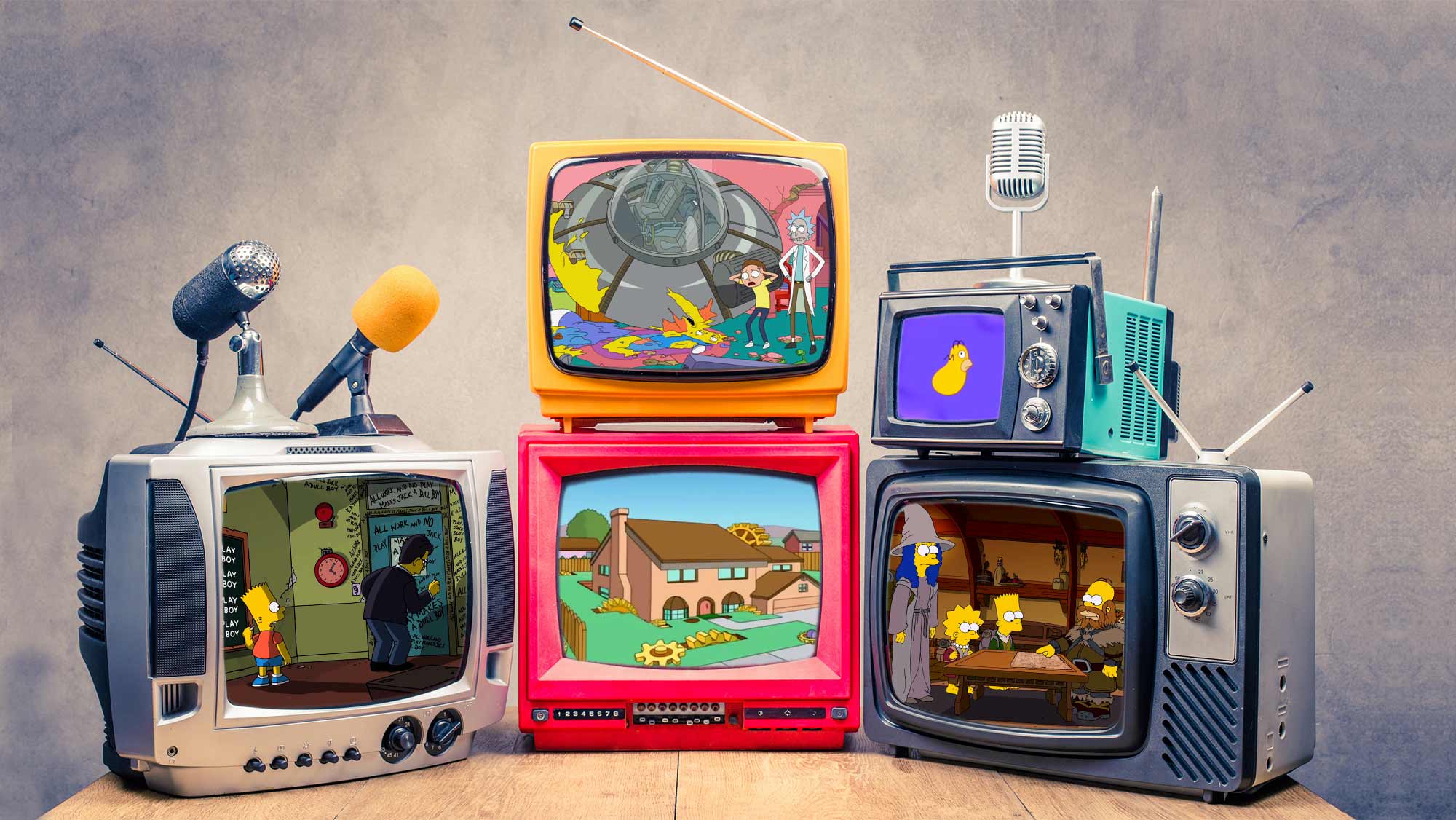 Wie "Die Simpsons" selbst haben sich auch die kultigen Couch Gags der Serie weiterentwickelt. Spötter mögen meinen, dass sie sich im Kontrast zum eigentlichen Hauptteil der Serie zum Besseren entwickelt hätten. Sie wurden jedenfalls mit der Zeit länger, aufwendiger in der Gestaltung, und sie haben sich immer wieder auch aktuellen Themen, anderen popkulturellen Größen und GastanimatorInnen angenommen. Hier eine total subjektive Auswahl der meiner Meinung nach (bislang) allerbesten Couch Gags der "Simpsons"-Geschichte (nicht wirklich in einer Reihenfolge, eher gesamtheitlich als Fünferpack gelistet).
Der allererste Couch Gag der Serie überhaupt war übrigens bereits in der zweiten Folge, "Bart the Genius", zu sehen (auch wenn nur seeehr kurz gehalten):
1. "Die Simpsons" x "Rick and Morty"
Als bekennender "Rick and Morty"-Fan muss dieser grandiose Couch Gag natürlich unbedingt mit in die Liste. Nicht nur, weil er eine Prise des typischen Adult Swim-Humors mit in die deutlich familientauglichere Serie bringt, sondern auch, weil dieses Intro zur 22. Episode der 26. Staffel (oder auch 574. gesamt), "Mathlete's Feat", mit den Klischees der Couch Gags spielt.
2. Homers Evolution
Einer der ersten längeren Couch Gags, an den ich mich richtig gut erinnern kann und den ich seitdem immer wieder gerne gesehen habe, ist die Evolution Homers in der Episode "Homerazzi" (S18E16 oder Episode 394 gesamt). Für heutige Maßstäbe ist das Intro mittlerweile beinahe kurz und im Darstellungsstil eher rudimentär gehalten, aber das "What took you so long?!" sitzt jedes Mal aufs Neue!
3. "Die Simpsons" x "Der Hobbit"
Noch ein Mashup-Video, das dieses Mal aber nicht einer andere Serie in Form einer typischen Gast-Animation huldigt, sondern eine Hommage an eine Filmreihe (oder eher eine Buchvorlage) darstellt. In Episode 3 der 25. Staffel (oder 533 gesamtheitlich, "Four Regrettings and a Funeral") wurde Springfield kurzerhand zu Mittelerde, inklusive einiger sehr schön umgesetzter Anspielungen auf die Geschichte J.R.R. Tolkiens.
4. "Die Simpsons" x "Game of Thrones"
Ich hatte auch kurz überlegt, diese Reihe eher "Serien-Tribute in Couch Gags" zu nennen, so oft, wie "Die Simpsons" in der vor allem jüngeren Vergangenheit auch anderen erfolgreichen Serien ein bisschen Aufmerksamkeit geschenkt haben. Neben u.a. "Adventure Time", "Breaking Bad" oder auch "The Big Bang Theory" galt das natürlich auch für DEN Riesen des TV-Genres: "Game of Thrones". Für die Folge (mit dem schönen Banksy-Titel) "Exit Through the Kwik-E-Mart" (S23E15 oder 501 gesamt) wurde Springfield in der Intro-typischen Miniatur-Aufbau-Variante des HBO-Originals "aufgedreht":
5. Guillermo Del Toro Tribute
Für die "Simpsons"-typische Halloween-Folge "Treehouse of Horror XXIV" (S25E02, 532 gesamt) wurde Schauerfilm-Regisseur Guillermo del Toro die Ehre überlassen, den Couch Gag zu konzipieren. Heraus gekommen ist eine beinahe drei Minuten lange Fahrt durch ein Horror-Springfield voller Referenzen zum Grusel-Genre:
Und sonst noch…?
Bei mittlerweile 679 ausgestrahlten Episoden und entsprechend annähernd ähnlich vielen Couch Gags (einige wurden häufiger benutzt, siehe diese Auflistung) ist eine Top-5-Liste natürlich geradezu hanebüchen und die Auswahl fiel mir super schwer. Hier hätten auch noch mindestens zehn weitere gut Platz gefunden. Daher einfach die Frage an euch: Welcher Couch Gag ist euer persönlicher Favorit?

Solltet ihr eine Erinnerungshilfe benötigen – hier findet ihr ALLE Couch Gags der Staffeln 1-30 der "Simpsons" im Zusammenschnitt (auch schon rund eine Stunde Fernsehen, wow…!):

-->