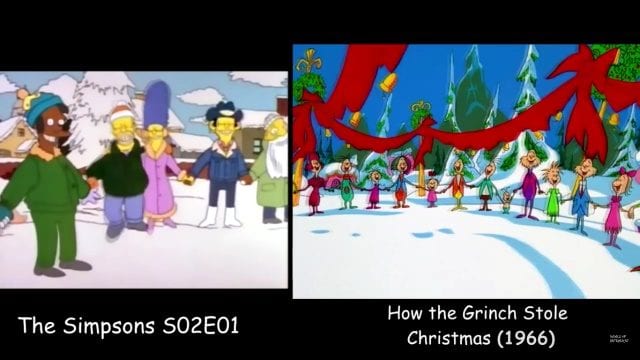 Ich persönlich feier es ja immer so richtig, wenn ich in Serien Anspielungen auf andere Serien und Filme erkenne. Ich mag es, wenn die Macher ein gewisses serien- und filmkulturelles Wissen der Zuschauer voraussetzen. Und gleichzeitig weiß man natürlich auch, dass man alle Nase lang Dutzende Anspielungen übersieht und nicht erkennt. Umso schöner ist es dann, wenn sich Leute die Mühe machen, Referenzen in Videos festzuhalten – in direkter Gegenüberstellung zum Original, damit man den Beweis direkt mitgeliefert bekommt.
Das Team von World of References hat genau dies mit den ersten acht Staffeln The Simpsons gemacht. Heraus kommt ein mehr als halbstündiges, sehr interessantes Video – inklusive Referenzen zu Weihnachtsfilmen wie It's a Wonderful Life von 1946, Klassikern wie Citizen Kane von 1941 und sogar anderen TV-Serien. Ich bin ja sonst eigentlich immer etwas verhalten, wenn es um The Simpsons geht. Das Video ändert das eindeutig. Viel Spaß!
UPDATE: Kaum veröffentlicht, wurde das Video auch schon wieder entfernt. Wir haben aber eine genauso gute Alternative für euch: The Simpsons Tribute To Cinema. Mehrteilig sogar! So kann man sich das eh viel besser aufteilen.
The Simpsons Tribute to Cinema: Part 1
The Simpsons Tribute to Cinema: Part 2
The Simpsons Tribute to Cinema: Part 3
The Simpsons Tribute to Cinema: Part 4
The Simpsons Tribute to Cinema: Part 5
The Simpsons Tribute to Cinema: Part 6
The Simpsons Tribute to Cinema: Part 7
The Simpsons Tribute to Cinema: Part 8
via: Twisted Sifter