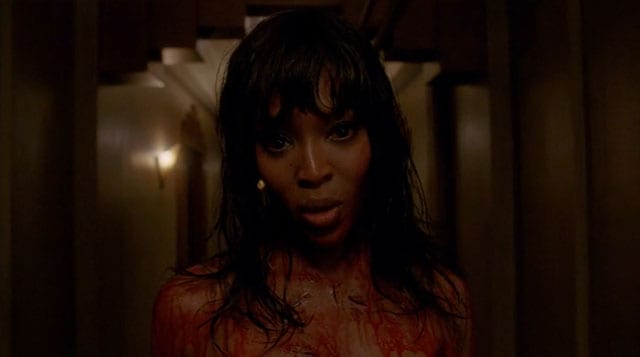 Diese Woche gibt es weitere Einblicke in die Vergangenheit und die Regeln um das ominöse Hotel Cortez. Dabei gibt es auch wieder ein paar neue alte Gesichter zu sehen. Der bildstarke Einstieg hat jedenfalls gefallen.
"You're the greatest serial killer there ever was." – "How do you know all this?" – "I googled you." (Mr. James March & Tristan)
Und plötzlich ist man innerlich zerrissen und wünscht, dass das Mörderstockwerk doch erhalten bliebe. Der Zuschauer jubelt für die eigentlich Bösen, natürlich auch im Wissen, dass sonst nach vier Folgen Ende wäre. Und weil es eben böse böse und nichtganzsoböse böse gibt. Oder so. Und selbst die Guten haben manchmal verquere Gedanken oder zumindest Depressionen. Gerade Mütter haben es in dieser Folge enorm schwer. Zunächst der Einblick in die Gedanken und Verzweiflung von Holdens Mom Alex, wobei wir erneut die gelungene Kameraarbeit (Drehschwenk am Bett) zu sehen bekommen.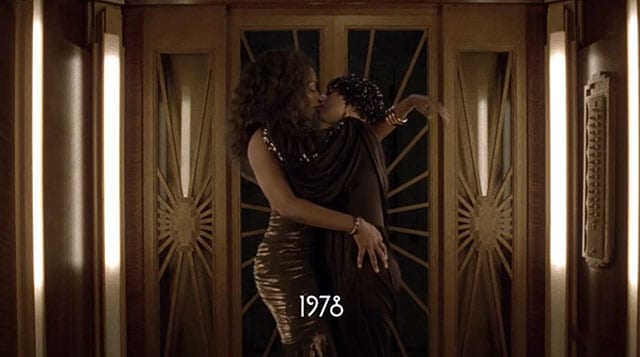 Und wenn Naomi Campbell ein abfäliges "Models…" von sich lässt, ist das auch nicht so verkehrt. Jedenfalls unterhaltsamer als ihr Tod oder ihre recht überflüssige Flur-Szene.
"Is this hell?! No. If this were hell, I would be the one in that aweful sorrow knock-off you are wearing." (Claudia Bankson)
Die Morde erinnern mittlerweile etwas an "Sieben", nur mit normalen statt Todsünden. Die zehn Gebote, die auch im Vorspann erscheinen. Nach Gehirn gibt es diese Woche verlogene Journalisten-Zunge für unseren Polizisten, der dazu jetzt auch noch die Scheidung eingereicht bekommen hat. Harte Zeiten.
"Don't haunt my hallways, bitch!" (Sally)
Auch für alle, die mit der Countess zu tun haben. "Gaga sagt nein" war vermutlich die dämlichste Szene. Dafür war die Fahrstuhl-Zeitreise ganz nett, wirklich grandios war aber das das 70er-Schauspiel-Zwischenspiel im B-Movie-Stile von Ramona Royale. Ich möchte bitte sofort einen dieser Filme sehen! Und Lady und Badass sein sowie mal an Mamy Gagas Brüsten lecken – what a life!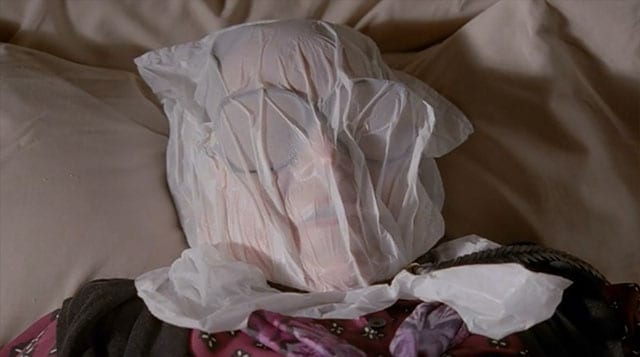 Ein eher bescheideneres Leben hat Mutti Hotel-Rezeption scheinbar geführt. Dass der "unendliche Hass" nach mehreren Jahrzehnten plötzlich durch einen Kalenderspruch an der Bar aufgehoben wird – Blödsinn. Genau wie das Timing am Ende bzw. die "mach bitte ein bisschen deinen Mund auf, damit das Blut… du weißt schon"-Masche. Ne, das war drüber…

So langsam legen sich die Wogen der Verwirrung. Die Seiten werden mehr und mehr angesteckt, sie Hintergrundgeschichte erzählt und alle beteiligten Figuren eingefügt.
Das tut der Story gut, bringt es doch Stringenz rein. Und doch gibt es leider noch zu viele Szenen, die in Selbstmitleid, verkünstelter Philosophie oder Gaga'schem Größenwahn baden. So ganz warm werde ich mit der Staffel noch nicht, auch wenn sie wenigstens wieder etwas Paranormales im Vergleich zur Freak Show zu bieten hat. Mir gefällt dabei jedoch vor allem das zur letzten Staffel grundverschiedene Spiel von Finn Wittrock (Dandy / Tristan) und Evan Peters (Jimmy / March). Und yeah, Angela Bassett ist auch mit von der Partie!

So ist es dann leider nicht ganz so gut wie die letzte Folge und insgesamt noch etwas sprunghaft in vielen Sub-Handlungen, die sich einem noch nicht so ganz ergeben, und wenig bis gar keinen Charakteren, zu denen man wirklich einen größeren Draht besitzt. Vielleicht sind es aber ja auch nur horrorhafte Puzzlesteile eines Größeren, das sich langsam aber sicher auf kongeniale Art und Weise zusammen setzt. Bleibt uns Zuschauern zu wünschen…

Bilder: FX

-->