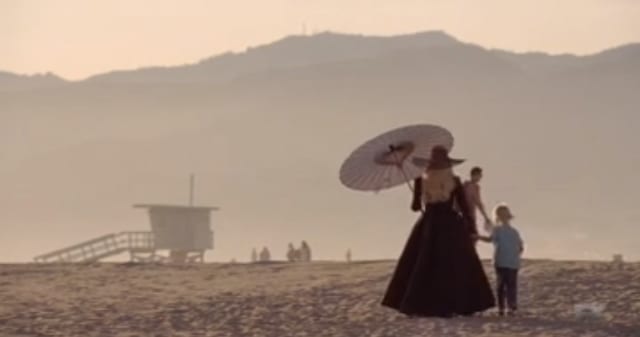 Halloween steht vor der Tür? Plastikkürbisse und Papiertüten über'm Kopf können mit den Traditionen der "Teufelsnacht" allerdings nicht mithalten. Ist nur die Frage, wer das überhaupt will. Die aktuelle Folge American Horror Story überrascht zweierlei. Einerseits mit unheimlich guter technischer Arbeit, andererseits mit erschreckender inhaltlicher Gestaltung. Neue alte Gäste des Hotels gesellen sich zu den bereits bekannten Bewohnern und bringen auf Zuschauerseite ein ganz mulmiges Gefühl hervor.
Am Anfang gibt es ein paar Szenen, die trotz Vehemenz der Ereignisse komisch wirken, nicht zuletzt aufgrund der Wahl der Dialoge.
"Help! Help! There's a killer after me!" – Hotelgast in Todesangst
"I'm the killer before you!" – James March
Doch bevor wir uns den "Künsten" von March widmen, kommen wir zunächst einmal zu Detective John Lowe. Der wird von seiner Tochter versetzt, denn die backt lieber mit Oma, statt Papa zu besuchen. Passt ihm aber irgendwie auch ganz gut, denn von der Hotelzimmerdecke tropft es.
"Things are a little bit…weird…right now, aren't they?" – John Lowe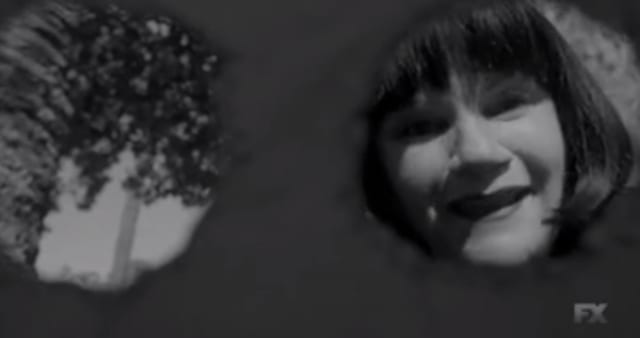 Auf der Suche nach dem Ursprung lernt er Hazel, das Hausmädchen und wie bereits aus vorherigen Episoden bekannt auch Marchs getreue Gehilfin genauer kennen. Hazel und Lowe kommen ins Gespräch. Es stellt sich heraus, dass die beiden mehr als der gleiche derzeitige Wohnort verbindet. Durch einen Rückblick, der visuell wieder durch die Schwarz-Weiß-Färbung des Bildes vom Rest der Geschichte abgesetzt wird, werden wir ins Jahr 1925 gebracht, in dem Hazel ihren Sohn an Halloween verlor. Sie hat sich nur kurz umgedreht und für einen Augenblick nicht hingesehen, schon war er weg. Lowe kann ihre Trauer und ihre Schuldgefühle sehr gut nachvollziehen, hat er doch – 95 Jahre später – auf gleiche Weise seinen Sohn verloren.
"Talking to you is a comfort to my soul." – Hazel
Wenn Lowe wüsste, dass seine (Noch-)Ehefrau Alex eben diesen Sohn gerade nach hause bringt, würde er vermutlich nicht mit einer Toten sprechen. Aber das weiß er ja auch nicht. Alex steht ein wenig neben sich – zurecht, denn ihr ist grad in einem Hotel ihr eigener, lange vermisster Sohn begegnet, der kein Stück gealtert ist. Und an ihm ist auch einiges anderes merkwürdig: Sonne ist ihm zu hell, gute 20 Grad Körpertemperatur nicht zu kalt und der Hund der Familie rastet bei seinem Anblick aus. Und dann dieser Durst.
"You're finally home, baby! I missed you so much." – Alex
"I'm thirsty." – Holden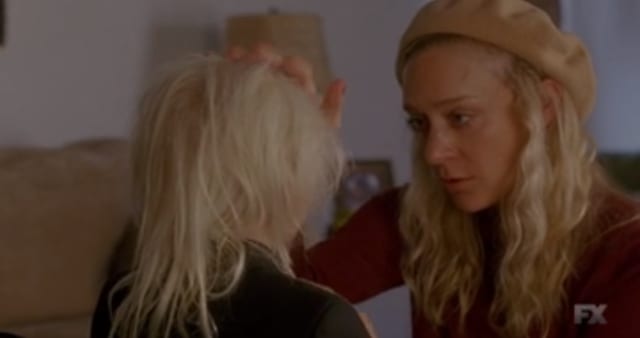 Jeder – außer natürlich Alex – weiß, dass Holden weder Apfel- noch Orangensaft meint. Was er sich dann selbst holt, war leider sehr vorhersehbar. Und nicht nur das verstört Alex, auch Holdens Aussage, zu seiner "anderen" Mommy zu wollen, muss ähnlich schlimm sein. So aber kommt es zur Begegnung 'beider' Mütter Holdens und einer folgeträchtigen und unwiderruflichen Entscheidung, die sie für ihr Kind treffen.
Lowe hat zwar mittlerweile verstanden, dass nicht alle Personen, denen er bis jetzt begegnet ist, real sein können. Aber irgendwie ist es trotzdem noch nicht so ganz bei ihm angekommen. Er wird jedenfalls auf eine ganz exklusive Party, die 'Devil's Night' in Zimmer 64 eingeladen. Mit viel Alkohol im Blut und einer vorangegangenen sehr verwirrenden Begegnung gesellt er sich zu March und 5 weiteren Gästen, die in diesem Fall nicht aus vorherigen Episoden bekannt, sondern die Verkörperung realer (und ich meine wirklich wahrhaft non-fiktionaler) Menschen sind.
"Welcome to devil's night at the Hotel Cortez, John." – Aileen Wuornos
So sitzt Lowe nun an einem Tisch mit Aileen Wuornos, Richard Ramirez, John Wayne Gacy, einem vermummten Zodiac und Jeffrey Dahmer. Alle diese Personen waren brutale Serienmörder (und – wie wir aus vorherigen Staffeln wissen – da Halloween ist, dürfen sie den Ort, an dem sie starben, für 24 Stunden verlassen). Und je weiter wir in dieses Bündnis zwischen den Charakteren hineingezogen werden, desto weniger weiß man seine Gefühle einzuordnen. Auf interessante Weise werden die vergangenen, perversen Morde der Personen angerissen, ihre kranke Gesinnung zum Ausdruck gebracht. Aber richtig hart wird es, wenn sich "der Master" und seine Lehrlinge gegenseitig mit Komplimenten überschütten. Denn alle "Geister-Gäste" haben ihre…wie soll man es nennen…Fähigkeiten?? zu morden bei March gelernt. Und dieser ist stolz darauf, was sie erreicht haben.
"I look around and see the definition of American success. They write books about you. They make movies of your lives. Years after your death, they continue to be enthralled. You made your mark in history. Like the 'Iliad,' your story will live on forever." – James March
Und nach der Komplimenterunde geht's dann ans Dessert, für das allerdings nicht jeder sein Löffelchen, sondern sein Messerchen zur Hand nimmt.
"Is anything real?" – John Lowe
Ich glaube, nach dieser Episode American Horror Story: Hotel kann man nur hin- und hergerissen sein. Technisch gesehen ist die Folge für mich ein großes Highlight. Es gibt kaum eine Szene, in der der Bildausschnitt, die Perspektive oder Kameraführung nicht absolut überzeugend, überraschend, perfekt gewählt gewesen wäre. Dann noch den Vertigo-Effekt untergebracht und auch den Einsatz von Spiegeln geschickt gemeistert. Und die Drehung der Kamera am Ende. Ich bin definitiv überzeugt!
Doch mit der Verkörperung realer Serienmörder und der Lobpreisung ihrer Taten wagt die Serie einen riskanten Schritt. Zu weit? Vielleicht. Makaber? Bestimmt! Verboten? Nein. Denn wie James March schon richtig sagt, mit den Taten von Mördern werden immer wieder Geschichten erzählt. Und diese können auch gut sein. Trotzdem liegt hier etwas in der Luft, das einem ein ganz ungutes Gefühl bereitet. Wäre auch schlimm, wenn nicht, oder?

Happy Hallo…Devil's Night.

-->