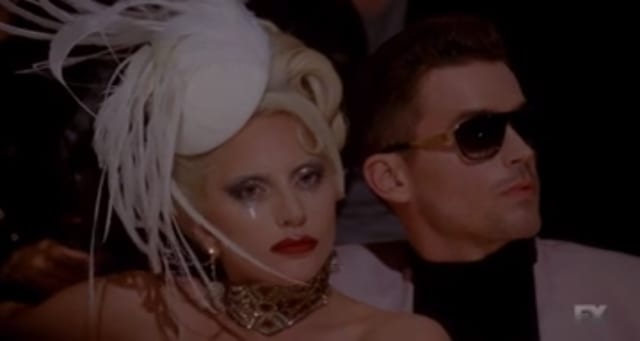 Geht der eine, kommt der andere. Während Junkie Gabriel in die Tiefen einer Hotelmatratze verschwindet und wir nun auch wissen, wer da so schlampig die Nähte schließt, ziehen Model Tristan und Naomi Campbell als Vogue Redakteurin Claudia in der zweiten Episode American Horror Story: Hotel in das Hotel Cortez ein – und passend dazu auch eine pompöse Fashion Show, für die allerdings nicht alle Hotelgäste auf der Liste stehen. Der Komtess fällt unter den Zuschauern nicht nur Detective John Lowe direkt ins Auge, sondern vor allem der aus der Reihe fallende, provozierende und zu Gewalt neigende Tristan.
"Mhhh, he is very handsome…" – Komtess
"You do have a type." – Donovan
Und diese Hingezogenheit geht schließlich so weit, dass die Komtess sich ihren nächsten Unterwürfigen anerzieht. Dadurch finden wir auch etwas mehr über sie heraus. Als vampirartiges Wesen erfüllen ihre Ausführungen so ziemlich alle Klischees: Blut trinken, Sonne meiden, nahezu unsterblich sein – wenn man sich klug anstellt! Bei Tristans Frage nach ihrem Alter fühlte ich mich allerdings – sorry! – an Twilight erinnert. Schade.
"How old are you?" – Tristan
Klar, dass diese Turtelei – gelinde ausgedrückt – dem ursprünglichen Toy Boy Donovan so gar nicht gefällt. Und so stehen sich Leopardenunterbuchse und Anzug gegenüber, die sie doch ein Faible für spezielle Frisuren teilen. Und obwohl sie ihn zu lieben scheint, setzt die Komtess ihren Donovan von jetzt auf gleich vor die Tür. Lag vielleicht daran, dass er lieber House of Cards binge-watchen wollte, sie aber ja doch eher auf das große Spektakel steht.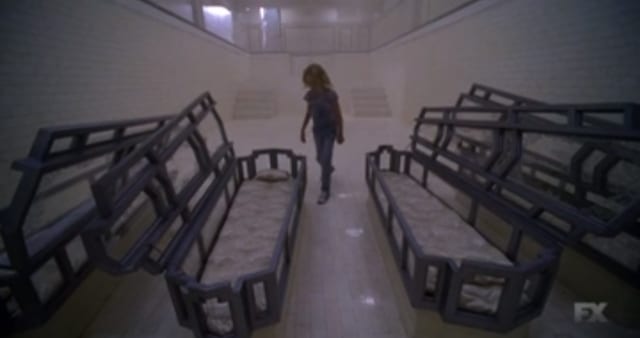 Während Detective Lowe mit mehreren Hotelbewohnern das persönliche Gespräch sucht, um endlich herauszufinden, wo der Ursprung des Schauerhotels liegt, erkundet seine kleine Tochter die unheimlichen Flure kurzerhand selbstständig – und trifft tatsächlich auf ihren vermissten und tot geglaubten Bruder Holden. Zunächst verwirrt, da dieser gar nicht gewachsen und älter geworden ist, wird auch das letzte Klischee um Vampire bestätigt: Auf einem Foto sind sie nicht festzuhalten. Und wenn der kleine weißhaarige Holden dann auch noch sagt, dass es ihm dort, wo man ihm regelmäßig das Blut abzapft (was allerdings mit Keksen belohnt wird!), gut gefällt, steht es um seine Rückkehr ins traute Heim ziemlich schlecht.
Lowe dagegen ist erfolgreicher. Nicht nur Sally öffnet sich ihm gegenüber und hält ihm einen interessanten Vortrag über das Licht, dem sie seit Ewigkeiten durch Drogen vergebens versucht näher zu kommen. Iris erzählt ihm schließlich von den Ursprüngen des Hotels. In einem Schwarz-Weiß-Rückblick ins Jahr 1925 wird der Bau des Hotels gezeigt. Gemäß den Vorstellungen des Designfreaks James March wird ein Hotel errichtet, über dessen Baupläne sich damals schon die Arbeiter wunderten: Gänge, die ins nichts führen, keinen Ausweg bereit halten, Rutschen, über die man in dunkle Kammern gelangt – perfekt für die Auslebung Marchs kranker Seite. Aus Fashion Hotel wird Folterhotel, in dem es sich der Besitzer zur Aufgabe gemacht hat, "Gott zu töten". Und dieser Schatten liegt stets auf dem Gebäude.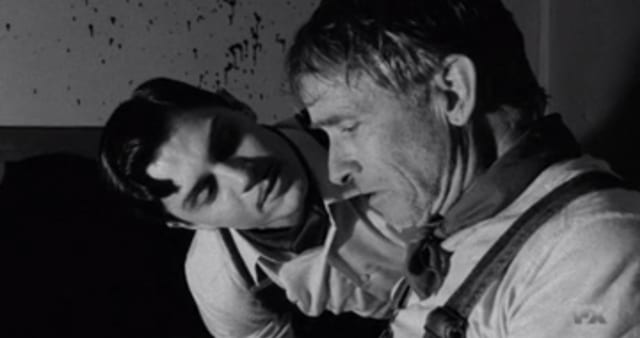 I wanna know what's going on in this place! – Detective Lowe
Ich auch.

-->