Im Zentrum von Dexter steht ein moralisches Dilemma: Ein Held, der gegen den – zumindest im US-amerikanischen Fernsehen üblichen (Briten und Franzosen sehen das ja eh nicht so eng) – Moralcodex verstößt. Ist das dann ein böser Held, ein heldenhafter Übeltäter, ein Antiheld oder was? Für die Unterhaltungsforschung ist das ein Problem, weil Theorien besagen, dass man mit Protagonisten sympathisiert und zu ihnen hält, weil sie Gutes tun. Das funktioniert bei Dexter wie wir in Teil 1 gesehen haben, weil seine Taten umgedeutet werden.
In einer Online-Umfrage unter mehr als 850 Dexter-Fans haben wir festgestellt, dass sie die Serie als hochgradig unterhaltsam empfanden. Dexters unmoralische Handlungen wurden von den Befragten gerechtfertigt. Je besser das gelang, umso sympathischer wurde der Killer und umso unterhaltsamer die Serie. Die Befragten berichteten, dass sie mit Dexter Morgan mitfühlen, sich aber gleichzeitig deutlich von ihm abgrenzen. Und – das sei ausdrücklich erwähnt – sie können dabei sehr gut zwischen Realität (= Serienkiller verabscheuungswürdig) und Fiktion (= Serienkiller unterhaltsam) unterscheiden. Je mehr Empathie die Befragten Dexter gegenüber empfanden, umso höher war der Unterhaltungsfaktor. Eine Identifikation mit Dexter fand aber nicht statt. Das mag euch nicht überraschen, im Vorfeld war das aber zu erwarten gewesen. Denn, so die Theorie, Antihelden-Stoffe unterhalten nur, wenn man sich mit dem Protagonisten identifizieren kann. Wir konnten das nicht bestätigen (macht ja auch nicht wirklich Sinn). Bei unseren Befragten war es sogar so, dass eine hohe Identifikation der Unterhaltung eher abträglich war.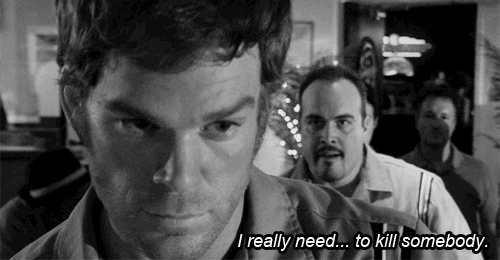 Hier der ganze Aufsatz:
Schlütz, D., Schneider, B. & Zehrfeld, M. (2014). 'America's favorite serial killer': Enjoyment of the TV serial 'Dexter'. In V. Marinescu, S. Branea & B. Mitu (Hrsg.), Contemporary television series: Narrative structures and audience perception (S. 115-132). Newcastle upon Tyne: Cambridge Scholars Publishing.