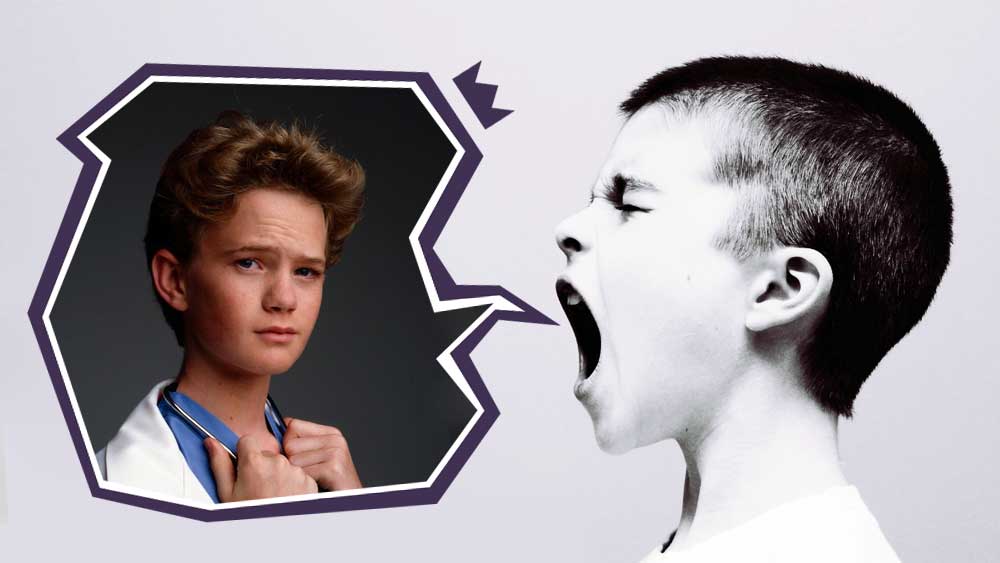 K1 hat mir gestern eine Rechnung in die Hand gedrückt. Eine Rechnung für einmal Fiebermessen. Es waren übrigens 93 Grad. Also, bitte nicht wundern, falls dies mein letzter Beitrag sein sollte. Der Kauf des Spielzeugarztkoffers hat sich gelohnt. Ich darf nicht nur still auf dem Sofa liegen, sondern ich MUSS. Wie soll sie sonst in Ruhe alle meine Krankheiten heilen? Würde K2 nicht währenddessen an meinen Knien knabbern, wäre es sehr entspannend. Und zusätzlich hat sich dank Stethoskop und Co. ihre Berufung klar abgezeichnet. Ärztin? Nein, Geldeintreiberin!
Der kürzeste Weg zum Wasserspielplatz führt durch die Uniklinik. Wir grüßen wie immer den Mann, dem der Urinbeutel aus der Boxershorts baumelt und laufen an der Bibliothek und dem Vorlesungssaal vorbei. Und da stehen sie, die zukünftigen Halbgötter in Weiß, und fachsimpeln. Viele ernste Mienen werden gemacht und komplizierte Wörter schwirren durch die Gänge. Meistens denke ich: ihr Ahnungslosen! Ich lese regelmäßig "Medizini" und weiß, wie man das Gurkenkrokodil schnitzt. Außerdem hatte ich fraglos die großartigsten Mentoren. Dr. Leonard McCoy, Dr. Doogie Howser, Dr. Julius Hibbert, Dr. R. Quincy, Dr. Gregory House, Dr. John Carter, Dr. Mark Greene, Dr. Elliot Reed, Dr. John Dorian, Dr. Christopher Turk und natürlich Dr. Percival Ulysses Cox, um nur ein paar zu nennen.
Drs. McNamara und Troy ("Nip/Tuck") habe ich nach drei Testläufen gemäß meines Auswahlverfahrens ad acta gelegt. Dasselbe Schicksal ereilte die Ärzte von "Grey's Anatomy". Da lese ich tatsächlich lieber Gray's Anatomy. Das ist das Buch ohne die Fifty Shades. Die Vorlesungen des hochrenommierten "Dr. Who" fehlen mir noch und ja, ich schäme mich deswegen.
Meine Mentoren sind wunderbar. Sie haben alle wichtigen Eigenschaften, die einen Patienten den Krankenhausaufenthalt überstehen lassen. Sie sind an Einfühlsamkeit nicht zu übertreffen:
Der neudeutsche Begriff "Bedside Manners", also das gute Benehmen am Krankenbett, ist ein wichtiger Faktor. Bedside Manners sorgen für Vertrauen und Entspannung:
Wenn jemand die medizinische Approbation erworben hat, dann weiß er, wo er steht, wer er ist, und hat keine Probleme damit, es zu kommunizieren:
Dr. McCoy:
"I'm a doctor, not a bricklayer!
I'm a doctor, not an engineer!
I'm a doctor, not a mechanic!
I'm a doctor, not a magician!"
Daher kann ein Heilkundiger auch jenes Selbstvertrauen ausstrahlen, welches der Patient braucht, um sich sicher zu fühlen:
Carla: Elliot… Have you been in the supply closet, crying?
Elliot: Carla, I don't do that anymore!
[Carla holds up the back of her metallic clipboard to Elliot so that she can see the trails her heavy black eye make up has made down her cheeks]
Elliot: Oh, my God! I look like Alice Cooper!
Damit sich der Patient und der Arzt auf Augenhöhe begegnen können, ist es wichtig, Sachlagen klar darzustellen, damit selbst ein Laie alles versteht:
Aber nicht nur die Patienten profitieren von dem Kenntnisreichtum dieser Koryphäen. Sie sind großartige Lehrer:
Dr. John Carter: [Instructing his med student] Grab that penis and show it who's boss.
Sie geben nicht nur Fachwissen weiter, sondern sie vermitteln auch Support mit der nötigen Ehrlichkeit:
Dr. House: "It is in the nature of medicine that you are gonna screw up. You are gonna kill someone. If you can't handle that reality, pick another profession. Or finish medical school and teach."
Aber darüber dürfen wir nicht vergessen, dass es Menschen wie du und ich sind. Sensibel, mit Macken und manchmal auch mit Ängsten:
Dr. Kelso: Do you want me to order you a clown?
J.D.: A drunk clown hurt me once.
Mit dem Thema Clowns spaße ich nicht. Deshalb dürfen wir keine Wunder erwarten, denn auch sie stoßen irgendwann einmal an ihre Grenzen.
Dr. Julius Hibbert: Homer, you'll make a full recovery. But I'm afraid your MyPad is gone.
Homer Simpson: But it only had eighty percent of its charge left.
Dr. Julius Hibbert: This is the part of my job I hate most: talking to crazy people.
Meistens behalten sie den Überblick für das Wesentliche:
[Homer is passed out on the floor as everyone leaves Marge's party]
Dr. Julius Hibbert: If you want him to live through the night, I suggest you roll him onto his stomach.
Marge: Thank you, Doctor.
Dr. Julius Hibbert: Remember, I said "if."
Wichtig ist, dass jeder Arzt seinen Humor behält, denn ein entspannter Patient ist ein folgsamer Patient. Das wissen auch all die anderen großartigen TV-Ärzte, die ich an dieser Stelle nicht erwähnt habe. Sei es eine Michaela Quinn, eine Dr. Maura Isles (die mit der Folgsamkeit der Patienten nicht so große Probleme hat) oder Dr. Jack Shepard. Und vergessen wir nicht, dass auch Dana Scully Medizinerin ist.
Trotz allen Respekts vor der Profession der Heilkünste, bin ich im Stillen froh, dass K1 der Weg eines Bountyhunters oder Kredithais mehr zu liegen scheint. Es mangelt nicht an Arztserien. Drehbuchautoren und Darsteller hauchen dem Bild des Krankenhausalltags Leben ein. Wenn nur ein Bruchteil davon stimmt, dann zeigt sich ein endloser Kampf gegen den administrativen Apparat. Sparmaßnahmen, Personalmangel und veraltetes Equipment sind allgegenwärtig. Privatleben ist ein Fremdwort und hinterher ist man noch nicht einmal Großverdiener. Natürlich kommt in den Serien zu dem oft überraschenden Maß an Detailtreue und Realitätsnähe viel Spannung und ein kräftiger Druck auf die Tränendrüse. Doch mit diesem Mix aus Realität und Fiktion hat "Emergency Room", die Urmutter aus den 90ern, immerhin 16 Emmys gewonnen. "Scrubs" hat diesem Konzept noch eine Prise Bittersüß dazugegeben und auch das wurde mit 14 Preisen honoriert. "Dr. House" steht fraglos über den Dingen und geht in vielerlei Hinsicht, sehr erfolgreich, andere Wege.
Letztendlich, ob sie wollen oder nicht, formen diese Serien unsere Vorstellungen von Ärzten, denen wir im echten Leben begegnen. Daher betrachte ich die jungen Gesichter der angehenden Mediziner und frage mich im Vorbeigehen, ob sie nach der Vorlesung den "Eagle" machen.