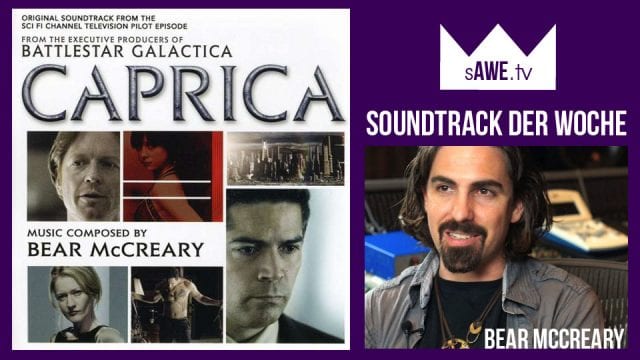 Neue Folge unserer Serie "Soundtrack der Woche": Hier stellen wir Euch regelmäßig Scores, Tracks und Musik-Alben zu unseren Lieblingsserien vor. Dabei gehen wir einerseits auf die Akteure hinter dem Soundtrack ein, aber natürlich auch ausführlich auf die Musik selbst – und ihre Wirkung auf die Serie. Folge 12: Musik in: Caprica (Pilot).
Die Serie – darum geht's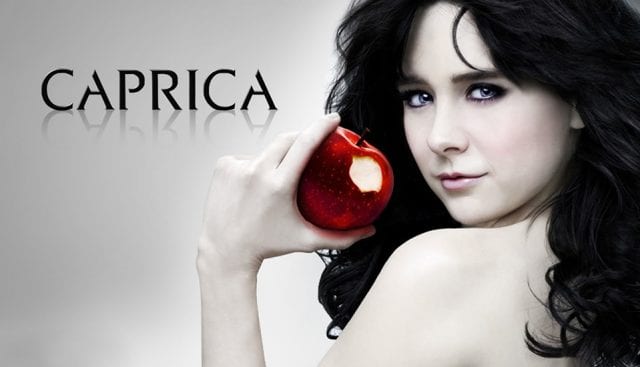 Caprica spielt 58 Jahre vor den Ereignissen in Battlestar Galactica (BSG), ist also als Prequel zu sehen. Ort der Handlung ist – anders als bei BSG – nicht der Weltraum, sondern der Planet Caprica, eine von zwölf Kolonien der Menschen. Auch sind die Folgen der Serie nicht so actiongeladen wie die Mutterserie. Es geht um Familiendramen, Wirtschaftsintrigen und religiöse Spannungen (letzteres kennen wir ja auch schon aus BSG, schließlich wurde die Glaubensfrage später ein elementarer Bestandteil der letzten Staffeln). Im Mittelpunkt stehen die beiden Familien Graystone und Adama. Adama? Da klingelt bei den BSG-Fans was. Genau, hier geht es um die Familie des Galactica-Commanders – er selbst taucht in der Serie als kleiner Junge auf.
Caprica Trailer - Caprica Pilot Trailer
Ein Anschlag auf einen Zug, bei dem die beiden Töchter der Graystones und der Adamas ums Leben kommen, führt die beiden Familien zusammen. Graystone entdeckt, dass seine Tochter noch als digitaler Avatar lebt – was auch für Adamas Tochter gilt. Er lädt Adama ein, sich in den virtuellen Raum zu begeben, um seine Tochter wiederzutreffen…
Schon der Pilot der Serie erzählt meines Erachtens eine ganz starke Geschichte. Die Idee, diese Art der Handlung der BSG-Geschichte vorzusetzen, finde ich wirklich gelungen. Es zeigt auch sehr schön die Anfänge der Zylonenentwicklung und die Verbindung zu den menschlich wirkenden Zylonen. Mehr möchte ich allerdings nicht verraten, um nicht zu viel zur Serie zu spoilern.
Erdacht und produziert wurde die Serie von Remi Aubuchon, Ronald D. Moore und David Eick, womit auch hier das bewährte BSG-Team wieder mit an Bord wäre. Insgesamt gab es 18 Folgen, dann wurde die Serie mangels guter Quoten abgesetzt – leider, leider.
Battlestar Galactica & Caprica - Stoltz & Morales on the Pivotal Scene (Paley Center, 2009)
Der Komponist
Komponist des Score zu Caprica ist Bear McCreary. Der Amerikaner ist Jahrgang 1979 und ist mit dem Battlestar Galactica-Soundtrack ab 2004 durchgestartet. Den Score zum damaligen 90-minütigen Pilotfilm schreib er noch gemeinsam mit Richard Gibbs, den Score zu den einzelnen Seasons schreib er dann alleine. Ich hatte ihn schonmal vor einiger Zeit vorgestellt, als es um den Soundtrack zur Terminator-Serie ging. Seine Musik begegnet mir immer wieder, da er immer zufällig jene Serien vertont, die mir auch gefallen: The Walking Dead oder Marvel's Agents of S.H.I.E.L.D. zum Beispiel. Außerdem stammen von ihm die Soundtracks zu Black Sails und Outlander – mit beiden Serien kann ich allerdings nicht viel anfangen.
Der Kontakt zu Regisseur Jeffrey Reiner, der den Piloten inszenierte, kam über David Eick und Ron Moore zustande, die sich nicht nur Caprica ausgedacht haben, sondern auch schon für Battlestar Galactica verantwortlich waren – wo Bear McCreary ja ebenfalls den Score komponierte. Es sei nicht immer leicht, eine Verbindung mit einem neuen Komponisten einzugehen verrät Reiner im Booklet zum Album. Aber der Komponisten hätte die bedenken schnell zerstreuen können.
He liked the ideas that I approached him with, but most importantly, he seemed to have a deep understanding of the characters' inner lives."
Für Bear McCreary war es eine tolle Gelegenheit, an Galactica anzuschließen. Es sei eine Herausforderung gewesen, einen Sound mit Wiedererkennungswert zu schaffen, der einerseits Battlestar Galactica Tribut zollt, andererseits den Score der Serie aber auch nicht imitiert. Tatsächlich erinnern einige Themen an Galactica, das sei aber auch so gewollt gewesen, um eine Brücke zur Serie und zur dortigen Handlung, die 58 Jahre nach Caprica spielt, zu schlagen. Der Score zum Piloten sei ein toller Ausgangspunkt, von dem aus sich das musikalische Universum von Galactica entwickeln könne, schreibt Bear McReary im Album-Booklet.
The "Caprica" score, while echoing the spirit of "Galactica", is very much its own entity, like the series itself. Director Jeff Reiner offered me the opportunity to explore new musical possibilities that will lay the foundation for the series to come.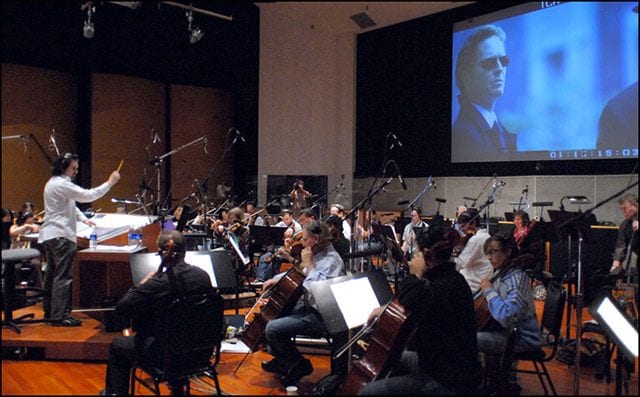 Bear McCreary bei der Arbeit – das Foto stammt von seinem Blog auf bearmccreary.com.
Nachdem Jeffrey Reiner die ersten Demos des Komponisten gehört hatte, sei er schon positiv gestimmt gewesen, aber richtig umgehauen hat es ihn dann, als er live dabei war, wie Bear McCreary den Score mit Orchester eingespielt hat. Zum Schluss hat der Regisseur noch ein großes Lob für den Score-Verantwortlichen übrig:
I can't imagine the movie without his score.
Im Interview mit den LA Times geht der Komponist tiefer ins Detail über seine Arbeit am Caprica-Piloten.

Dieser Beitrag hat mehrere Seiten:

-->