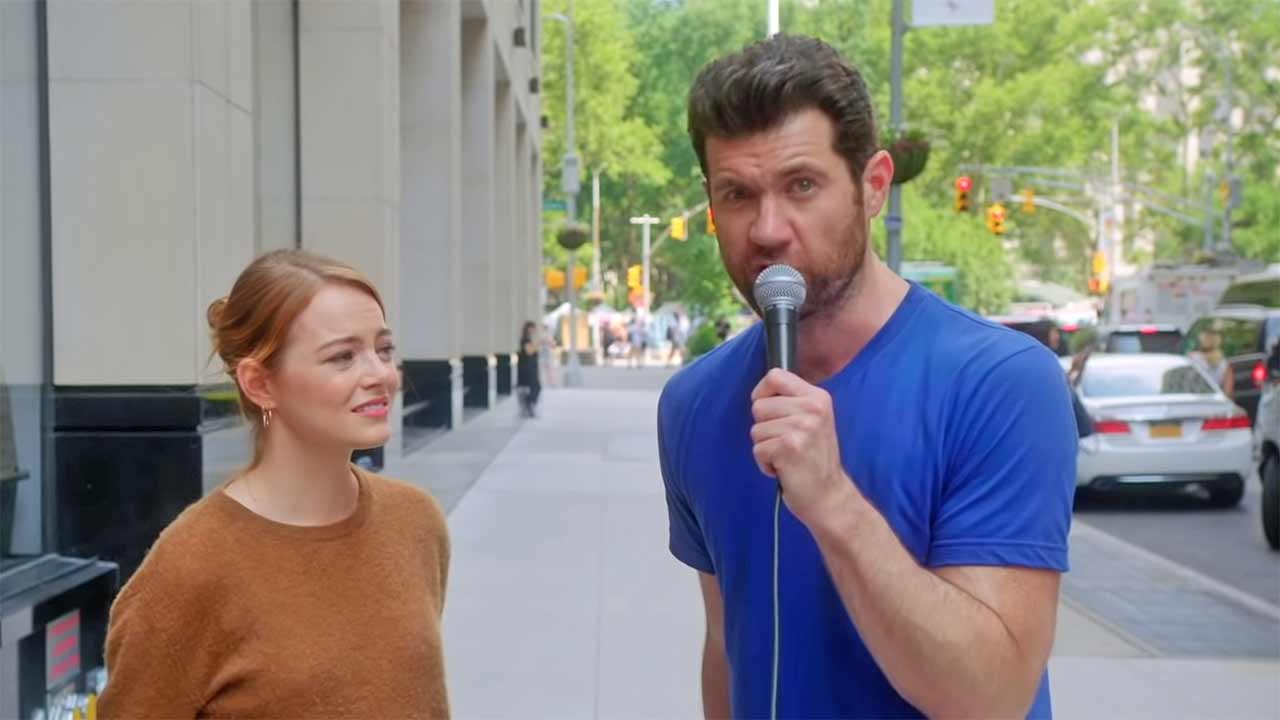 Kommen wir mal zu etwas ganz anderem. Der gerne laute und exzentrische Comedian Billy Eichner (ich wollte schon "Billie Eilish" schreiben…) macht seit 2011 hauptsächlich im Auftrag von "Funny or Die" bzw. tru tv sehr… nun ja… andere Straßenumfragen. Gerne mal mit wirren Ideen, viel zu schnell gesprochenen Sätzen, offener Konfrontation und dem einen oder anderen (teils richtig großen) Star. Da waren schon einige Highlight-Folgen dabei, die YouTube zum glühen gebracht haben. Jetzt hat der Gute einen ordentlich Deal an Land gezogen und wird fortan für Netflix auf Meinungs-Jagd gehen. Ab 1. November geht es los. Oder, wie er schreiben würde (bzw. auf Twitter geschrieben hat): LET'S GO!!!!!!
BIG NEWS: MOVE OVER, GRACE AND FRANKIE! BILLY ON THE STREET IS COMING TO @NETFLIX FOR THE FIRST TIME NOV 1st!!!!! FOUR SEASONS OF CHAOS AND JOY!!! SAY IT WITH ME NOW: LET'S GO LESBIANS, LET'S GO!!!!!!!! pic.twitter.com/5zjM5CfcII

— billy eichner (@billyeichner) October 23, 2019
Hier noch ein paar alte Highlight-Episoden des Formates, die ich damals abgefeiert habe und die mich auf die Show gebracht haben. Und ein paar neuere Folgen, die ordentlich abgehen. Verrückte Fragestellungen, haltlose Theorien und viel Energie – knallharte Mischung. Und ja, so ganz fern ist der Serienbezug nicht, denn wie einige von euch wissen dürften, hatte Billy Eichner so manch prominente Rolle in Serien-Formaten in der Vergangenheit (s. sein IMDb-Profil). Sei es als Darsteller in "American Horror Story", "Friends from College" sowie "Parks and Recreation", oder auch als Synchronsprecher in unter anderem "Bob's Burgers". Da ist er dann auch hin und wieder etwas leiser unterwegs.
Viele weitere Ausgaben von "Billy on the Street" gibt es auf YouTube zu sehen. Ich weiß noch nicht genau, ob und wann "Billy on the Street" dann auch für das deutsche Netflix geplant ist, ich hoffe aber mal, dass direkt zum Start. Notfalls halt erstmal nur im Originalton oder mit Untertiteln. Die News ist noch sehr frisch, da folgt bestimmt bald weitere Information zu. Spätestens am 1. November sind wir schon mal schlauer, ist ja nicht mehr so lange hin.