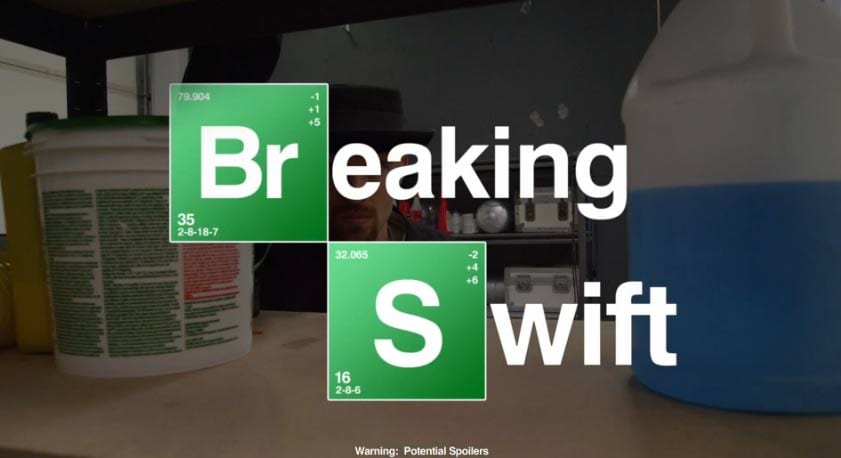 So langsam steigt bereits die Vorfreude! Am 11. August geht es endlich weiter mit den (leider) letzten Folgen von Breaking Bad. Weil ich vorhin das Original dieses Songs zu hören bekommen habe, kam ich noch einmal auf diese geniale Version, auch wenn sie schon etwas betagter ist.
Teddie Films hat sich Taylor Swifts "We Are Never Ever Getting Back Together" angenommen und hat Lyrics wie Video ordentlich verheisenbergt. Dabei geht es vornehmlich um die Beziehung zwischen Walter und Jesse. Und klar: SPOILER wo man hinhört!
Taylor Swift + Breaking Bad Parody - 'We Are Never Ever Gonna Cook Together'
LYRICS
I remember when we cooked up, the first time
Cooking in the RV, it was rough, we killed
Krazy-8, and Tuco, Gale, and Gus
We're the best we shouldn't stop.
Every time we kill someone you say "Jesse,
Its over and I swear it's gonna change, trust me."
You in this for the money or the meth?
Neither, I'm building an empire.
Whatever. I'm out!
Oooh if you walk away from me tonight
then oooh, I swear, you're getting nothing, getting nothing
We are never ever ever gonna cook together
We are never ever ever gonna cook together
You go talk to Goodman, talk to Skyler, talk to me
But we are never, ever, ever, ever, gonna cook together
Yo, whatever
I'm really gonna miss all of our fights
And you, manipulating me to think you're right
And you, believing that I didn't poison Brock
You know, I am now the danger and I'm the one who knocks
Oooh if you walk away from me tonight
then oooh, I swear, you're getting nothing, getting nothing
We are never ever ever gonna cook together
We are never ever ever gonna cook together
You go talk to Goodman, talk to Skyler, talk to me
But we are never, ever, ever, ever, gonna cook together
Oooh Heisenberg 3x
I used to dream that we'd cook forever ever
But I'd always say, "Yo man, whatever…"
W: Uggg, so he comes by and says, "What are we going to do?"
And I'm like… "Who's we?"… I'm the only vote left –
We are never gonna cook together. Like, ever"
We are never ever ever gonna cook together
We are never ever ever gonna cook together
You go talk to Goodman, talk to Skyler, talk to me
But we are never, ever, ever, ever, gonna cook together
[Oooh Heisenberg]
[gonna cook together]
You go talk to Goodman, talk to Skyler, talk to me
But we are never, ever, ever, ever, gonna cook together