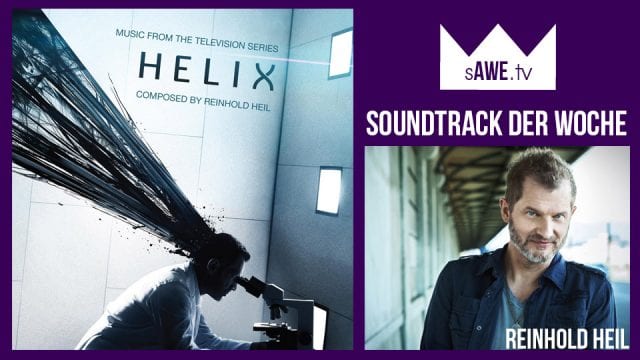 Neue Folge unserer Serie "Soundtrack der Woche": Hier stellen wir Euch regelmäßig Scores, Tracks und Musik-Alben zu unseren Lieblingsserien vor. Dabei gehen wir einerseits auf die Akteure hinter dem Soundtrack ein, aber natürlich auch ausführlich auf die Musik selbst – und ihre Wirkung auf die Serie. Folge 17: Musik in: Helix.
Die Serie – darum geht's
Von der Serie Helix gibt's zwei Staffeln. In beiden steht jeweils ein Forscherteam des CDC im Mittelpunkt – Wissenschaftler, die sich mit Viren und Krankheiten bestens auskennen und gefährlichen Erregern auf der Spur sind. In der ersten Staffel werden die Forscher zu einer Forschungsstation in der Arktis gerufen. Dort wurde mit einem hochgefährlichen Virus experimentiert – bis alles außer Kontrolle geriet. In der Folge infizieren sich immer mehr Menschen in der Station – auch das Forscherteam ist betroffen.
Helix - Full Length Trailer | Showcase Canada
In der zweiten Staffel ist das Team auf einer einsamen Insel unterwegs, wo ebenfalls ein mysteriöses Virus unterwegs ist. Das Team ist teilweise neu besetzt, findet aber auch ehemalige Mitglieder auf der einsamen Insel wieder. Die Insel ist von einer Art Sekte bewohnt, an deren Spitze mit Michael ein Unsterblicher steht, der seine Familie immer wieder neu züchtet.
HELIX: Season 2 - 3rd Trailer
Beide Staffeln fand ich vom Ansatz her sehr spannend, die ersten Momente waren auch spannend, letztlich gab es aber extrem viele Widersprüche und schlechte Inszenierungen in der Handlung, so dass man dann auch jeweils froh war, wenn's vorbei war. Eine dritte Staffel gab's dann nicht mehr – auch gut. Für mich insgesamt enttäuschend, da ich einige Hoffnungen in die Serie gesetzt hatte – immerhin wurde sie von Ronald D. Moore erschaffen, bekannt als Showrunner von Battlestar Galactica und Mastermind diverser Star Trek-Serien. Das hier war aber leider nichts – bis auf den Score, den ich über beide Staffeln hinweg sehr gut fand. Er stammt von Reinhold Heil. Speziell der Wechsel zwischen hochdramatischem Elektro-Score und entspannter Fahrstuhl-Musik war irgendwie ungewöhnlich, ja sogar außergewöhnlich. Das spiegelt sich auch in Reinhold Heils eigenem Eindruck von seiner Arbeit an Helix wider, wie er ihn einmal gegenüber Tech Times formuliert hat:
Of course, I also made the main title, which is very easy listening and recurs throughout the show. For Helix, there is definitely this aspect of music counterbalancing what is going on in the show, but also there is of course a lot of underscore. That is the main part of my work, probably 90%. My favorite aspect about working on this show is that the approach to music and sound is so unconventional.
Umso erfreuter war ich vor kurzem, als ich entdeckte, dass die Kollegen des geschätzten La-La-Land-Records-Labels ein Doppelalbum des Scores veröffentlichen würden. Den musste ich haben.
Der Komponist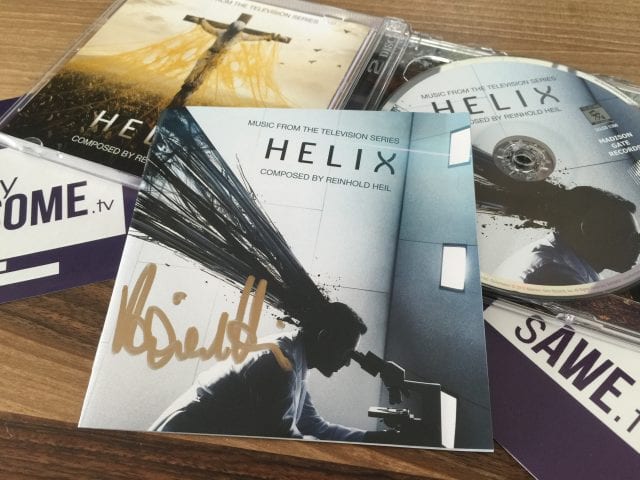 Et voilà – da ist er. Ich dürfte ihn als einer der ersten bestellt haben – bei La-La-Land nicht unwichtig, zumindest für Fans und Sammler, denn das Label spendiert den ersten So-und-so-viel Bestellern die Albumausgabe mit Autogramm des Komponisten. Klappt nicht immer, zumal das Label in einer vollkommen anderen Zeitzone unterwegs ist, aber manchmal hat man Glück.
Reinhold Heil heißt der Komponist des Scores; der Name kam mir auch irgendwie bekannt vor, ich konnte aber nicht so recht etwas mit ihm in Verbindung bringen, bis ich las, dass er Bandmitglied der legendären Nina Hagen Band und der deutschen 80er-Band Spliff (im Prinzip die Nina Hagen Band, nur ohne Nina Hagen) war. Klaro, da fiel der Groschen (darf man bei einer Band aus den 80ern sagen, glaube ich). Spliff haben deutschsprachige und englische Alben veröffentlicht, und prägnant an den Songs war eben vor allem der elektronsiche Sound von – Reinhold Heil. Ich habe Spliff irgendwie der Neuen Deutschen Welle zugeordnet, würde beim heutigen Hören aber denken, dass das eigentlich gar nicht so richig passt. Trotzdem surfte der Komponist in den 80ern und den späteren Jahren als Musiker und Produzent auf der Neuen Deutschen Welle – sieht man auch daran, wenn man liest, bei welchen Produktionen und Acts er so seine Finger im Spiel hatte: Annette Humpe, Ulla Meinecke, Rainbirds, Stephan Remmler, Stefan Waggershausen, Rio Reiser und Nena, deren erste drei Alben er produzierte, darunter 99 Luftballons, einen der größten deutschsprachigen Hits in den USA. Dorthin hat es ihn 1997 verschlagen, seit 2010 lebt er in Downtown Los Angeles und arbeitet dort in seinem eigenen Studio. Erstaunliche Entwicklung, dass ihn sein musikalischer Weg vom NDW-Sound zum Hollywood-Score geführt hat. Heil hat es gegenüber Cinelinx einmal so erklärt:
You learn from everyone you collaborate with. Hanging out with musicians that are better than you or filmmakers that have seen more than you is always good. It forces you to grow. People who have worked for me, everyone I observe, they make me grow. Everyone is bringing something to the table and you might think, "That's cool, I want to try that in my workflow sometime."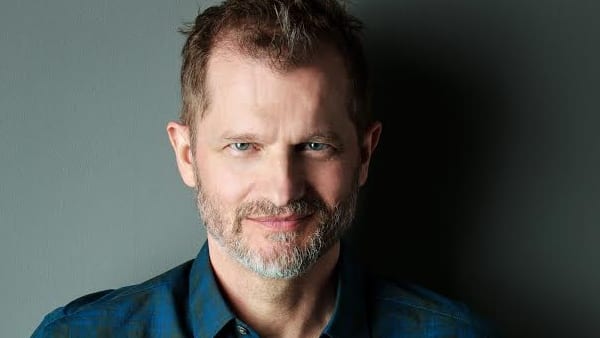 In L.A. arbeitet er oft mit Johnny Klimek zusammen – früher Bass-Spieler bei Nina Hagen und mittlerweile ebenfalls intensiv im Scoring-Business unterwegs. Mit Scores und Soundtracks hätte Reinhold Heil eigentlich nie viel zu tun gehabt, bis er Tom Tykwer getroffen hat, wie er gegenüber Examiner erklärt. Gemeinsam mit Johnny Klimek hat er praktisch alle Tom Tykwer-Filme vertont, erster erfolgreicher Score dieser Dreiecksverbindung war Lola rennt. Zuletzt haben sich die Drei für Cloud Atlas zusammengefunden.
Aus Reinhold Heils Feder stammen Scores und Soundtracks zu Fernsehserien wie Deadwood, Awake, Legends und eben Helix. Die größte Herausforderung beim Schreiben des Scores war für Reinhold Heil, einen Kompromiss zwischen seinen Ideen für eine Szene und den Vorstellungen der Showrunner zu finden. Manchmal habe Heil ein favorisiertes Stück für eine Szene im Kopf, die Showrunner aber eine ganz andere Vision. Am Ende des Tages sei er dazu da, die Vision der Showrunner voran zu treiben, was auch schonmal bedeute, seine eigenen Favoriten sterben zu sehen, wie er gegenüber Tech Times verriet:
Occasionally, I might have a favorite piece of music but the showrunner has a different vision for the scene. It would be a mistake if I keep trying to convince him to take my piece just because I love it. That's just wasting his time. Sometimes you have to kill your darlings. And at the end of the day, I know I am here to help the showrunner realize his vision. That's sometimes challenging
Das Arbeiten an einer Serie übe für Reinhold Heil einen besonderen Reiz aus. Helix habe sich zum Beispiel wie ein Zehn-Stunden-Film angefühlt, bei dessen Anfang er noch nicht weiß, wie er enden wird. Das sei eine Herausforderung beim Schreiben des Scores:
With a series there are more pitfalls. A season of Helix is like a ten-hour movie, which is really cool. But I don't know the whole movie at the beginning of my process, so I am kind of tiptoeing at first. It makes more sense to stick with consistent elements and use them when they are right. If someone binge watches the series, they have a more fulfilling experience because it's like watching a full blown movie. I watched all of season one that way. On a series I usually only have just four or five episodes to start with. I'm glad when I can get an early cut since it helps me have a conceptual conversation with the filmmaker about the aesthetic, etc. The moment they send you their first cut is definitely an important one. That's when you see which part of your work is sticking and what has to be dismissed.
Bei seiner Arbeit ist der Komponist übrigens nicht auf ein Genre festgelegt: Das Fach ist ihm egal, solange er etwas wirklich Cooles machen kann. Die Arbeit an Helix habe er sehr genossen, zumal ihm auch die Serie sehr gefallen habe:
I really enjoy working on Helix. The people are great and I love the show. Even when the work gets hard it never stops being fun.
Dieser Beitrag hat mehrere Seiten:

-->