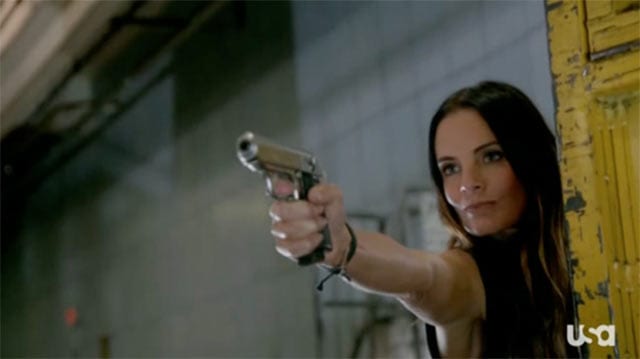 Und wieder eine weniger. Diese Woche hat uns die Actionserie Burn Notice verlassen. Hier ein kleines Fazit zur Serie und Review zur letzten Folge.
Hatten wir zuletzt Michael Westen in (sehr gut dargestellter) Hilflosigkeit beim Cliffhanger erlebt, geschehen die Dinge in der Finalfolge extrem schnell. Nicht gerade überraschend, aber Michael entscheidet sich gegen die Organisation und für Fiona.
"You're getting beer? You know, we're on the run?!" (Jesse zu Sam)
Die CIA-Operation ist vorbei, der Deal ist off, die vier (Michael, Sam, Fiano und Jesse) werden bundesweit gesucht und alles sieht noch schlimmer aus als nach dem ursprünglichen Burn. Natürlich schaffen unsere Protagonisten erneut das vermeintlich Unmögliche, dabei mussten aber schwere Entscheidungen getroffen werden…
"All I have in my purse is some C4…" (Fiona)
Die komplette Situation um Maddie war ungemein emotional. Ich selbst fand es dann aber seltsam, dass DAS der EINZIGE Ausweg gewesen sein soll. Allgemein wirkt das Ende doch sehr konstruiert und auch bei der finalen Explosion hätte man durchaus etwas mehr Budget in die Effekte packen können. Wenn man schon mit einem großen Knall geht, dann richtig! Und am Ende wird natürlich alles noch einmal enorm kitschig, aber gut…
"Spies – bunch of bitchy little girls" (Sam)
Es gab aber auch einige Dinge, die mir sehr sehr gut gefallen haben. Der Running Gag, dass tatsächlich alle von ihrer Rolle Duct Tape gebrauch machen, die Sam in Massen an der Tankstelle gekauft hat. Die vielen Rückbezüge auf die Serie und ihre Sprüche (bspw. endet die Serie mit den Worten, mit denen sie begonnen hat und die wir wohl alle mitsprechen können). Und die Tatsache, dass (offiziell) Sam und Jesse als einzige überlebt haben. Das nährt die Hoffnungen auf ein Spin-Off!
Das war eine vollgepackte Folge mit viel Emotionalität, schönen Rückblicken und dem Versuch, eine passende Klammer zu bauen. Schade ist letztlich der Weg dorthin. Alles geschieht zu schnell, zu konzipiert, zu unglaubwürdig. Da gingen der Serie schlichtweg die Folgen aus und man stellte sich selbst in den Weg, weil es immer dramatischer und epischer werden musste. Dennoch hat die Serie so ihren Abschluss gefunden und ich bedanke mich für viele Jahre der lockeren Unterhaltung. Mögen Michael und Fiona an einem Ort mit viel C4 und Joghurt glücklich werden…