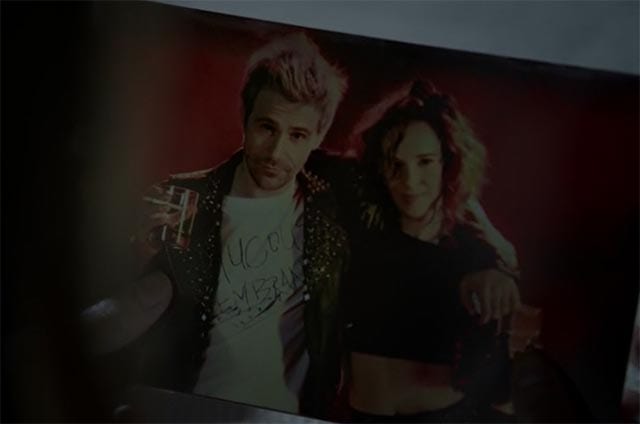 Zum Einstieg gibt es dieses Mal Schreckhafte Nonnen aus Mexico City an Knochenfinger mit einem Schuss Blut. Nett, mehr aber leider auch nicht. Ann-Marie ist nicht alright, kann dafür sehr schnell und körperlos reisen. Ein Blick in die Vergangenheit, war sie doch auch in dem früheren Kindsfall in Newcastle beteiligt, der Constantine derart verfolgt.
"She hates my guts. Must be pretty sudden desperate to be coming to me for help." (Constantine)
Sister Flirtacious ist so verdächtig wie sie süß ist. Das macht sie noch verdächtiger. Adam-Evas Schwestern aus der Hölle?! – Das ist dann doch etwas arg verdreht.
Zed hat ihre Kräfte durch den geflügelten Kontakt vergangene Woche intensivieren können. Sie kann Spanisch sprechen. Und sich gut selbst verteidigen, wenn sie jemand Mary nennt. Schöner Übergangseffekt bei der Berührung Zeds mit dem verräterischen Schnüffler.
"I see that now – it's not that you don't care, it's that you can't care and do the things you do." (Ann-Marie)
Ein Dämon, der dümmlich wegrennt ist in etwa so bescheuert, wie eine von zwei gefährlichen Attackierenden separat zu einer Tür ins Nichts bringen zu können. Arg konstruiert inszeniert. Und warum um alles in der Welt hat sie nun Constantine angeschossen?! Sehr dämliches Ende…

Atmosphäre, Figuren, etc. – passt eigentlich. Doch die hahnebüchene Story und vor allem die in der Umsetzung mehr als konzipiert wirkenden Handlungen (Haupt- wie Neben-) lassen hier keine bessere Bewertung zu. Ich ärgere mich tatsächlich arg über das Ende, das nur gemacht wurde, um die Aufopferungs-Moral umzudrehen, obwohl komplett unnötig. Schade, aber dieser Gang auf der religiösen Schiene scheint der Serie nicht zu bekommen.

-->