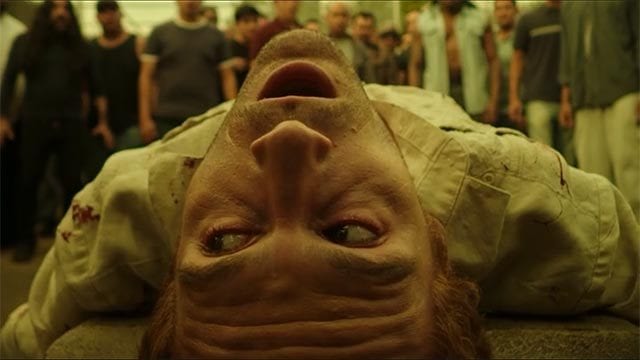 Durch die lange Pause hat man schon fast die Brisanz der Situation vergessen. Ein angeschossener Constantine bedroht durch eine der angeblich bedigungslosesten Kreaturen überhaupt – die sich aber durch einen Schlag gegen den Kopf und einen bösen Blick vertreiben lässt. Dämonische Hilfe mit Nebenwirkungen: erhitztes Gemüt, rötliche Augen und Blutbadgedürste. Scheinbar ist der neue Bewohner von Johns Körper durchaus brachial unterwegs. Sehr gut inszenierte Aufwachphase. Das menschliche Puzzle-Spiel bringt jedoch Konsequenzen mit sich.
"It's not that I can't help you, John. I won't." (Manni)
Zed kann sich derweil verdammt einfach selbst helfen und ist pünktlich für ihren Einsatz vor Ort. Wirkt etwas unglaubwürdig, aber gut, scheinen ja alles kurze Wege zu sein.
"I'm not ready to die. […] I've got work to do." (Constantine)
Der creepige Kiefer-Ausrenk-Vermessungs-Damon hatte durchaus einen starken Auftritt. Fast wie Johns überzeugende Darbietung seines neuerlangten Könnens. Die Variante mit der Überdosis Heroin ist auch durchaus durchgeknallt.
"John has heaven on speed dial." (Zed)
Am Ende sehen wir einen eigentlich ganz gut inszenierten Exorzismus. Bis auf ein paar Dreher, die man sich hätte sparen können und das grüne Licht? Naja. Immerhin ein impulsives Finale der Doppelfolge.

Insgesamt zwar deutlich besser als der erste Teil dieser Doppelfolge, da konsequenter und zwingender, aber weiterhin mit einzelnen Luftlöchern und Tempobremsen. Dafür gefällt mir Chas' Running Death immer mehr. Insgesamt ein okayer Jahresauftakt, wenn man so will, wirklich Episch war das aber noch lange nicht.

-->