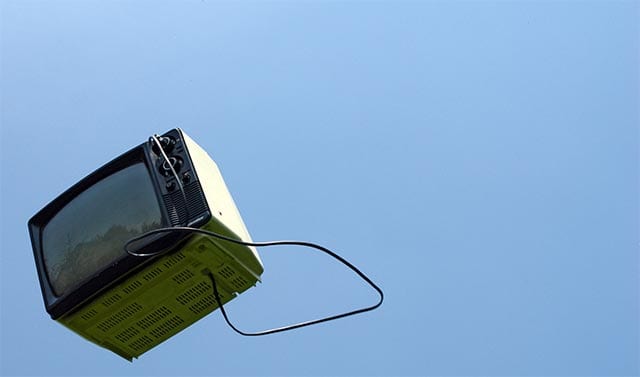 Montag – Zeit für unseren wöchentlichen Service-Beitrag in Sachen TV-Premieren in Deutschland – zu AWESOME-Serien im Pay-TV wie im Free-TV. Unser Serienkalender hat natürlich weiterhin die US-Sendetermine der Serien parat.
Erwähnenswert: Modern Family startet mit der 5. Staffel auf RTL Nitro und auf Comedy Central gibt es die erste Folge der 6. Staffel von Community.
Serien am Montag, 27.07.2015
20.15 Uhr Person of Interest (RTL Crime) S04E19 Search and Destroy
20.15 Uhr Jane the Virgin (sixx) S01E07 Kapitel sieben
20.15 Uhr Grimm (VOX) S04E03/E04 Letzter Kampf/Der Golem
20.15 Uhr Forever (Sat.1) S01E01/E02 Unsterblich/Der Mörder auf der Brücke
20.55 Uhr The Last Ship (TNT Serie) S02E07 Alone and Unafraid
21.00 Uhr Dark Matter (Syfy) S01E07 Episode Sieben
21.00 Uhr Powers (Sky Atlantic) S01E04 Jäger und Gejagte
21.10 Uhr Jane the Virgin (sixx) S01E06 Kapitel sechs
21.50 Uhr Power (Axn) S01E03/E04 Folge 3/Folge 4
22.10 Uhr New Girl (sixx) S04E16 Oregon
22.10 Uhr Resurrection – Die unheimliche Wiederkehr (VOX) S02E09/E10 Lügen/Prophezeiung
23.00 Uhr Dads (ProSieben) S01E09/E010 Der Comic-Coup/Nicht ohne meinen Vater
23.10 Uhr You're the Worst (sixx) S01E07/E08 Sein erster Dreier/Drink deine Milch!
Serien am Dienstag, 28.07.2015
21.00 Uhr Bates Motel (Universal Channel) S03E07/E08 The Last Supper/The Pit
21.00 Uhr Defiance (Syfy) S03E07 308
21.00 Uhr Falling Skies (TNT Serie) S05E05 Non-Essential Personnel
21.00 Uhr Gracepoint (Sky Atlantic) S01E10 Das Geheimnis einer Nacht
21.00 Uhr Nashville (Fox Channel) S03E07/E08 Der Preis der Lüge/Gemeinsam einsam
22.30 Uhr Ray Donovan (ZDFneo) S02E07/E08 Mein krimineller Waschsalon/Sunny
Serien am Mittwoch, 29.07.2015
20.15 Uhr Parenthood (TNT Glitz) S05E07 Arrivederci, Camille
20.15 Uhr The 100 (ProSieben) S01E04/E05 Murphys Gesetz/Ein Licht am Horizont
20.15 Uhr Z Nation (Syfy) S01E01 Zombie-Apokalypse
21.00 Uhr Salem (TNT Serie) S02E11 Episode 11
21.00 Uhr Z Nation (Syfy) S01E02 Raffinerie des Todes
21.50 Uhr Chicago Fire (Universal Channel) S03E18 Forgiving, Relentless, Unconditional
22.00 Uhr The Comeback (Sky Atlantic) S01E11/E12/E13  Valerie und der rote Teppich/Valerie macht den Cupcake/Valerie ist zum Kotzen
22.10 Uhr The Strain (ProSieben) S01E01 Flug 753
23.50 Uhr The Following (RTL Nitro) S02E04 Unser Idol
Serien am Donnerstag, 30.07.2015
20.15 Uhr Gotham (ProSieben Fun) S01E19 Beasts of Prey
20.15 Uhr Mr Selfridge (Sony Entertainment Television) S03E10 Folge 10
20.55 Uhr The Flash (ProSieben) S01E19 Wer ist Harrison Wells?
21.50 Uhr Justified (AXN) S06E13 Das Versprechen
22.05 Uhr Modern Family (RTL Nitro) S05E01 Plötzlich, im letzten Sommer
22.35 Uhr Shameless (kabel eins) S01E03/E04 Der Scheck heiligt die Mittel/Nur mal spielen
Serien am Freitag, 31.07.2015
20.15 Uhr Homeland (kabel eins) S04E10/E11/E12 Dies ist keine Übung/Astrid/Niemandsland
20.15 Uhr Marvel's Agents of S.H.I.E.L.D. (RTL Crime) S02E08 The Things We Bury
Serien am Samstag, 01.08.2015
Nichts Erwähnenswertes …
Serien am Sonntag, 02.08.2015
21.30 Uhr Community (Comedy Central) S06E01 Ladders

-->