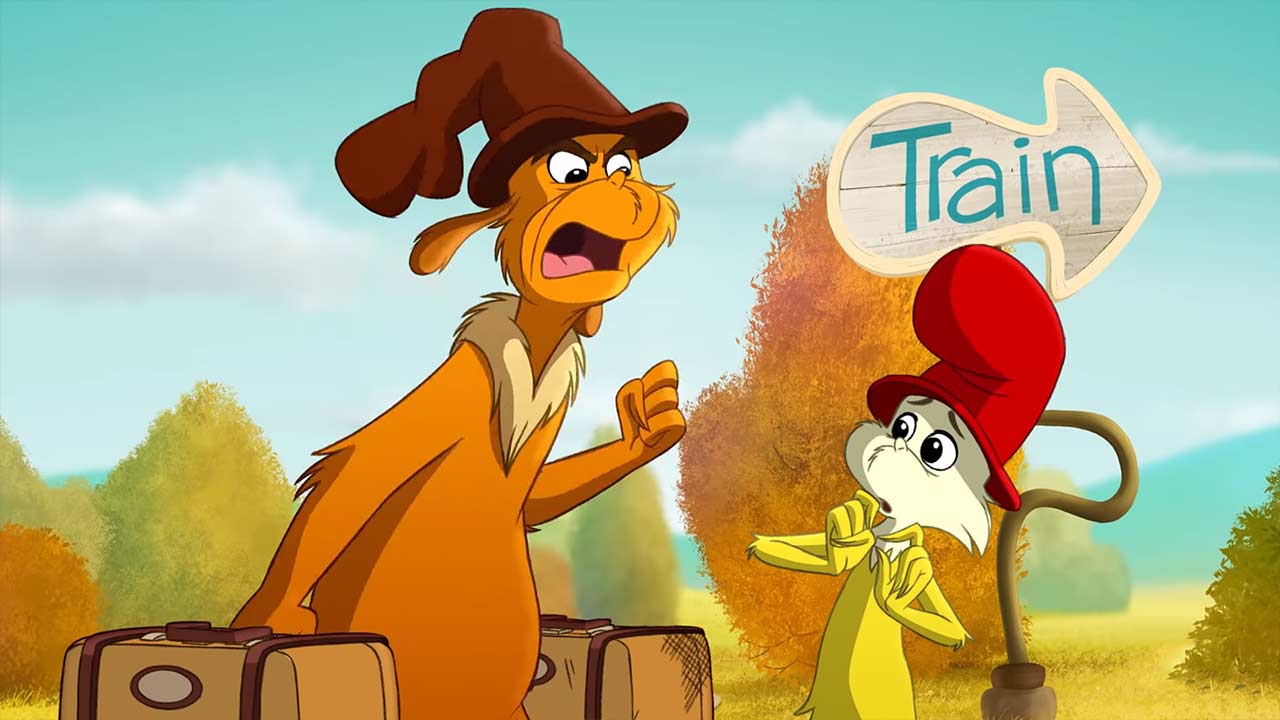 Ich muss gestehen, dass mir die Figuren des amerikanischen Kinderbuch-Autorens Dr. Seuss (bürgerlich Theodor Seuss Geisel) zwar ein Begriff sind, ich aber glaube ich nie was davon gelesen oder vorgelesen bekommen habe. Allgemein dürfte das auch über dem großen Teich einen deutlich größeren kulturellen Stellenwert als hierzulande haben, wir haben ja Max und Moritz und so… Aber interessant finde ich schon, dass aus dem kinderfreundlichen Reim-Schema-Geschichtchen jetzt eine ausgewachsene Serie wird. Netflix bringt bereits am kommenden Freitag, den 8. November, die erste Staffel von "Green Eggs & Ham" (im Deutschen "Grünes Ei mit Speck") raus. Die Geschichte basiert auf dem gleichnamigen Buch (Partnerlink), das bereits im Jahr 1960 erschienen ist.
Darin geht es um die beiden Figuren "Sam I Am" und "Guy Am I". Letzterer ist ein verbittert-grimmiger Zeitgenosse, der keine Lust auf grüne Eier mit Speck hat, Ersterer ist fröhlich drauf und würde sie gerne futtern. Das aber nur als Ausgangspunkt – hier der Trailer zum neuen Netflix-Format:
"Auf einer Reise zur Rettung eines gefährdeten Tieres probieren Jack und Mick, die grundverschieden sind, neue Dinge wie Freundschaft – und ein köstliches Gericht – aus."
Produziert wird das Format unter anderem von Ellen DeGeneres, die Animation stammt von Jared Stern und wurde größtenteils auf ganz klassische Art und Weise umgesetzt. Das hat dann auch so seine Zeit gedauert:
"There were four years of actual production. That was intentional, and that's about normal for the quality of animation that we were aspiring to. A typical animated film can take close to three to four years for generally an hour and a half of content. We have, I believe, around five and a half hours of content that we were trying to do at the level of a hand-drawn animated feature in that same amount of time." (Stern zu Variety)
Unter den (in der englischen Originalfassung) zu hörenden Stimmen befinden sich die von Adam Devine ("Workaholics") als Sam I Am, Michael Douglas (noch nie von gehört…) als Guy Am I, Diane Keaton (Total junges, frisches Newcomver-Gesicht…?), Keegan-Michael Key ("Friends From College"), Eddie Izzard ("Hannibal"), Jeffrey Wright ("Westworld"), Daveed Diggs ("The Get Down") oder auch Tracy Morgan ("30 Rock"). Nicht so schlecht.
"The story you know is just the start. This new adventure is off the charts. Hit the road with a whole new crew. There's Sam, Guy, and a Chickeraffe too. But how'd we turn this 50-word, Seussian spiel into a 13-episode meal? Our recipe starts 'Here' and definitely goes 'There.' We added a 'Box' full of 'Fox', a 'Boat' load of 'Goat,' and a 'Mouse,' on the 'House.' Try it in the 'Rain' on a 'Train' or go far in your 'Car' to find a spot to park and stream it in the 'Dark.' Because, in case you were unaware, this show's miles ahead of 'Anywhere!'"
Hier noch das originale Design aus der Buchvorlage: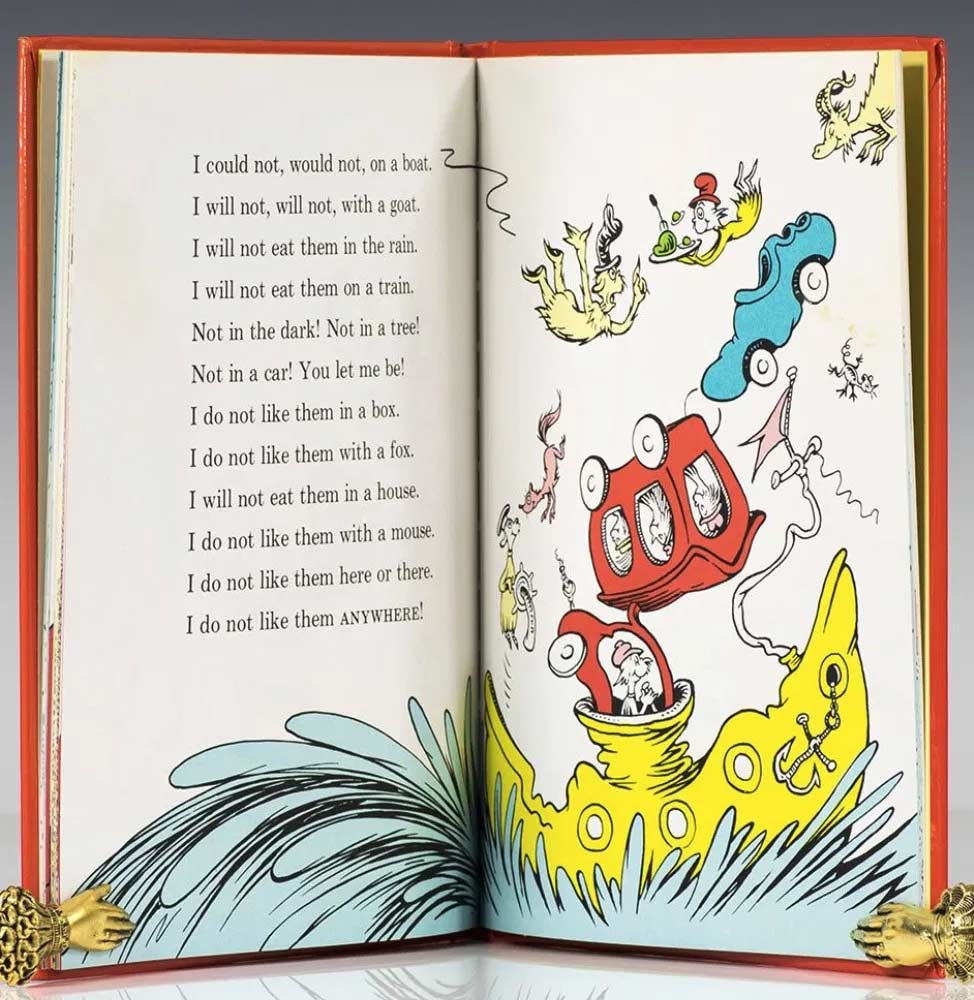 Die 13 Episoden umfassende erste Staffel von "Grünes Ei mit Speck" (oder auch "Green Eggs & Ham") wird ab Freitag, den 8. November, hier auf Netflix zu sehen sein.

via: boingboing

-->