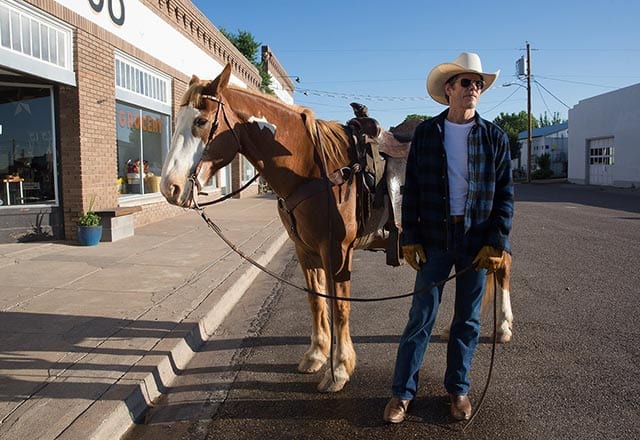 Letzten Monat hatte Jonas euch bereits zwei aktuelle Serienpiloten vorgestellt, die Amazon seinen Prime-Mitglieder zur Wahl gestellt hat, im August wird es bereits die nächste Runde an potenziellen Neuproduktionen geben. Gleich drei Projekte werden sich dem harten Urteil der Zuschauerschaft stellen und so entweder gefeiert in Produktion gehen, oder aber baden gehen und nie eine zweite Episode finden.
Hier ein paar erste Informationen zu den heute angekündigten Formaten, die wir dreisterweise mal 1:1 hier rein kopieren.
I Love Dick
"I Love Dick" ist eine Adaption des gleichnamigen Kult-Romans, der als "das wichtigste Buch über Männer und Frauen des letzten Jahrhunderts" bezeichnet wurde (Emily Gould, "The Guardian"). Die Serie spielt in der bunten Intellektuellen-Community von Marfa in Texas. Chris (Kathryn Hahn, "Transparent") und Sylvere (Griffin Dunne, "Dallas Buyers Club") kommen nach Marfa, nachdem Sylvere ein Stipendium für sein unvollendetes Buch über den Holocaust angeboten wurde. Sie treffen Dick (Kevin Bacon, "The Following"), der ihre Vorstellungen von Liebe und Monogamie auf den Kopf stellt. "I Love Dick" erkundet aus dem weiblichen Blickwinkel die Art und Weise, wie wir Geschichten über Liebe und Verlangen erzählen. Dabei kartografiert die Serie die Weiterentwicklung einer Ehe, das Entstehen einer Künstlerin und die Vergöttlichung eines Schriftstellers namens Dick.
Executive Producer von I Love Dick sind Jill Soloway ("Transparent"), Andrea Sperling ("Transparent") und Sarah Gubbins ("Ten Aker Wood"). Soloway führte Regie, geschrieben wurde die Pilotfolge von Sarah Gubbins.
Jean-Claude Van Johnson
Will man einen politische Rivalen um die Ecke bringen, einen multinationalen Konzern schwächen oder eine komplette Regierung stürzen – und das alles unter größtmöglicher Geheimhaltung –, dann gibt es nur einen dafür: einen der international bekanntesten Kinostars der Filmgeschichte! In "Jean-Claude Van Johnson" übernimmt Jean-Claude Van Damme ("JCVD") die Rolle des Jean-Claude Van Johnson, einer weltweiten Martial-Arts und Film-Sensation … und, unter dem einfachen Decknamen "Johnson", einer der gefährlichsten Privat-Agenten der Welt. Zum Glück für die bösen Jungs dieser Welt ist er seit Jahren in Rente. Zu ihrem Pech bringt ihn eine zufällige Begegnung mit einer verlorenen Liebe gerade wieder zurück ins Spiel … und diesmal ist er noch tödlicher als zuvor. Wahrscheinlich.
In "Jean-Claude Van Johnson" spielen neben Van Damme Kat Foster ("Your Family or Mine"), Moises Arias ("The Middle") und Phylicia Rashad ("Creed: Rocky's Legacy"). Als Executive Producer wirken Peter Atencio ("Key and Peele"), Ridley Scott ("The Good Wife") und David W. Zucker ("The Man in the High Castle"). Regie in der Pilotfolge führte Peter Atencio, das Drehbuch schrieb Dave Callaham ("Mortal Kombat"). Von Scott-Free Productions.
The Tick
In einer Welt, in der Superhelden seit Jahrzehnten Realität sind, muss ein Underdog und Angestellter mit keinerlei Superkräften feststellen, dass seine Stadt von einem weltweit operierenden Super-Bösewicht beherrscht wird, der seit langem für tot gehalten wurde. Als er versucht diese Verschwörung aufzudecken, trifft er auf einen seltsamen, blauen Superhelden.
"The Tick" versammelt die Darsteller Peter Serafinowicz ("Guardians of the Galaxy"), Griffin Newman ("Vinyl"), Jackie Earle Haley ("Watchmen: Die Wächter"), Valorie Curry ("House of Lies"), Yara Martinez ("Jane the Virgin") und Brendan Hines ("Scorpion"). Executive Producer sind Ben Edlund ("Supernatural"), Barry Josephson ("Bones – Die Knochenjäger") und Barry Sonnenfeld ("A Series of Unfortunate Events"). Regie führte Wally Pfister ("The Dark Knight"), das Drehbuch schrieb Ben Edlund. The Tick ist eine Co-Produktion mit Sony Pictures Television.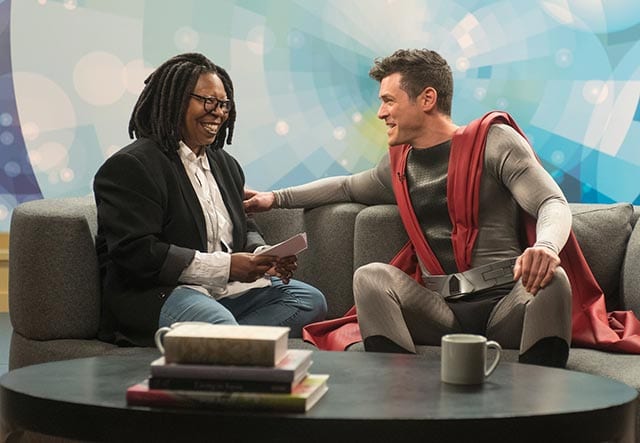 Ich bin vor allem gespannt, wie sie "The Tick" umsetzen werden. Ansonsten verdammt viele Namen und Referenzen, die die teils eher unspannend klingenden Stories überdecken. Naja, warten wir es ab, ab 19. August können und sollen wir uns alle unsere eigenen Urteile bilden.

Bilder: Amazon

-->