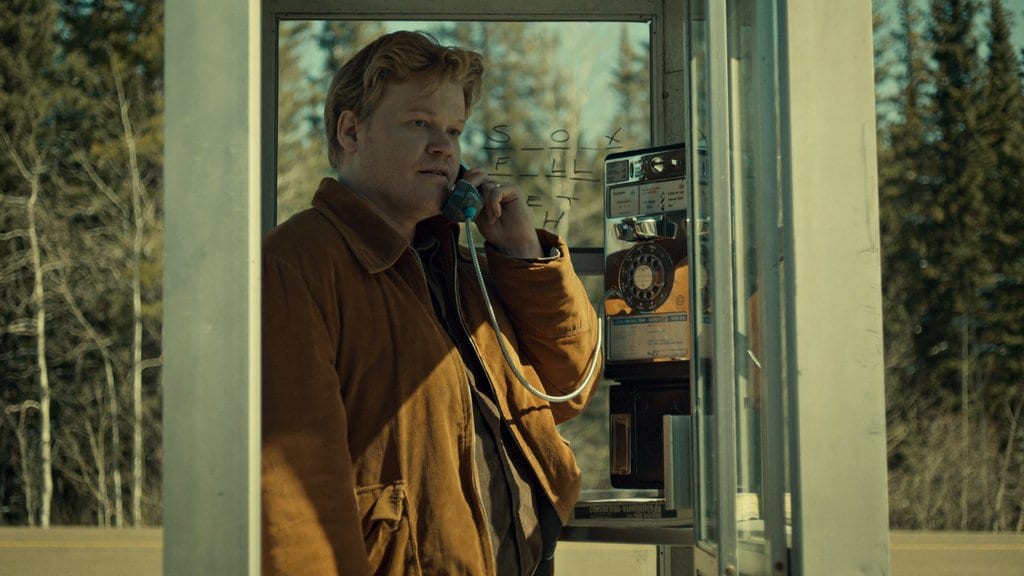 Unfassbar! Nach einer kleinen Verschnaufpause meldet sich "Fargo" eindrucksvoll zurück. Dieses Mal liegt der Fokus auf die Blomquists, die beide auf der Flucht sind, mit Dodd als Gepäck. Mit einem Stück Jungelmusik wird die Episode eingeleitet, gefolgt von Peggys Halluzination, was sehr stark an den Dialog zwischen Neo und dem Architekten der Matrix erinnert. Generell fällt mir zum ersten Mal so richtig auf, wie gut die Musik in der aktuellen Staffel integriert wird: teilweilse völlig widersprüchlich der Szene gegenüber, aber eben doch immer mit einem aufwertendem Effekt.
"Well, you know what, sir? Uh … I might just call over to the other side, see if they want him." (Ed)
Bisher häufig nur sein Potential erahnend hat mich Jesse Plemons in seiner Rolle als Ed nun vollends überzeugt. Was für eine irre gute Mimik! Plemons ist im Stande, Dinge ohne auch nur ein gesprochenes Wort zum Ausdruck zu bringen, wo andere ganze Sätze brauchen. Toll!
"I've got Dodd Gerhardt in the trunk of my car. You want him?" – "Sir … If I kiss you when we meet, would that be inappropriate?" (Ed & Mike)
Definitiv gehören die Momente mit Dodd und den beiden semiprofessionellen Kidnappern zu den unterhaltsamsten der gesamten Serie, wenn nicht sogar weit darüber hinaus. Das, was Jeffrey Donovan da zusammen mit seinen Schauspielkollegen abliefert, ist der Wahnsinn! Wie auch Dodd wortlos und nur mit Augenkontakt versucht zu kommunizieren, um Ed auf seine durchgeknallte Frau aufmerksam zu machen: grandios! Ich habe mindestens dreimal zurückgespult, um mir das Ganze noch einmal anzuschauen.
"Are we talking number one or number two?" – "What?" – "You got to pee or you got to poop, I'm saying?" (Ed & Dodd)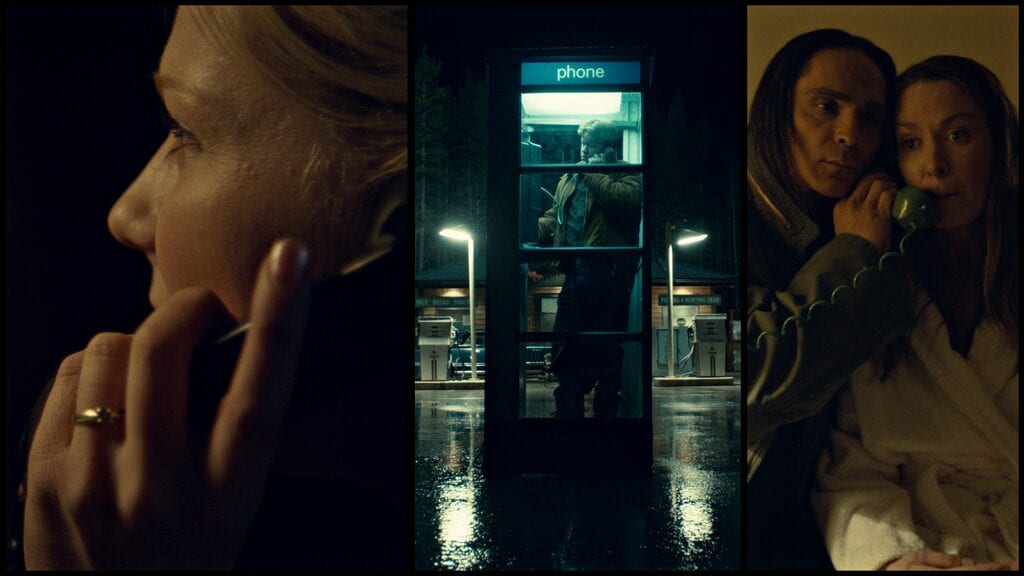 Eine interessante Wende gibt es bei Hanzee Dent, der – kurzum gesagt – einfach mal die Faxen dicke hat. Was mir just in diesem Moment auffällt: "Dent", lat. dens für "Zahn", was eben der Vorname des Darstellers von Hanzee ist: Zahn McClarnon. Also ich glaube nicht an Zufälle. ;-)
Was ich jedoch für viel realistischer halte – wo wir doch hier von einer fiktiven Handlung sprechen, also haha – ist, dass Hanzee seine nun offenbarten Interessen schon die ganze Zeit über verfolgt hat und seine Loyalität den Gerhardts gegenüber nur gespielt (also gespielt gespielt) gewesen ist. Abermals hervorragend ist der Einsatz des Split Screens, besonders bei der Szene im obigen Bild. Was auch immer Constance mit Hanzee durchleben muss und falls sie jetzt überhaupt noch lebt: Verdient hat sie's allemal. Lifespring this, bitch!
Selbstverständlich komme ich nicht daran vorbei, den kurzen, aber beeindruckenden Auftritt von Lou und Hank, dem besten Paar der Serie zu erwähnen. Auch hier wieder eine tolle Mischung von Bild und Ton. Da Dodd nun tott ist und die Blomquists wieder in Gewahrsam sind, ist nun Hanzee zu Ziel Nummer eins aufgestiegen. Wird es am Ende Hanzee sein, der Lou die Schusswunde (s. Staffel eins) zufügt? Noch zwei Folgen …
"Don't … Don't tell Betsy I'm down." – "Yeah, she scares me more than you, so … I'm gonna call." – "Oh, you s …" (Hank & Lou)
Fotos: FX/MGM