Cobalt – so sollte die Serie Fear the Walking Dead ja ursprünglich heißen; war zumindest einer der Arbeitstitel für das Spin-Off zu The Walking Dead. In dieser Folge lüftet sich das Geheimnis um diesen Namen. Nein, gemeint ist nicht das chemische Element, auch nicht die bläuliche Farbe. Aber dazu später mehr.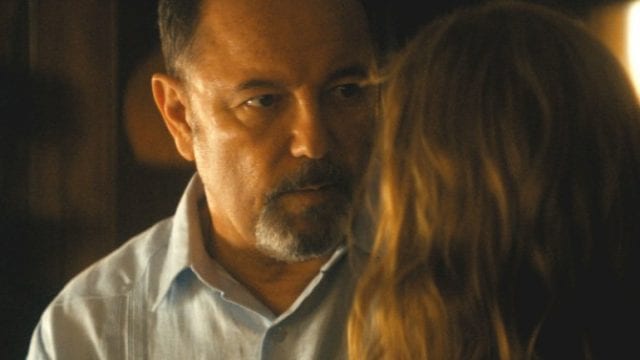 Erstmal die gute Nachricht, dass die Serie wieder auf dem Wege der Besserung ist. Die Bedrohung durch das Militär ist allgegenwärtig. Zuerst als Heilsbringer empfangen, sind die Soldaten mittlerweile eine größere Gefahr als die Walker, die in dieser Episode auch wieder in die Serie zurückkehren. Leider, leider ist die Darstellung des Militärs mal wieder so stereotypisch und klischeebehaftet, dass einem fast die Lust vergeht. Wir lernen: Die Soldaten sind bestechlich, rücksichtslos, geringschätzig gegenüber Zivilisten und uneinig in der eigenen Truppe. Hat man schon in X Serien gesehen und wirkt wenig glaubhaft.
Und man kann sie foltern, wie wir in der Folge ebenfalls lernen. Passt meiner Meinung nach auch nicht wirklich. Daniel Salazar, Barbier el salvadorianischer Herkunft, entdeckt sein Folterherz und macht sich mit seinem Rasierinstrumentarium daran, einen gefangen genommenen Soldaten (wie auch immer er das gemeinsam mit seiner Tochter Ofelia geschafft hat) so zu bearbeiten, dass er ihm Geheimnisse verrät. Der Soldat ist auch noch ausgerechnet Ofelias Freund, aber gut – so groß ist Los Angeles jetzt auch nicht, als dass man sich da im Laufe der Apokalypse nicht mal schnell über den Weg läuft. Warum Salazar den Soldaten unbedingt foltern muss – man erfährt es nicht so richtig. Vielmehr leiden wir unter den ständigen Geschichten aus der Vergangenheit, die Salazar bilderreich und akzentvoll von sich geben muss. Soll wohl eine besonders psychologisch wertvolle Ebene in die Folter einziehen – bleibt aber leider sehr brüchig.
Travis Manawa macht sich derweil auf die Suche nach seiner Ex-Frau und Nick. Er bequatscht den diensthabenden Offizier – der ihn erst nicht ins Lazarett bringen will, dann aber doch – was auch immer seinen Sinneswandel bewirkt hat. Unterwegs bleiben sie leider in einem Einsatz stecken. Erst soll Travis selbst ein Gewehr abfeuern, als ein Walker auftaucht. Er schafft es jedoch nicht, und man fragt sich, wer mehr leidet – Travis unter dem Druck des Militärs, der ihn als einen unfähigen Pazifisten hinstellt, oder wir Zuschauer unter eben diesen platten Sprüchen des Offiziers. Die Szene, in der Travis mit sich und der Situation hadert, gehört allerdings definitiv zu den besseren Momenten der Folge – ist dramaturgisch und optisch gut gemacht, wenn auch dialogtechnisch ein Totalausfall.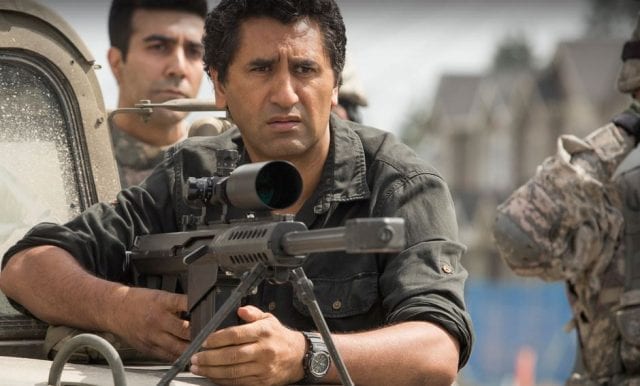 Zweite gute Szene ist der Einsatzmoment, in den die Soldaten geraten und dabei den diebsthabenden Offizier verlieren; wobei nicht klar wird, ob er ein Opfer der Walker oder der anderen Soldaten wird. Der Moment, in dem Travis im Militär-Hummer sitzend per Funk mithört, was in L.A. kriegsähnlich derzeit los ist, war schon recht beeindruckend gemacht. Ebenso der Moment, in dem Daniel Salazar vor der Turnhalle steht, die offensichtlich bis oben gefüllt mit Walkern ist – da kündigt sich das Staffelfinale an.

Das wird wohl zu großen Teilen aus einer Walkerinvasion und einer Militärflucht bestehen. Denn Die Militärs haben die Order, L.A. komplett zu säubern – ganz gleich ob Walker oder Mensch – und sich anschließend zurückzuziehen. Genau, DAS ist das Projekt Cobalt.

PS: Achso, es gab noch ein bisschen Teenie-Geplänkel zwischen Alicia und Christopher, und dazu noch ein wenig Lazarett-Gewusel mit einer straighten Ärztin und einer überforderten Liza (Travis' Ex-Frau), aber das war alles nicht der Rede wert. Der Vollständigkeit halber: Der heroinsüchtige Nick ist im Lazarett an einen Spieler geraten. Dazu sicher in der nächsten Folge mehr.

-->