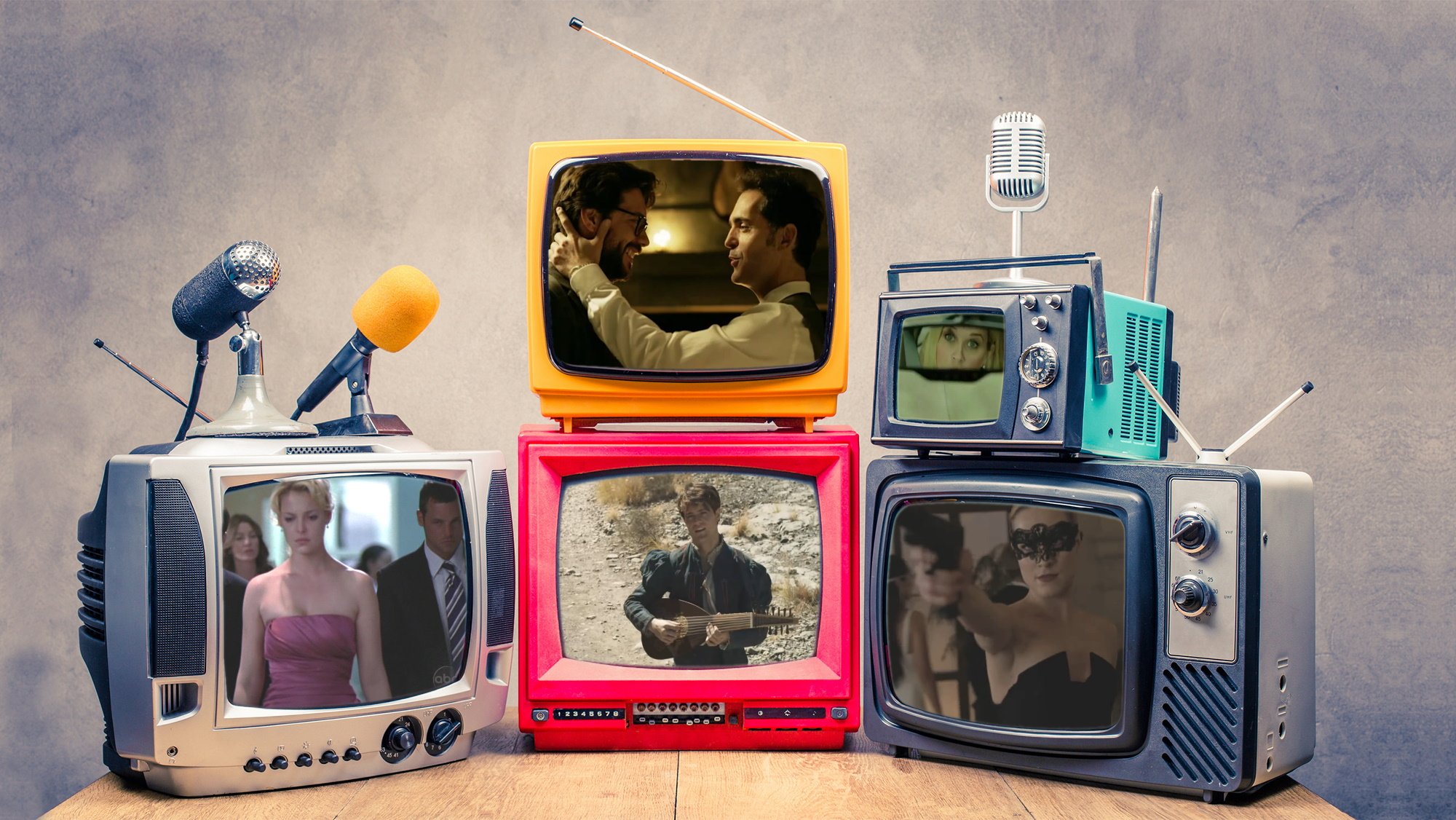 Der Titel des Beitrags ist natürlich gewagt, gibt es doch unendlich viele und dazu auch richtig gute Songs, die in Serien eingesetzt werden. Hier soll es bewusst nicht um Titelsongs von Serien gehen, davon gibt es einfach so viele gute, dass ich mich nicht für eine Auswahl von fünf entscheiden könnte. Michael hatte euch vor einiger Zeit auch schon einmal die besten Original-Titelsongs von Serien vorgestellt. Und auch Maik hat euch schon einmal seine Top Five von Serien vorgestellt, die Musik richtig gut einsetzen. Nun aber wieder, worum es hier eigentlich gehen soll: um Songs, die in unseren Lieblingsserien vorkommen, die Szenen, in denen sie eingesetzt werden, unglaublich aufladen und uns dann erstmal so schnell nicht mehr aus dem Kopf gehen. Also los!
Westworld: "Wicked Games"
Diese Liste anführen muss "Wicked Games" aus der dritten Staffel "Westworld". Ich weiß nicht, wie häufig ich diesen Song nach dem ersten Schauen der Episode (S03E04 "The Mother of Exiles") im April gehört habe. Ich denke, dass hundert Mal noch untertrieben ist. Ramin Djawadi ist einfach ein musikalisches Genie und die Art und Weise, wie er den Song von "The Weeknd" in einen orchestralen "Westworld"-Song umgewandelt hat, ist faszinierend. Dieser Song geht direkt unter die Haut und obwohl er rein instrumental ist, ist der Ohrwurm nicht weniger eindringlich.
Der Song ist zu hören, als Dolores mit Caleb beim Maskenball angelangt. Liam erfährt, dass sein Konto gesperrt ist und Bernard und Stubbs kommen zum Showdown dazu, um Liam zu entführen. Und dann geht der irgendwie liebevolle Kampf zwischen Stubbs und Dolores los.
Haus des Geldes: "Bella Ciao"
Wenn wir schon bei Ohrwürmern sind, darf auch dieser Song in der Liste nicht fehlen: "Bella Ciao". Einst ein Lied, das von italienischen Partisanen im Zweiten Weltkrieg gesungen wurde, erlangte der Song spätestens mit dem Aufgreifen in der spanischen Netflix-Serie "Haus des Geldes" ("La Casa de Papel"/"Money Heist") internationale Bekanntheit. Kurz nach Veröffentlichung der ersten Staffel gab es bereits zahlreiche Coverversionen des Liedes und der "Hugel Remix" des französischen DJs und Produzenten Florent Hugel wurde 2018 zum Sommerhit des Jahres erklärt.
Der Song wird in der Serie diverse Male aufgegriffen, aber in der Szene, als Berlin und der Professor ihn zusammen singen, ganz reduziert, ist er besonders eingängig (S01E13 "¿Qué hemos hecho?"). Wenn ihr mehr zu dem Song und seinem Hintergrund erfahren wollt, hier entlang.
Big Little Lies: "River"
Die Musik in "Big Little Lies" ist echt stark. Allein der Titelsong "Cold Little Heart" ist jedes Mal wieder ein Genuss, das Intro überspringt man hier am besten nicht, um das nicht zu verpassen. Aber es gibt in der ersten Staffel neben ein paar Elvis Songs auch den besonderen Track "River" von Leon Bridges, der dazu beiträgt, richtig runterzukommen.
Der Song taucht in der zweiten Episode (S01E02 "Serious Mothering") auf, als Madelines Tochter Chloe diesen wundervollen Song spielt und Madeline dadurch zum Tagträumen bringt. Dazu sehen wir den Pazifik aus den Fenstern des durch Monterey fahrenden Autos und auch die Charaktere fangen an sich zu entspannen.
"This is a beautiful song, honey."
Grey's Anatomy: "Chasing Cars"
Ich bin ja eigentlich gar keine "Grey's Anatomy" Schauerin, also zumindest nicht mehr. Tatsächlich habe ich die Serie vor etlichen Jahren immer mal geschaut, als sie abends im linearen TV ausgestrahlt wurde. Und da habe ich gemerkt, dass man sich ganz schnell emotional ganz tief in die Serie reinziehen lassen kann, immerhin gab es immer traurige und mitreißende Ereignisse, die mitunter ganz schön aufwühlend sein konnten.
Die finale Szene der zweiten Staffel hat dabei den mittlerweile als Klassiker zu bezeichnenden Song "Chasing Cars" von Snow Patrol ganz groß gemacht (S02E27 "Losing My Religion"). In der Episode schenkt Richard seiner Nichte einen Abschlussball, zu dem gleich alle Chirurgen kommen sollen und Denny macht Izzie einen richtigen Heiratsantrag, den sie annimmt, bevor alles eine sehr traurige Wendung nimmt.
The Witcher: "Toss A Coin To Your Witcher"
Nach dem emotionalen Lied gibt es zum Abschluss direkt wieder gute Laune mit einem Song, der ins Ohr fliegt und von dort nie wieder verschwindet: "Toss A Coin To Your Witcher" ist der Ohrwurm schlechthin. Er wird genial in die Serie "The Witcher" integriert, indem der mit recht speziellem Humor ausgestattete Barde Jaskier diesen des Öfteren zum Besten gibt, um den Witcher anzukündigen, zu besingen und in erster Linie natürlich, um ein paar Münzen zu verdienen. Dabei erfindet er so manche Ereignisse, die er in dem Song aufgreift. Aber wen stört das schon, außer Geralt selbst?
Das erste Mal ist der Song in der zweiten Episode der Serie (S01E02 "Four Marks") zu hören und wird von da an immer wieder aufgegriffen. Und für alle, die den Song mal auf anderen Sprachen als im Original hören wollen, wäre dieses Video doch was. Happy Ohrwurm!
Und sonst so?
Nur knapp nicht in die Liste geschafft hat es das von Ramin Djawadi interpretierte David Bowie Cover "Space Oddity", ebenfalls aus der dritten Staffel "Westworld". Welches sind eure liebsten Ohrwürmer aus Serien? Von welchen Songs könnt ihr gar nicht genug bekommen? Schreibt es uns gerne in den Kommentaren, sodass wir aus dem Mitsummen und Singen gar nicht mehr herauskommen! Und wer vom Thema Musik in Serien nun gar nicht mehr genug bekommen kann, kann gerne auch nochmal in unseren seriesly PodcAZt zum gleichen Thema reinhören. Viel Spaß!

Bilder: ABC | Netflix | Netflix | HBO | HBO

-->