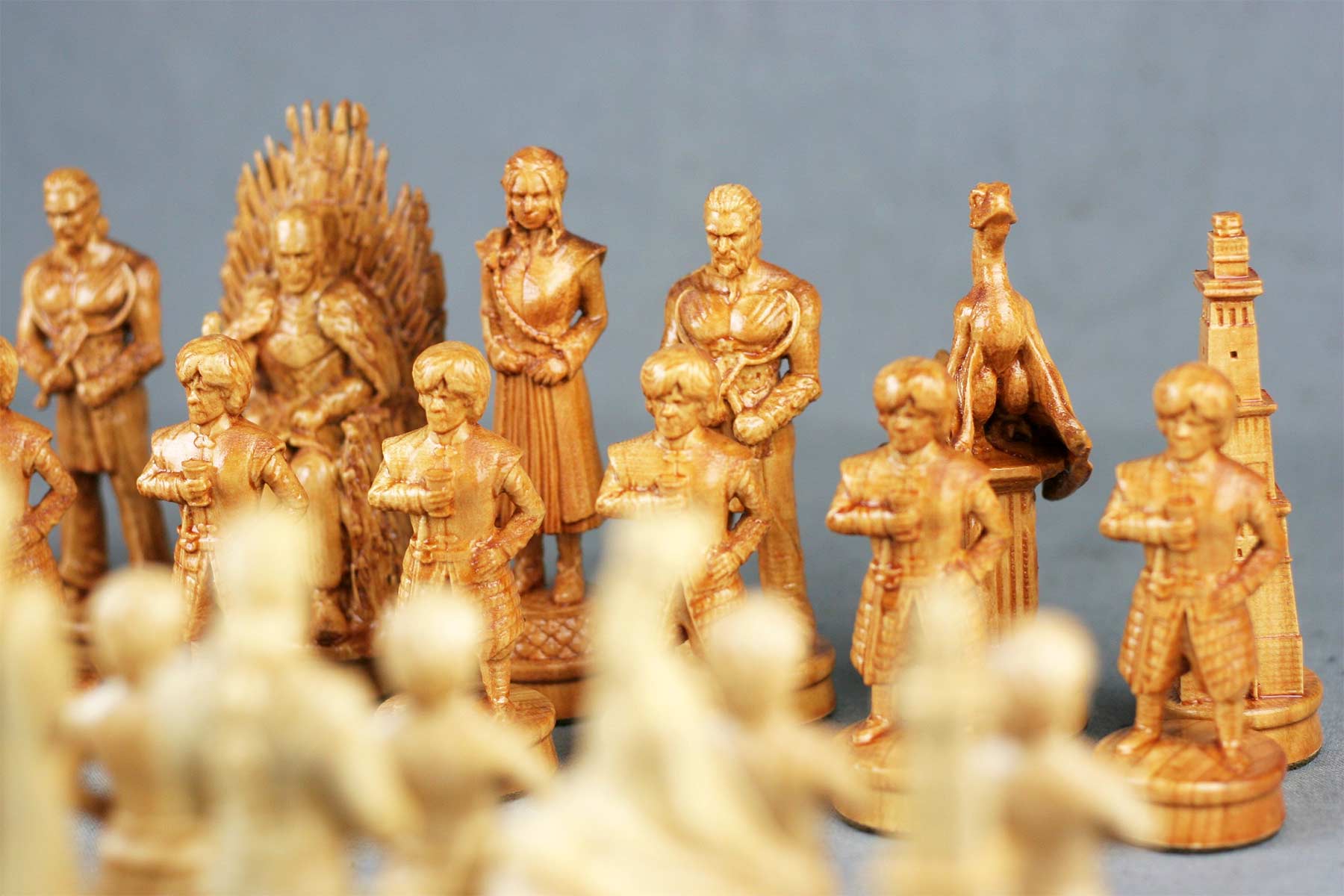 "Game of Thrones" hat im Namen ja bereits einen gewissen Spielebezug und wenn wir ehrlich sind, ist das kriegerische und oftmals hinterhältige Geschehen in Westeros ganz gut mit einem Schachspiel zu vergleichen. Da passt es doch gut, dass es solch wundervolle Figuren einiger Figuren der Serie gibt, die die nächste Partie auf dem Brett etwas serienhafter werden lässt.
"A magnificently carved chess set in the series "Game of Thrones". Chess is handmade, created specifically for you to please with a great gift your loved ones. Chess pieces are created from various wooden types, all chess set is completely handmade. Chess can be used as a souvenir or as for a full-fledged game; they are firm and strong, all details are carved individually."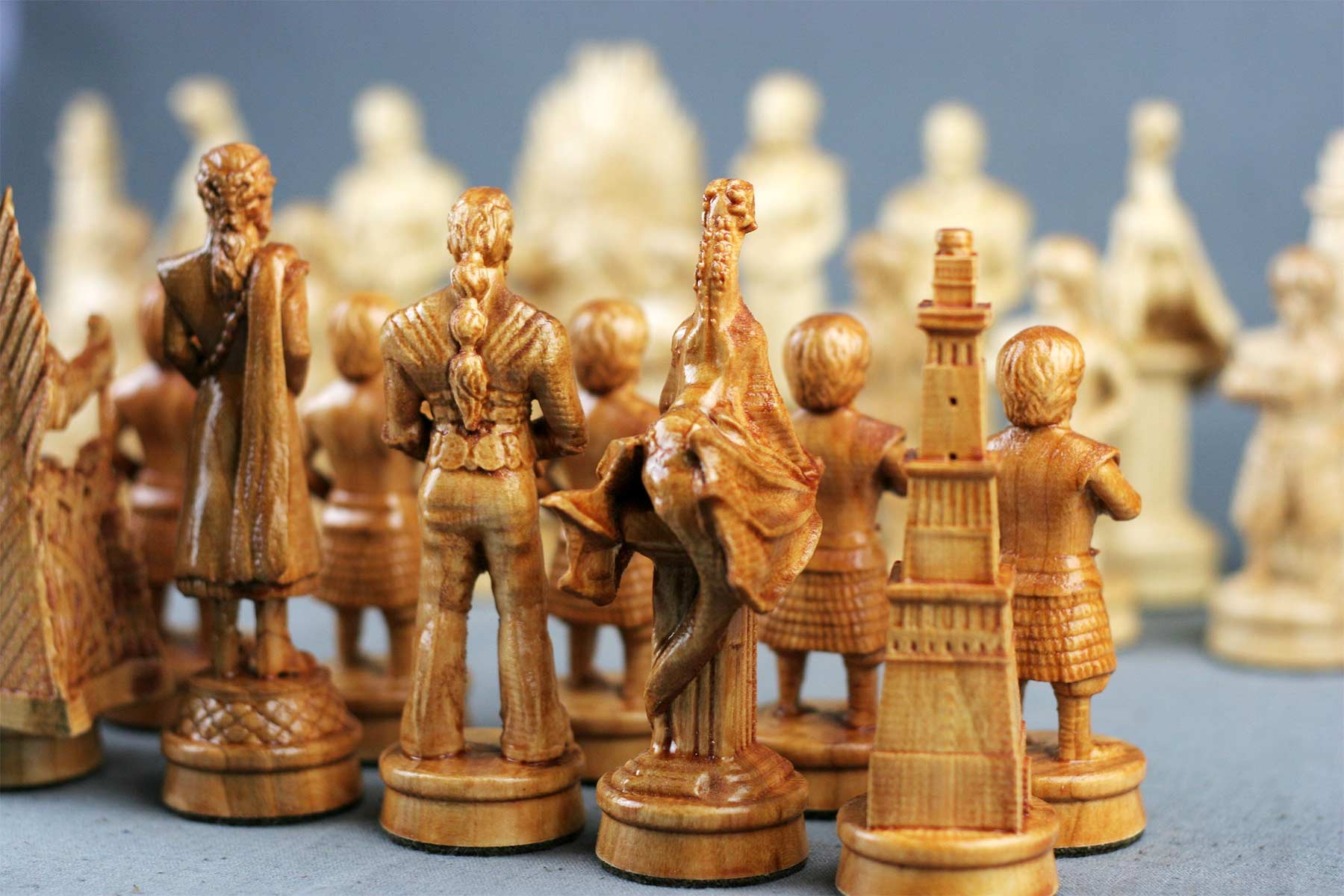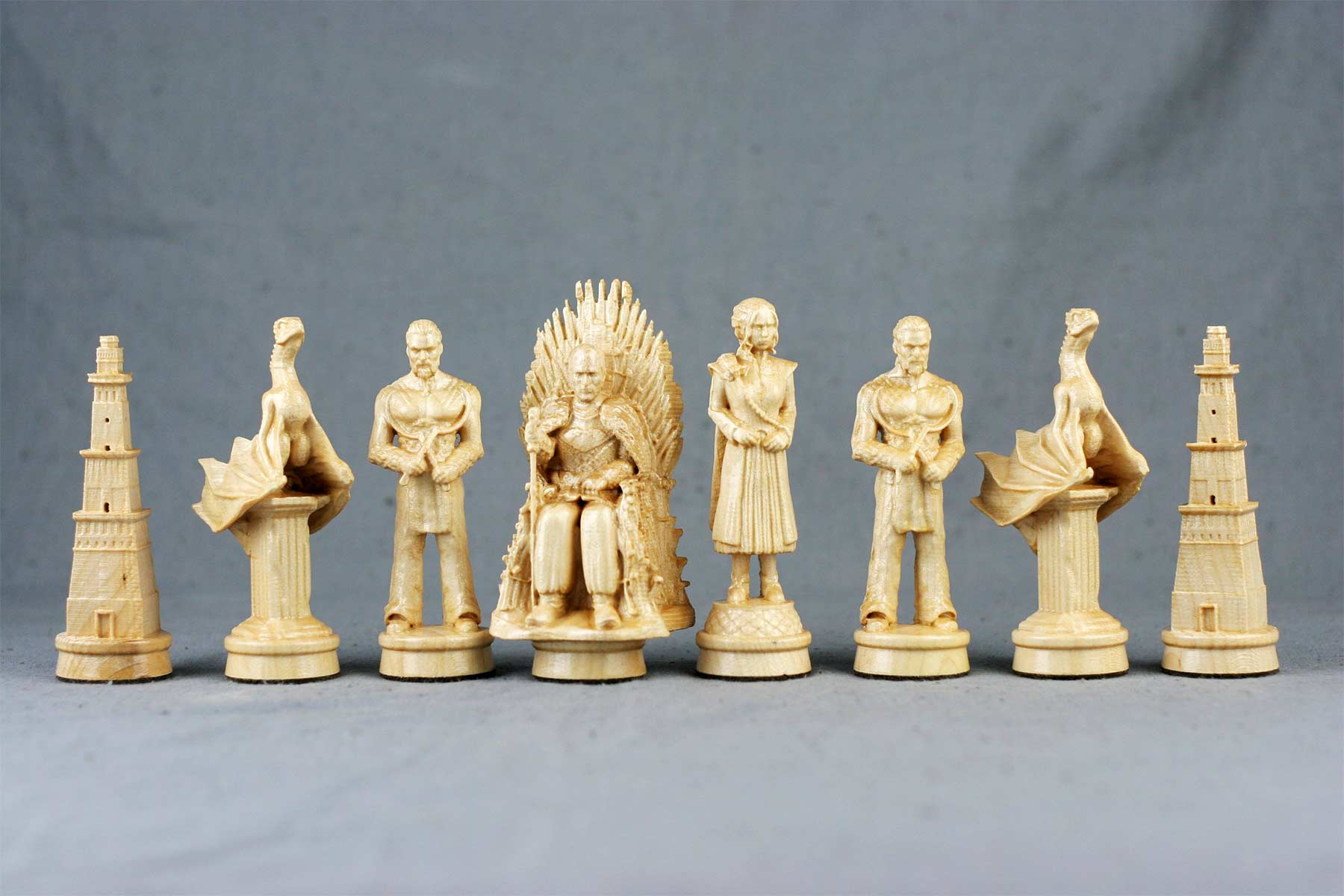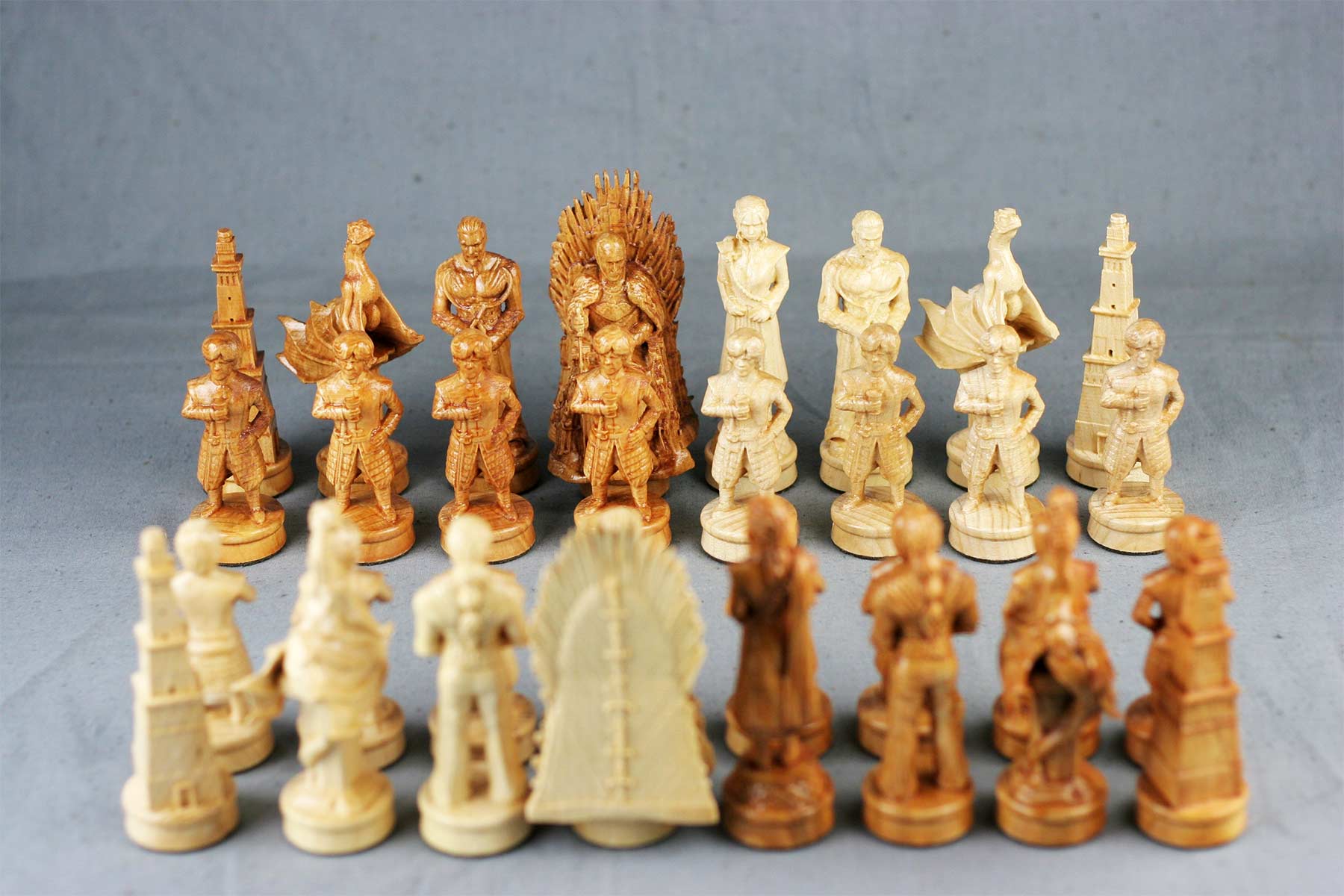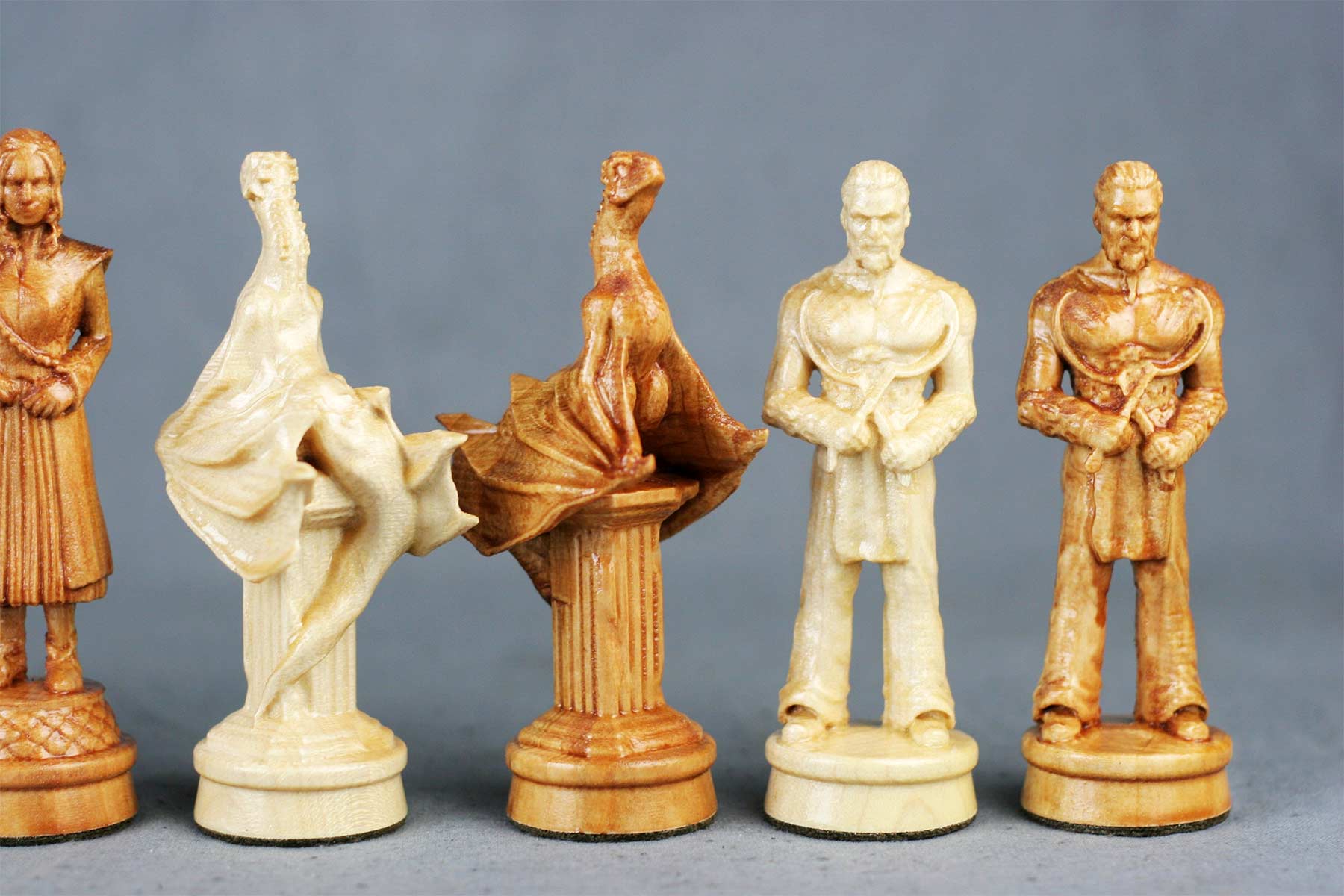 Handgeschnitzt werden die Figuren von Chesslania aus der Ukraine. Schade finde ich jedoch, dass es (bislang zumindest) für beide Spielseiten die identischen Figuren gibt. Das mag die Tradition sein, aber ich hätte auch nichts gegen einen Night King mit Cersei an seiner Seite und entsprechenden White Walkern, Whights, etc. auf der Gegenseite gehabt (und die Bauern sind Crasters im Wald ausgesetzte Babies). Aber auch so haben die Figuren immerhin einige Charaktere der Serie im Angebot:
Bauer – Tyrion Lannister
Turm – Citadel
Springer – dragon
Läufer – Khal Drogo
Königin – Daenerys Targaryen
König – Jon Snow
Okay, Jon schaut etwas sehr alt und wenig nach der aktuellen Serien-Version aus, aber dafür hat er den eisernen Thron unter sich. Und ja, eigentlich wären Varys und Littlefinger geradezu prädestiniert, aber in gewisser Weise spielen sie ja eher selbst Schach, als dass sie als Figuren bewegt werden.
Wer jetzt Lust auf ein eigenes Set dieser tollen Figuren hat, muss zumindest einen kleinen Kredit bei der Eisernen Bank beantragen, denn 177,17 Euro werden dafür fällt – ohne Schachbrett. Aber ist ja bald Weihnachten, woll?
via: theawesomer