Jetzt ist es raus: Hatten viele Fans auf eine Rückkehr DER Kultfigur "Game of Thrones'" schlechthin spekuliert, so haben David Benioff und D.B. Weiss den sehnsüchtigen Erwartungen gen finaler Staffel der Serie ein jähes Ende bereitet. Die Showrunner haben angegeben, dass Ser Pounce Off-Screen getötet wurde.
"Cersei hated the name 'Ser Pounce' so much she could not allow him to survive. So she came up with her most diabolical [execution]. Ser Pounce's death was so horrible we couldn't even put it on the air." (Benioff)
Die Showrunner haben zudem im Interview mit Entertainment Weekly mit einem vermutlich das Versprechen etwas untergrabenden Augenzwinkern verkündet, wir würden den Tod vielleicht tatsächlich noch irgendwann zu sehen bekommen, nur halt nicht mehr in der regulären Sendung:
"If you buy the super-extended, super-charged Game of Thrones box set that comes out, the death of Ser Pounce will be in there. Just one whole episode devoted to the death of Ser Pounce." (Dan Weiss)
Marketing at it's best. In Staffel 4 war Ser Pounce nur einfolgig (S04E04 "The Oathkeeper") zu sehen gewesen, hat sich aber schnell in die Herzen der Fans gespielt. Im Gegensatz zu den Herzen der Serienmacher, denn die Katze soll eine wahre Diva am Set gewesen sein und ihren ganz eigenen Willen gehabt haben, wenn es darum ging, Anweisungen zu befolgen. So haben wir wenigstens schon einmal eine kleine Gewissheit, was die Geschehnisse ab dem 14. April anbelangt, wenn "Game of Thrones" endlich weiter geht und die finale Ehrenrunde bestreiten wird.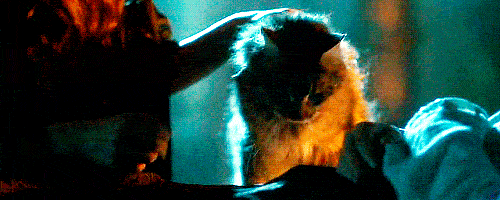 via: theverge